As a golf enthusiast, I can tell you golf is more than just a game of clubs and balls. It's a sport that demands the right equipment. Just like an artist needs their brush, a golfer needs their golf set. And the right set can truly elevate your game, helping you perform at your best on the greens.
Getting your hands on a suitable golf club set ensures you're fully equipped for every stroke. So, before we dive into the cream of the crop of golf club sets for men, let's take a moment to understand the essentials every golfer needs. Buckle up, folks. We're about to take a swing at improving your game.
Men's Complete Golf Club Sets for All Skill Levels
1. Strata Golf Complete Set (Men's and Women's)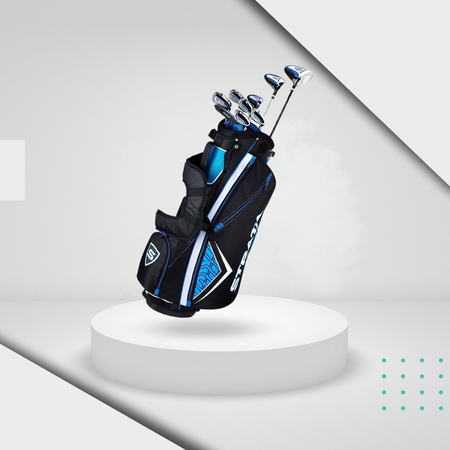 Check on Amazon
Check on GlobalGolf
With a total of 12 clubs in the bag, this popular set can be used equally well by men and women. It includes a driver, 3 wood, 5 hybrid, 6 to 9 irons, PW, and a putter. The stylish black and blue bag is a stand bag, durable and lightweight.
It has 5 convenient pockets for your other gear, a cooler pocket, and a rain hood. There are also 2 headcovers included in the package, one for the driver and the other for the fairway wood. The entire loaded bag weighs only 12 pounds.
There are no balls or tees included, which is a shame, but the overall quality and performance of the clubs more than make up for it. The irons are particularly great, with quality grips and premium shafts. Forgiving, they are great for beginners. The driver is similar, as is the wood. The putter could be better though.
Pros
Good brand
Great range of clubs
Cons
No balls/tees
The putter could be better
2. Taylormade RBZ Speedlite Complete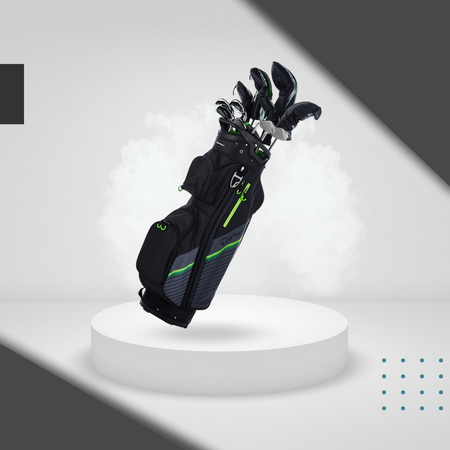 Check on Amazon
Check on DvaSata
A great thing about this set is how versatile it is. It is available for left- or right-handed players, there are two shaft material choices with steel or graphite, and two flex options, regular or senior.
All configurations come with 13 clubs including a driver, a wedge, 2 fairway woods, 6 irons, 2 hybrids, and a putter. The bag is a cart model, lightweight, and very sporty. It has 8 pockets including an insulated cooling pouch. It is mostly black with green details.
The set also comes with head covers for the driver, the woods, and the putter, but not for the irons. The bag is not that easy to keep in an upright position, but it is a breeze to use otherwise. The entire set weighs 19 pounds and the dominant materials on the clubs are titanium and steel/graphite.
Pros
Very versatile
Great range of clubs at 13
Cons
No head covers for all the clubs
The bag is not very stable
3. Wilson Men's Profile SGI Complete Set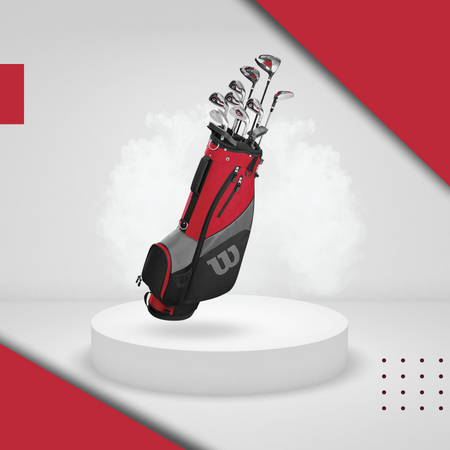 Check on Amazon
Check on GlobalGolf
If you are a beginner who is buying your first set of clubs, look no further than this amazing set by the trusty Wilson brand. The package has everything you need to start playing despite the lower number of clubs at 10.
The set includes a driver, a fairway wood, a hybrid, 4 irons, 2 wedges, and a putter. There are three head covers included and the entire set weighs 15 pounds.
The shaft material is graphite and the clubs are suitable for lefties and righties alike. The standup carry bag looks amazing thanks to its red, black, and grey design and it has plenty of pockets for your gear. Senior golfers will like it as much as novice players.
Pros
Forgiving clubs
Great brand
Affordable
Cons
Fewer clubs than most other sets
Durability could be better
4. Cobra Golf 2022 Air X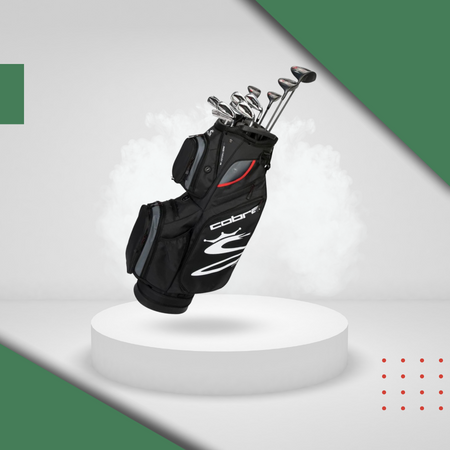 Check on Amazon
Check on Walmart
Check on Kiky
This 11-set club set by the popular Cobra brand is meant for senior golfers who know what they want and need. It includes a driver, a wood, 2 hybrids, 4 irons, 2 wedges, and a putter.
The hand orientation is right and the set weighs 10 pounds. The cart bag is of high quality, all-black, and it has no trouble standing. There are plenty of pockets and compartments for other gear so be sure to bring all you need.
These graphite-shaft clubs look amazing, arguably the most visually pleasing on the list. They are black and/or silver with red details, very sporty and aggressive. Although on the expensive end, the lack of accessories is present.
Apart from the clubs and the bag you do not get anything else in the package. The clubs are very lightweight with a great feel and smooth swings.
Pros
High-quality and lightweight
Great bag storage
Good range of clubs
Cons
Expensive
No head covers, balls, tees…
5. MOG Tour X Rezults Mens Set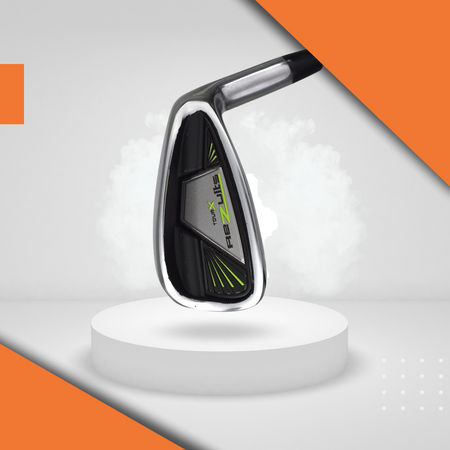 Check on Amazon
Check on DvaSata
Last but not least, here is an amazing 9-piece set for right-handed golfers that has all the clubs you may need for a good round of competitive golf. It includes a driver, a fairway wood, a hybrid, 5 irons, and a putter.
The deluxe lightweight stand bag is very roomy with a lot of compartments and pockets. It also has a dual strap and a rain hood. There are 2 matching head covers for your driver and wood.
The driver and the wood have graphite shafts, the hybrid is perimeter weighted, and the irons are dep cavity perimeter weighed. With the putter, you get a heel-toe weighted club.
Overall, this is a well-rounded set despite only having 9 clubs. The entire set weighs around 14 pounds.
Pros
Good for beginners
Stylish and sporty
Affordable, budget option
Cons
Only 2 head covers
9 clubs are not enough for everyone
Basic Golfing Gear
The items that every golfer should bring to the court if they mean business includes clubs, balls, golf bag, golf shoes, golf gloves, tees, and a rangefinder.
Clubs: Obviously, golfers need their clubs, but there is also the matter of the right set of golf clubs. Every player needs the right combination which should include at least a driver, several irons, and a putter. The type and number of clubs in a set vary based on the golfer's skill level and preferences, with most bringing an average of 14 clubs.
Balls: Golfers also need their own balls. The course will have them, but having your own is much better. Golf balls come in many types and designs and different golfers prefer different types. Finding the ones you like most could mean better results.
Bag: A golf bag is used to carry and transport golf clubs and other gear along the course. Golf bags come in many styles and can be of several types including cart bags, stand bags, and carry bags.
Shoes: Most sports have appropriate footwear and so does golf. Golf shoes provide grip and stability on the course, they are designed to be comfortable and to provide support during swings.
Gloves: A golf glove is not mandatory but many players like wearing one. It can help improve the grip and it prevents blisters during the swings. Golf gloves come in left- and right-handed versions and are typically made of leather or synthetic materials. They also look good especially if you like golf fashion.
Tees: Golf tees are very important as they are used to hold the ball in place for the first stroke on each hole. Tees can be wooden or plastic and they come in different lengths. Like balls, having your own could make you more confident and give you a better performance.
Rangefinder: A golf rangefinder is a device that helps the players determine the distance to the hole or other targets. They are very helpful for more accurate shots and better course management and are favored by experienced players, but also newcomers who want to get better more quickly.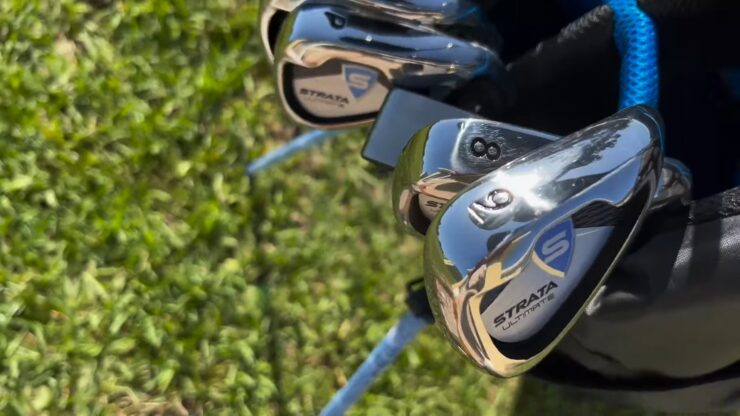 Golf Club Sets
As important as some of the other equipment may be, it is still the clubs that are by far the most crucial for actually playing golf. As a newcomer, beginner, or just someone who needs new clubs, the best way to do so is to get a whole new set.
A golf club set is a collection of golf clubs that are sold as a package. Typically, golf club sets include everything you need to play a round of golf. The sets include a driver club, several fairway woods, irons, wedges, and a putter club. The exact contents of a golf club set can vary of course but this is what most of them come with.
The driver is the club used to hit the ball off the tee. This is the first shot at every hole and the driver is typically the longest club in the bag. Fairway woods are used for long shots from the fairway and are numbered 3 to 5. Some sets might include a 7 wood too.
Irons are used for shorter and approach shots and are numbered from 3 to 9. Certain sets include additional types of irons like the pitching wedge and/or a sand wedge. Finally, there is the putter, the club used on the green to roll the ball into the hole. Sets usually have one putter club.
Picking a golf club set is definitely not easy which is why this guide exists, to help you better pick out the best golf set for men. It is important to consider the quality of the clubs, the composition of the set, and the intended use. A good set of golf clubs should be made of high-quality materials, well-designed, and feel comfortable in your hands.
The fit is very important because you want the length, weight, and flex of the clubs that are appropriate for your body type as well as your swing. Finally, you must think about the intended use and how/where you will be playing. For example, beginner golfers may benefit from a more forgiving set of clubs that minimize mishits while experienced golfers should pick a set with more control and precision.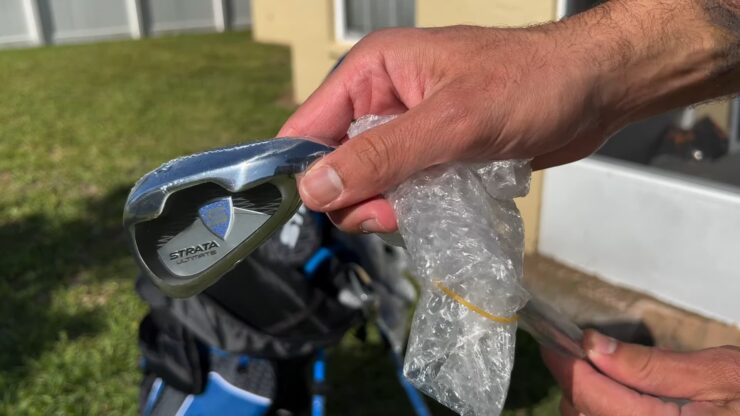 Accessories and Extras
In addition to the golf clubs, some golf club sets also include other items that can be useful on the course.
Golf bags: Most golf club sets come with a golf bag designed to hold all of the clubs that are included as well as other gear. A good golf bag should be durable and have enough pockets to hold the rest of the accessories.
Head covers: Many golf club sets come with head covers made to protect the club heads during transportation and storage. The covers are often made of neoprene or other soft materials and come in a variety of colors and designs. Taking care of clubs is crucial and these covers help a lot.
Golf balls: Some golf club sets may also include a few golf balls to get you started. Most golfers purchase their own golf balls to play more rounds, but having a few extra is a nice bonus.
Tees: Golf tees hold the ball in place for the first stroke on every hole. Some sets include a few tees which are very convenient.
Towels: Golf towels are useful for wiping down clubs, hands, and other equipment on the course. Some golf club sets include a small towel.
Ball markers: A ball marker is used to mark the position of the ball on the green. Golf club sets do not always have them included but an occasional set could have either a marker or a divot tool.
These are just some examples of the items that may be included in a golf club set. Exact contents can vary depending on the manufacturer and the specific set and they are always written and/or pictured. Water bottles, armbands, and other stuff can also be present in golf club sets.
Buyer's Guide: How to Pick the Best One?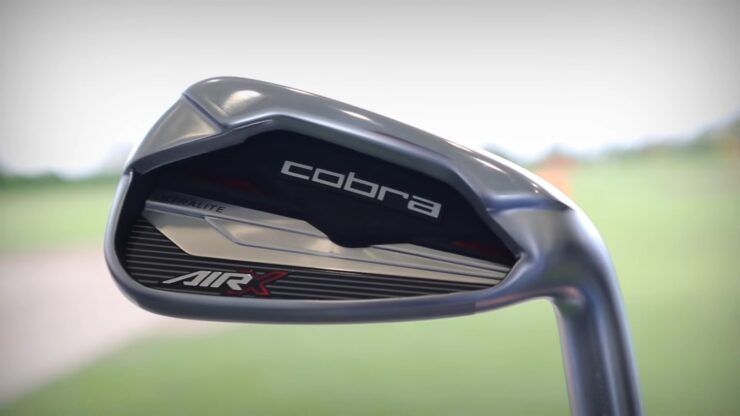 There are several factors to consider when choosing the best golf club set for you.
Skill level:
Golf club sets are designed for golfers of very different skill levels. If you are a beginner, you may want to choose a set that is more forgiving and contains clubs that are easier to hit with. More experienced golfers may prefer sets that offer clubs with more control and precision. Amateur sets tend to have fewer clubs while those for veterans have more of them.
Quality:
The quality of the clubs is a very important factor to think about. You should always look for clubs that are made of high-quality materials, with durable construction and a strong feel to them. Cheaper sets may be made of lower-quality materials and may not last nearly as long.
Fit:
The fit of the clubs is an often overlooked feature. Before buying a set, make sure the length, weight, and flex of the clubs are right for your swing and physique. Getting fitted for clubs can help you ensure that you get the best set.
Value:
Golf club sets vary in price greatly. Not all of them make sense to buy and you do not need to spend a lot of money to get a good set. Look for one that offers good value for the price and includes all the clubs and accessories you need.
Conclusion
Having explored each set in detail, we've unraveled the finest options available to help you get ahead of your game. From drivers to irons, putters to wedges, these sets offer a comprehensive array of clubs that cater to every golfer's needs.
Remember, investing in a quality golf club set is an investment in your performance and enjoyment on the course. By equipping yourself with the right tools, you'll find yourself more confident, more in control, and ready to tackle any challenge that comes your way.
So, step up your game, embrace the power of a well-rounded golf club set, and let your skills soar to new heights. Get ready to tee off with confidence and take your golfing experience to the next level! Happy golfing!

Sumayya Parrish, a golf aficionado and wordsmith extraordinaire, brings her wit and wisdom to the fairways of FloridaEliteGolfTour.com. Known for her uncanny ability to turn a bogey into a birdie with her humor, she serves up engaging content that keeps readers chuckling even when their golf game has them crying.