In your journey of golf, one moment you're a beginner, trying to get the hang of the swing, and the next, you find yourself in the intermediate zone, craving a club set that matches your evolving skills.
The transition from beginner to intermediate is exciting, but it also comes with its challenges, especially when it comes to choosing the right golf club set. With so many options out there, it's easy to feel overwhelmed.
And for players, unsure of whether a new set of clubs is for you consider browsing secondhand at NearlyNewGolfClubs. Be aware the conditions of used golf clubs can vary so be sure to check the ratings of the clubs' head, shaft, and grip and take a good look at the images before purchasing them.
So don't fret! I'm here to guide you through the maze of choices and help you find the perfect set that'll elevate your game. Let's get started, shall we?
1. Callaway STRATA Men's Lightweight 460cc Forged Driver Golf Packaged Sets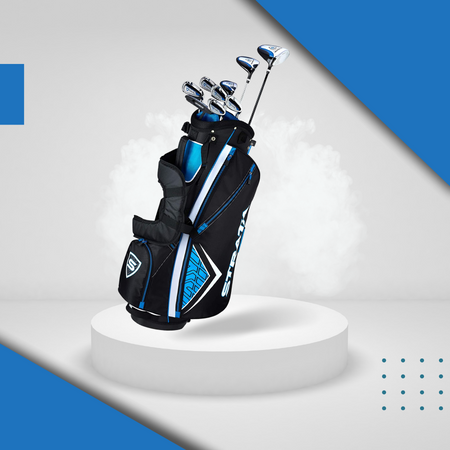 Check on Amazon
Check on GlobalGolf
Check on eBay
If you're an intermediate golfer looking for a set that promises both performance and value, the Strata Men's Complete Golf Set might just be your perfect match. Crafted by Callaway, a renowned name in the golfing world, this set is designed to maximize your performance right from the first swing. It's not just about the aesthetics, which are undeniably top-notch, but also about the engineering behind each club.
From the lightweight 460cc forged driver with its large sweet spot to the mallet putter designed for incredible accuracy, every piece in this set speaks of quality and precision.
Key Features/Specifications
Complete Set Composition: Includes Driver, 3 Wood, 5 Hybrid, 6 – 9 Iron, PW, Putter, Stand Bag, and 2 Headcovers.
Driver: Lightweight 460cc forged driver with a large sweet spot and a titanium head for enhanced forgiveness.
3 Wood: Oversized and designed with an aerodynamic head shape for long, high-flying shots.
5 Hybrid: Offers a great alternative to challenging long irons, ensuring confidence in various shots.
Material & Weight: Made of Aluminum with a steel shaft, the set has an item weight of 12 Pounds
Pros
Durable and well-built accessories
Does not strain the wrists
Includes all essential accessories
A golf standing bag included
Cons
Mild cracks after extensive usage
2. Wilson High-Quality Large 460cc Titanium Matrix Driver Men's Complete Golf Set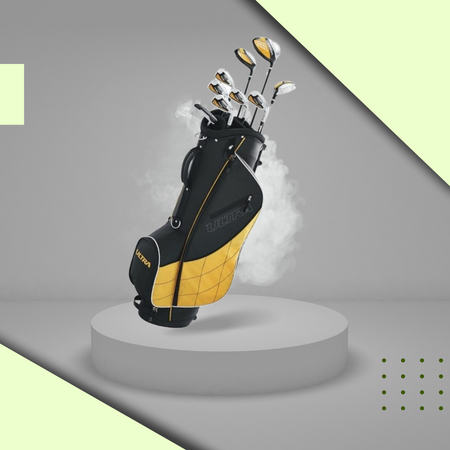 Check on Amazon
Check on Walmart
Stepping onto the green, every golfer needs a set that not only complements their style but also elevates their game. The Wilson Men's Complete Golf Club Package Set does just that. Crafted with premium components, advanced materials, and the latest technologies, this set promises to be a game-changer.
The 460 cc driver boasts a large sweet spot and an aerodynamic design, ensuring every shot covers more distance. The stainless steel irons are precision-engineered to guarantee straighter and longer shots.
But that's not all; the set also includes a lightweight, high-quality carry bag with adjustable shoulder straps and a self-activating stand. Whether you're aiming for the greens or navigating tricky bunkers, the specialized scoring clubs offer unparalleled control, making every shot count.
Key Features/Specifications
Driver: 460 cc with a large sweet spot and aerodynamic design for increased head speed and distance.
Irons: Deep stainless steel irons designed for precision and longer, straighter shots.
Carry Bag: Lightweight carry bag with adjustable shoulder straps, a sturdy handle, multiple pockets, and a self-activating stand.
Scoring Clubs: Feature very low weighting for enhanced greenside control and improved shot-making.
Material: Combination of advanced materials, including steel and alloy for the shaft.
Pros
Ideal for beginners and intermediates
The exclusive design of the drivers
Enables better shots
Cost-efficient and includes basic accessories
Cons
Difficult for mature players
Accuracy depends on the players.
3. Pinemeadow All Excel EGI Hybrids Feature Simple Golf Set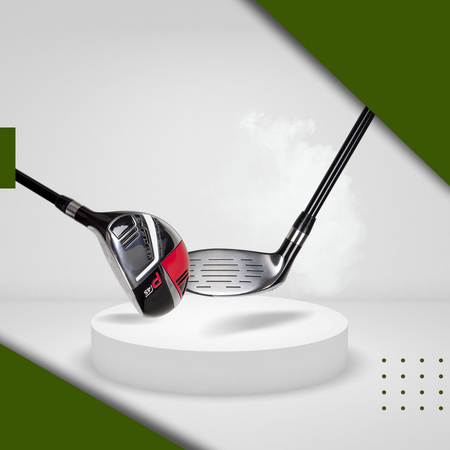 Check on DvaSata
Check on Walmart
Check on eBay
Navigating the golf course requires precision, versatility, and the right set of clubs. Enter the Pinemeadow Excel EGI Hybrid Set. Designed to cater to the needs of beginners and seasoned golfers, this set offers a seamless blend of functionality and style.
The low-torque Pinemeadow Hybrid graphite shafts ensure optimal performance, while the full hybrid set from 3-PW provides a comprehensive range of options for every shot. Whether you're teeing off or aiming for that perfect approach shot, these hybrids promise to be your trusted companions on the course. Plus, with included headcovers, your clubs stay protected when not in use.
Key Features/Specifications
Shaft Material: Made with low-torque Pinemeadow Hybrid graphite shafts.
Set Composition: Full Hybrid set ranging from 3-PW.
Protection: Comes with headcovers for each club.
Color: Black with a sleek design.
Item Weight: 8 Pounds, ensuring a balanced swing.
Pros
Wooden fairway driver
Short irons enable better spin.
Suitable for getting greens closer
Headcovers are included for better protection.
Cons
Distance varies in between shots.
Quality differs as per the cost.
4. Callaway STRATA Full Titanium Driver Women's Golf Packaged Sets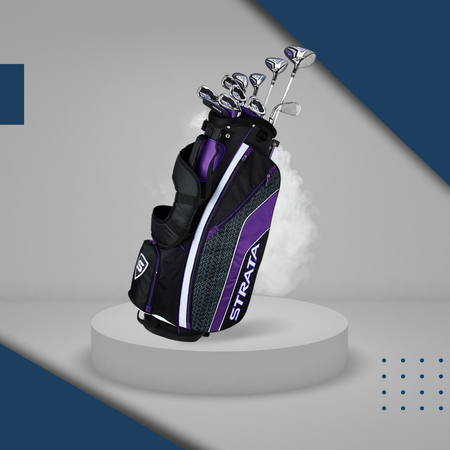 Check on Amazon
Check on PlanetsHoup
Check on CallawayGolf
Designed for maximum performance right out of the box, is a product that garners attention not just for its aesthetic appeal but also for its functionality and inclusivity in design. This 11-piece golf set, which includes a driver, 5-wood, 5-hybrid, 7 & 9-iron, SW, putter, stand bag, and 3 headcovers, is crafted to give women a great combination of distance, forgiveness, and control with clubs that are very easy to hit.
The lightweight 460cc forged driver, large 5-wood, and 5-hybrid are engineered for incredible distance and high flight, making them particularly user-friendly and a great option for those looking to enhance their game.
Moreover, the stainless-steel irons offer a satisfying blend of forgiveness and control, while the mallet putter with visual alignment aids is designed to improve accuracy for a more precise putt. The stand bag, which is both light and durable, comes with five convenient pockets, an additional cooler pocket, a rain hood, and a backpack strap system.
The Strata Women's Complete Golf Set is not just a set of clubs but a carefully curated collection designed to ensure that every swing you make counts.
Key Features/Specifications
Configuration: Available for left-hand orientation.
Material: Clubs made with Aluminum and Graphite shafts.
Club Flex: Designed specifically for women.
Set Composition: Includes Driver, 5-Wood, 5-Hybrid, 7 & 9-Iron, SW, Putter, Stand Bag, and 3 Headcovers.
Additional Features: The stand bag is lightweight and durable with five pockets, an additional cooler pocket, a rain hood, and a backpack strap system.
Pros
Uses the latest technology for updation
Customized for female players
Headcovers for each hybrid
Irons have a flight mechanism.
Cons
Headcovers counts within the set.
Surface of the putter is fragile.
5. Wilson Easier to Hit Hybrid Features Juniors Young Complete Golf Set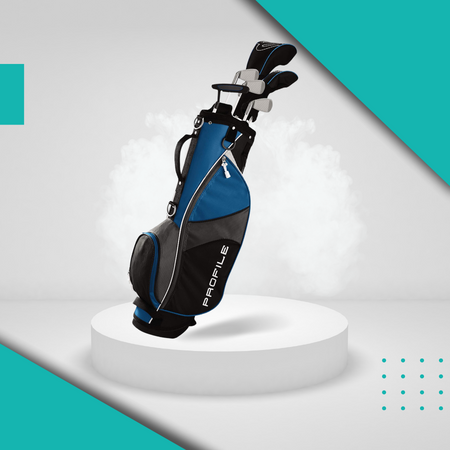 Check on Amazon
Check on Wilson
Check on Walmart
Introducing the WILSON Junior Profile JGI Complete Golf Club Package Set, a perfect blend of design and functionality tailored for young golfers. This set is meticulously crafted to cater to the unique needs of junior players, ensuring they have the right tools to hone their skills and develop a passion for the game.
Whether they're just starting out or have been playing for a while, this set promises to be a reliable companion on the course. The clubs are designed to offer a balance of power, precision, and flexibility, making them ideal for young players eager to improve their game.
Moreover, the set comes with a stand bag, ensuring that the clubs are organized and easily accessible. The vibrant blue color adds a touch of style, making it not just a functional choice but also a fashionable one. With WILSON's reputation for quality and durability, parents can be assured that they're investing in a product that will stand the test of time and provide their young golfer with countless hours of enjoyment on the green.
Key Features/Specifications:
Material: Made of durable Nylon.
Set Composition: Comprehensive golf club set tailored for junior players.
Color: Available in a vibrant blue shade.
Shaft Material: Crafted with Graphite shafts.
Item Weight: Lightweight at 3 Pounds, ensuring ease of use for young players.
Pros
Sufficient loft degree
Standing bag for easy access
Enough forgiveness on the driver
Encourages swinging techniques
Cons
Grips are thinner and slip.
Accessories get wet in the rain.
6. Titanium Driver 5-PW Stainless Steel Irons Men's Complete Golf Club Package Set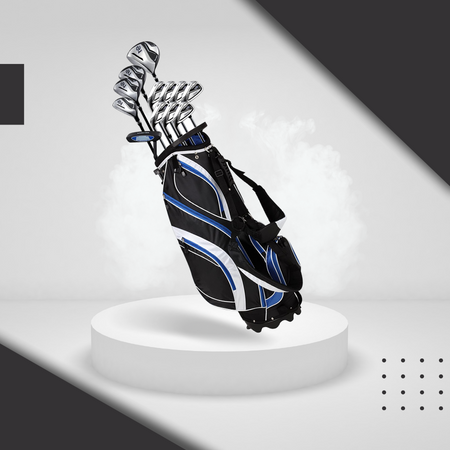 Check on Amazon
Check on Walmart
Stepping up your golf game requires the right equipment, and this 18-piece set from PRECISE might just be what you're looking for. Designed with both style and functionality in mind, this set boasts a full titanium driver known for its large "sweet spot", ensuring those off-the-tee shots are nothing short of impressive.
The set also includes forgiving #3 and #5 fairway woods designed for those high-flying shots, and a #4 hybrid, which is an excellent substitute for those tricky long irons. The stainless steel irons, ranging from 5-PW, come with a bonus sand wedge, all tailored for controlled, long shots.
And let's not forget the lightweight blade-style putter, equipped with an alignment system to help you sink more putts. The entire set is complemented by a stand bag and 4 headcovers, ensuring your clubs are protected and organized.
Key Features/Specifications
Full Titanium Driver: Features a large "sweet spot" for impressive off-the-tee shots.
Fairway Woods: Very forgiving #3 & #5 woods designed for long, high-flying shots.
#4 Hybrid: A great substitute for long irons, ensuring easier and less frustrating shots.
Stainless Steel Irons: The set includes 5-PW irons and a bonus sand wedge, all designed for long, controlled shots.
Lightweight Blade Style Putter: Comes with an alignment system for improved accuracy on the greens.
Pros
Aligned putter for better control
Uses advanced technology
Durable and long-lasting
Enhances a youngster's performance
Cons
Grips are not comfortable.
Stand is not sturdy
7. TaylorMade Ultra-Low CG & Max Core Golf M2 Iron Set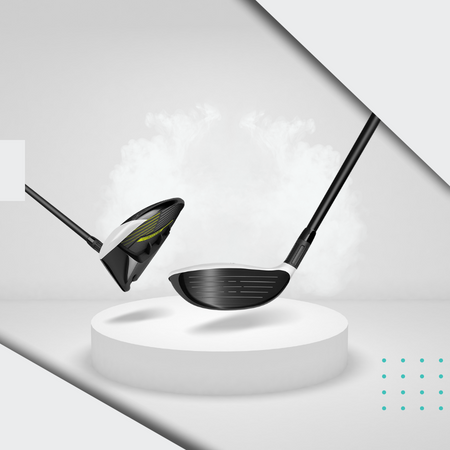 Check on Amazon
Check on DvaSata
When it comes to golf, TaylorMade has consistently been a name synonymous with innovation and quality. Their Ultra-Low CG & Max Core Golf M2 Iron Set is no exception. Designed with the serious golfer in mind, this set boasts an ultra-low center of gravity (CG) which ensures optimal launch angles and distances.
The Max Core technology, on the other hand, amplifies the sweet spot, allowing for more forgiving shots even when the ball isn't struck perfectly. This combination of features ensures that each swing you take feels powerful, controlled, and precise, making your time on the course all the more enjoyable.
Key Features/Specifications
Ultra-Low Center of Gravity (CG): Ensures optimal launch angles and maximized distances.
Max Core Technology: Amplifies the sweet spot for more forgiving shots and better ball speed.
Brand Reputation: TaylorMade is a trusted name in the golf industry, known for its innovative and high-quality products.
Precision Engineering: Designed for serious golfers looking for a combination of power and control.
Optimized Performance: Each iron in the set is crafted to provide the best possible performance, ensuring consistency across all shots.
Pros
The thinner and lighter fluted hosel
Promotes fast swinging
Lowers gravity of the club
A complete set for the golfer
Cons
Slotted irons are noticeable.
The control of irons is inaccurate.
8. LAZRUS Right Hand Steel Shaft Regular Flex Premium Golf Irons Set for Men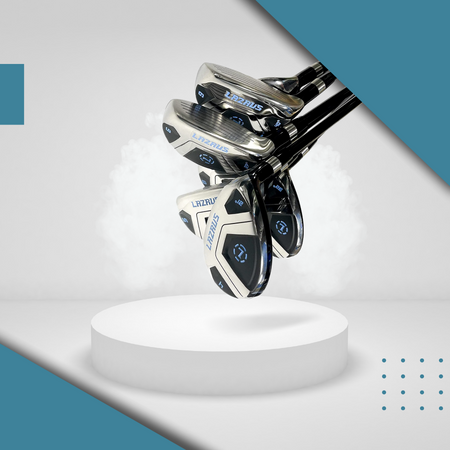 Check on Amazon
Check on Walmart
Check on LazrusGolf
For golfers seeking a blend of quality and affordability, the Golf Irons Set stands out as a compelling choice. Crafted with precision and attention to detail, this set is designed to cater to the needs of both amateur and seasoned players.
Each iron in the set boasts a robust steel shaft, ensuring durability and consistent performance. The regular flex of the shafts offers a perfect balance, allowing players to achieve optimal swing speeds and distances. Whether you're teeing off on a sunny day or practicing your swing at the range, the LAZRUS iron set promises to be a reliable companion, enhancing your game and boosting your confidence with every shot.
Key Features/Specifications
Steel Shaft: Durable and robust, ensuring longevity and consistent performance.
Regular Flex: Ideal for players seeking a balanced swing speed and distance.
Versatility: Suitable for both amateur and seasoned golfers.
Premium Design: Crafted with attention to detail, offering both functionality and aesthetic appeal.
Brand Assurance: LAZRUS is known for its commitment to quality, ensuring that players get the best value for their money.
Pros
Useful as an extra accessory kit
Convenient for all levels of players
Same manufacturers like leading competitors
Achieves control and coverage
Cons
No thinning of the edges
Lofts not enlarged
9. Precise M5 Men's Great Aiming Mechanism Putter Complete Golf Clubs Package Set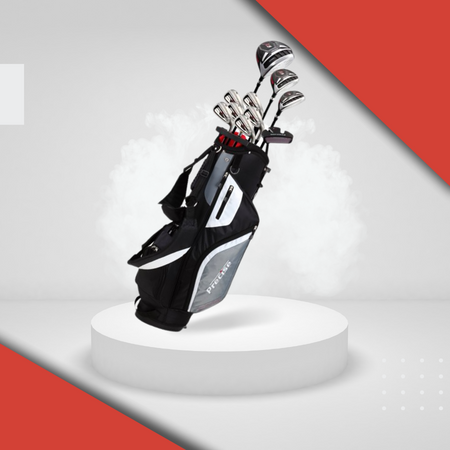 Check on Amazon
Check on Walmart
For those looking to elevate their golf game, the Precise M5 Men's Complete Golf Clubs Package Set is a top contender. This set is meticulously designed to cater to a wide range of golfers, ensuring that each club in the set complements your style and technique.
The package includes a 460cc driver, known for its extensive distance and forgiveness, ensuring your drives are both long and accurate. Accompanying the driver are a #3 wood, a 21 Hybrid, and stainless irons ranging from 5-PW. The set is rounded off with a putter that boasts a great aiming mechanism, ensuring your short game is as precise as your drives. With a deluxe stand bag for easy transportation and three matching headcovers to protect your clubs, this set is both functional and stylish.
Key Features/Specifications:
460cc Driver: Known for its extensive distance and forgiveness.
Complete Set: Includes a 460cc driver, #3 wood, 21 Hybrid, 5-PW stainless irons, and a putter.
Aiming Mechanism Putter: Designed to improve accuracy on the greens.
Deluxe Stand Bag: Stylish and functional, with spacious pockets for all your golfing essentials.
Three Matching Headcovers: Protect your driver, wood, and hybrid from the elements and any potential damage.
Pros
Portable and light in weight
Offsets in clubs for higher trajectory
Proper visibility of sweet spots
Easy handling techniques
Cons
Includes only one hybrid
Bag is not durable
10. Aspire X1 Ladies Lightweight Materials Women's Complete Golf Club Set Includes Driver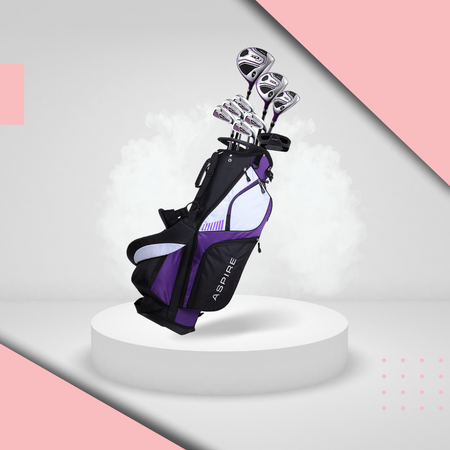 Check on Amazon
Check on Walmart
Check on Golf BestBuy
Elevate your golfing experience with the Aspire X1 Ladies Women's Complete Golf Set. Specifically designed with the modern woman in mind, this set combines style, performance, and convenience. The lightweight materials ensure ease of play, while the graphite shafts, tailored for women's swing speed and strength, promise durability and precision. Whether you're a beginner or an intermediate player, the Aspire X1 set is crafted to boost your confidence on the course.
Key Features/Specifications
Designed for Women: Tailored for the female golfer, ensuring comfort and ease of play.
Ultra-Light Graphite Shafts: 40% lighter than steel shafts, optimized for women's swing speed and strength.
Comprehensive Set: Includes driver, fairway wood, hybrid, irons (6-PW), putter, stand bag, head covers, and rain hood.
Two Size Options: Available in standard size for women between 5'3″ to 5'9″ and petite size for women 5'3″ and below.
Style and Performance: Designed for players seeking a blend of aesthetics and functionality, ensuring both confidence and style on the course.
Pros
Multiple chambers in the bag
Ideal for both tall and petite women
Attractive finishing improves its style.
Cons
Left-handed orientation not available
Uncomfortable grips of clubs
Buying Considerations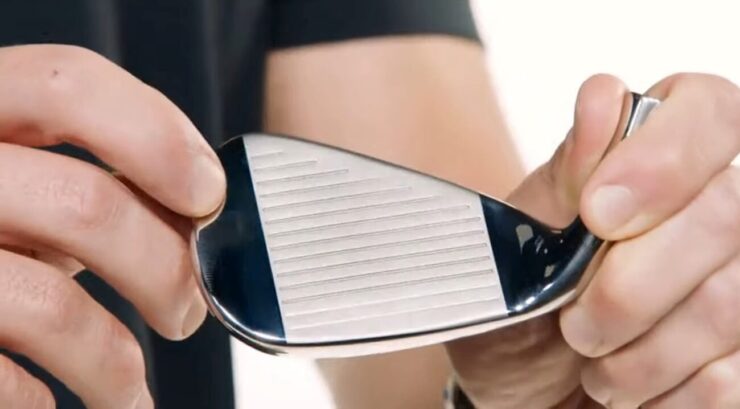 Since a wide variety of golf sets are available, it is challenging to decide on a suitable one. One must have a clear idea of the essential features that an ideal location should contain. To ease your task, below mentioned are a few critical factors that will help analyze the essentialities. Consider these factors before deciding on a specific one.
Price
Although the price is an important factor, it should not be a hurdle while looking for quality in the best golf club set. Different varieties of these club sets are available, and you can prefer the one that suits your range and requirements.
If you are thinking of buying each accessory separately, the overall cost will be higher. Thus, a complete package with all basic accessories is a better option in terms of being cost-effective. Moreover, you can also go for various discounts and deals, which are offered by the seller for further price reduction.
Size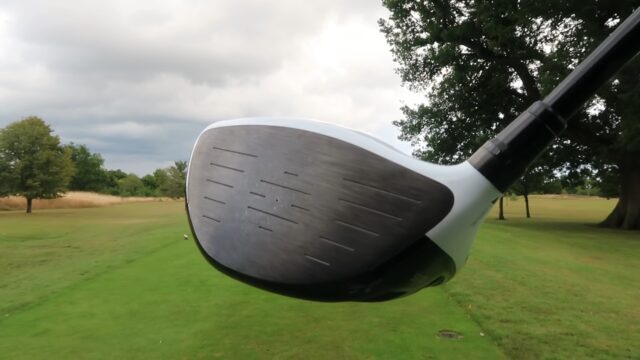 Make sure you check the various sizes available. If the club set is for juniors, the regular size will not be suitable. As the clubs will be larger, it will be difficult to balance, affecting the performance and hitting angle.
For women players, some sellers offer two different types of clubs as per their body structure. Usually, they offer accessories for tall and petite players. If the player is a teenager, a common accessory set is suitable through his further growing stage.
Advanced Technology
A specifically configured wedge can assist in extracting the ball from mud or sand. Selecting the one that has advanced features of control will enhance overall performance. But that too must be in a balance, or else it may hamper the hit.
Shafts with graphite material allow straight hits and cover a better distance. Maybe you prefer a lighter weighing club over a heavy one. While hybrid clubs are easier to handle and have a higher launching ability.
With better-structured clubs, the putters balance better and help in concentrating on the ball. However, make sure you understand the basics of different kinds of strokes before selecting a golfing kit.
Kit Carrying Bag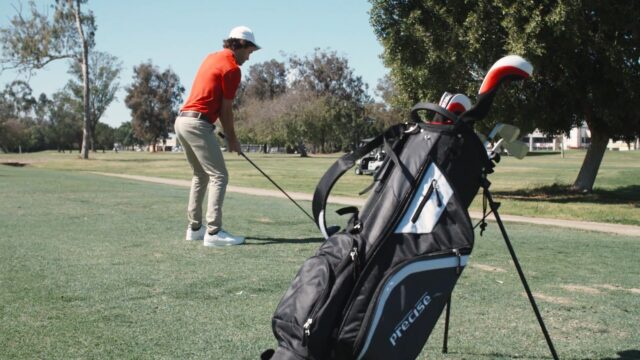 Golf involves different accessories for different strokes, as it is not a single equipment sport. A player needs to carry all of the supplements at a time while moving around the green. Thus, while purchasing a golf kit, ensure it also has a carrying bag. One with multiple chambers and pockets is beneficial, as it will segregate each of them. For more convenience, a bag with a hood is better as it will protect the clubs from rain and dust.
Secure Grip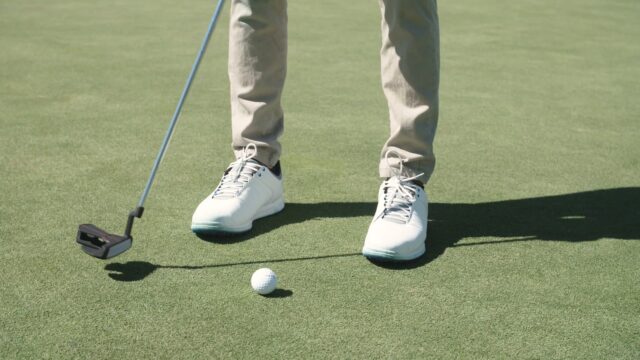 While choosing your golf club, ensure the quality of the grip. A fast and firm grip will enable the player to hit the ball higher reducing the chances of mis-hits. An ordinary grip tends to loosen within a short time; thus, choose wisely.
| | | | |
| --- | --- | --- | --- |
| Measurement 1 | Measurement 2 | Grip Size | Tape Wraps |
| | 2″ – 3″ | Ladies | 1 |
| 5 3/4″ – 6 1/2″ | 3″ – 4″ | Ladies | 2 |
| | 4″ – over | Ladies | 3 |
| | 2″ – 3″ | Ladies | 2 |
| 6 1/2″ – 7″ | 3″ – 4″ | Ladies | 4 |
| | 4″ – over | Mens Std | 1 |
| | 2″ – 3″ | Mens Std | 1 |
| 7″ – 7 3/4″ | 3″ – 4″ | Mens Std | 2 |
| | 4″ – over | Mens Std | 3 |
| | 2″ – 3″ | Mens Std | 2 |
| 7 3/4″ – 8 1/4″ | 3″ – 4″ | Mens Std | 3 |
| | 4″ – over | Midsize | 4 |
| | 2″ – 3″ | Mens Std | 3 |
| 8 1/4″ – 8 3/4″ | 3″ – 4″ | Mens Std | 4 |
| | 4″ – over | Midsize | 1 |
| | 2″ – 3″ | Midsize | 1 |
| 8 3/4″ – 9 1/4″ | 3″ – 4″ | Midsize | 2 |
| | 4″ – over | Midsize | 4 |
| | 2″ – 3″ | Midsize | 2 |
| 9 1/4″ – above | 3″ – 4″ | Midsize | 4 |
| | 4″ – over | Jumbo | 1 |
Functionality
The chosen golfing set should be versatile and serve well in terms of functions. Carrying a bag with a stand helps the player access the clubs easily, without bending now and then. An ergonomic handle of the clubs will minimize the strain on hands and wrists while hitting hard and higher. A lightweight kit is easier for players to carry around, especially for kids and women players.
FAQ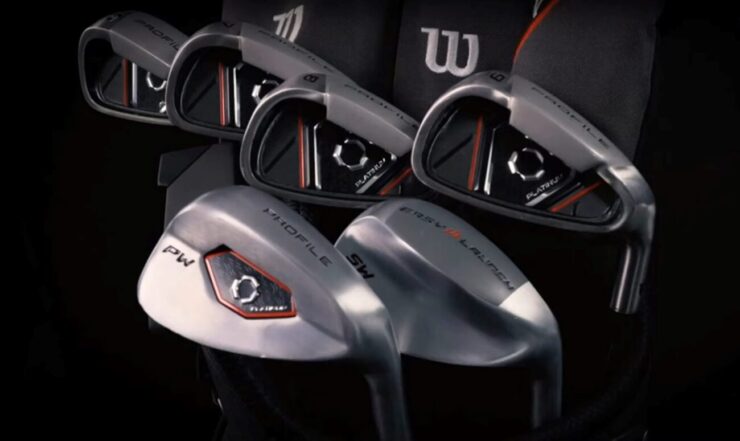 Why is the use of titanium more favorable in golf drivers?
The head of drivers is usually of titanium and is preferred among golfing enthusiasts. Along with an increase in the overall size, it also increases the size of the sweet spot. Further, it does not impact the clubs' weight, and titanium does not increase the overall value.
Which is better for players: graphite or titanium?
Since titanium is lighter than graphite, it is preferred by many players. Along with easy control of the driver, it also makes the swinging easier during play and enables more control of the spin.
Are both left-handed and right-handed sets available?
Yes, both are available, but you must ensure this criterion before purchasing the chosen one. The difference lies in the club head, wherein right-handed clubs, and head attachments are present in any shaft.
What are the benefits of higher lofts?
Lofts with an increased lift enhance the strike and cover more distance. Also, it is more forgiving, as it is tough to bend the ball. Higher lofts are close to horizontal, and the face points upwards and allows the ball to fall sharply. Any changes in the loft also transform the ball flight. However, the extra lift can make the hits shorter.
Is the golf club kit for women different?
Although the women's overall appearance is similar to the men's, they are lighter in weight. For improved performance on the field, it is essential that a golf club set suits the player's physical abilities. Most ladies' golf club sets are ideal for women measuring between 5ft 2 inches to 5 ft 9 inches. Women who possess a slower swinging speed require hybrid clubs made of graphite.
How is a junior club set different from an adult?
A junior golfer set ranges from 4 to 14 clubs, depending on beginners or intermediates. For youngsters, the club set should have the highest loft but the shortest shaft. A configured wedge can easily pull out the ball from mud or sand. A quality wedge will impact and enhance performance and will help in developing better skills.
What are the benefits of hybrid golf clubs?
Along with a higher launching ability, they are also more forgiving. Thus, it helps in striking the ball higher with much ease. Intermediates who are still not perfect in their skills often prefer using hybrid clubs as a result
Final Words
Navigating the world of golf clubs can be a daunting task, especially when you're at that intermediate stage, poised between a beginner and a pro. But with the right set of clubs in your arsenal, the journey becomes smoother and more enjoyable.
Each of the sets we've discussed offers a unique blend of design, technology, and performance, tailored to meet the evolving needs of intermediate players. Remember, the best set isn't just about brand or price—it's about finding the perfect match for your individual style and goals on the green.
So, take a moment, reflect on your game, and choose a set that will not only elevate your play but also boost your confidence. Here's to many more rounds of great golf!

A lifelong devotee of the sport, Kane Franco serves as a Senior Staff Writer for Florida Elite Golf Tour. His expertise, coupled with a genuine desire to assist golfers in selecting the optimal gear, has led him to oversee a team of writers dedicated to providing the most precise and insightful reviews and purchasing guidance.