Ever feel like you just can't get a good grip on your golf club? Trust me, I've been there. As a golfer, it's frustrating when holding your club becomes a struggle, especially when the heat turns your palms into a sweat factory. That's where golf grips come in handy.
Golf grips, these brilliant little rubber caps you fit on your golf shaft, are game changers. They ramp up the friction, stop your club from slipping away mid-swing, and help you maintain a solid hold on your iron.
So, you're in the right place. Stick with me as we explore the best golf grips this season. I'm sure we'll find the perfect grip to enhance your game!
Top Picks Golf Grips For Non-Slip Performance
However, it is challenging to find a golf grip that will perfectly suit your club. Sometimes they don't fit, and other times they don't feel right. Due to these reasons, we have brought you our top picks of golf grips available in the market for purchase. These grips are all dearly loved by many customers across the country.
We understand that searching for a golf grip is even tricky for first-time buyers.
Therefore, we have also included a buying guide at the bottom of our list to help you in every possible way. Without further ado, let us now start our discussion of these products.
1. Golf Pride MCC Plus4 New Decade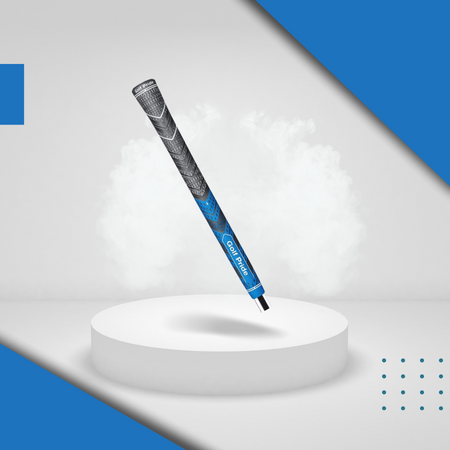 Check on Amazon
Check on GlobalGolf
You can buy this golf grip in different combinations with a grey color that includes – blue, orange, red, and green. It has a large diameter in the lower end of the hand. This grip will also promote a reduction in the tension of your hands and provide you with extra fluidity.
Due to these reasons, you will be able to create powerful swings while you are playing golf. The upper hand of the product is made from cord material and has in-built stability. Whereas the lower hand is made using rubber, which makes it soft to hold.
Pros
You can buy the product in many color combinations.
The grip is made using the cord as well as a rubber material.
Cons
The colors of the product may appear different than they do in pictures.
2. Karma Dual Touch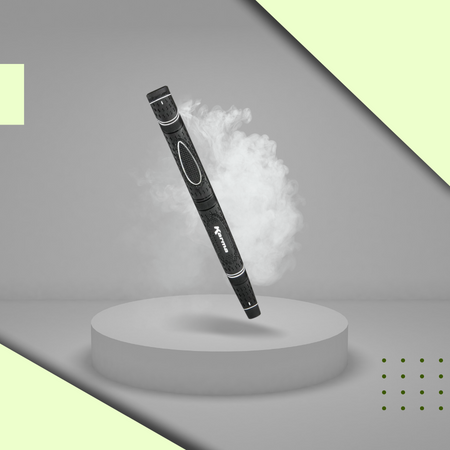 Check on Amazon
Check on KarmaGrips
On number two of our list, we have the golf grip by the brand called Karma. It is available for purchase in four colors, which are – black, orange, blue, and red. The grip only weighs 85 grams and comes with a grip shape paddle.
It is made from a rubber material and is very soft to hold and use. This grip also has a pitted texture that helps in creating friction and prevents slippage on the club from your hands.
Pros
The grip does not add extra weight to your club.
This product will be great in the prevention of slips due to sweaty palms.
Cons
The grip is available in only one size i.e., midsize.
3. SuperStroke Mid Slim 2.0 Putter Grip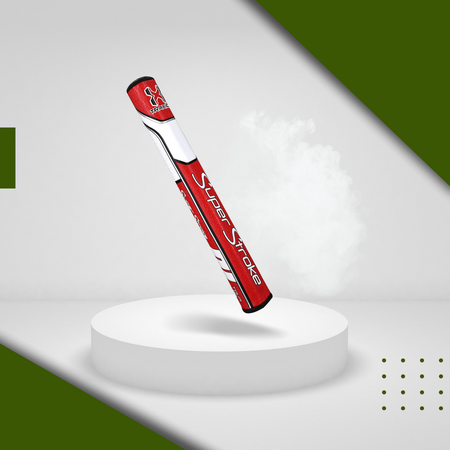 Check on Amazon
Check on Walmart
This amazing golf grip comes in one size i.e., oversized. It is light in weight and has a sleek yet attractive design. You can buy this grip in 8 colors that include – midnight black, midnight blue, midnight green, and many more.
The diameter of the product is 1.3 inches, and it weighs only 60 grams. It is designed by incorporating traction technology that helps in the extreme reduction of slippage. The surface area of the grip is large and lets you hold your club very well.
Pros
The weight of the grip is very less, and it is easy to put on in your club shaft.
This grip can fit into clubs from many brands.
Cons
The front panel of the product needs improvement.
If you are not sure how to choose the right one, check out our latest article on putter grips.
4. Winn DriTac Wrap WinnDry Grip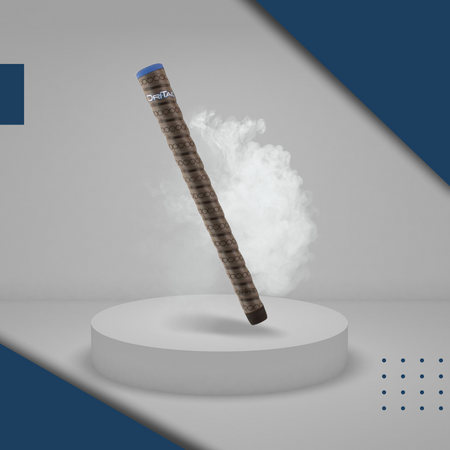 Check on Amazon
Check on 3Balls
This golf grip is available at a very low price. Yet its quality is high. It is made from imported rubber and has a core size of 0.6 inches. Additionally, the weight of this grip is 50 grams, and it absorbs shock very well.
It is also resistant to water and comes in a dark grey color. It is very highly rated by customers and is available in midsize. However, you do not get any warranty with the product.
Pros
The grip is exceptional in absorbing shocks at all times.
The grip can be afforded by anyone.
Cons
The grip starts slipping from the shaft after a few months of usage.
5. Saplize Golf Putter Grip Midsize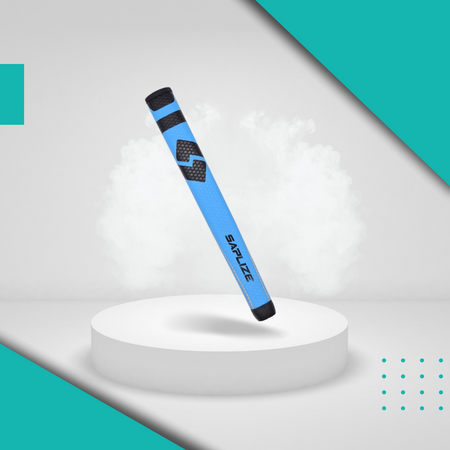 Check on eBay
Check on DvaSata
On number five of our list, we have the grip that is available in three colors, which are – blue, orange, and green. It comes in midsize and is extremely light in weight. It is entirely anti-slip and has a thickness of just 0.2 mm.
Additionally, the shapes in the grip are like a boomerang, and they provide you with better traction. You can use this grip in any weather. It weighs only 2.08 ounces and is made using EVA foam.
Pros
You can achieve good strokes in any weather with this grip.
It is very light in weight.
Cons
The grip and sometimes fit extremely tightly to the shaft.
6. Lamkin Crossline Standard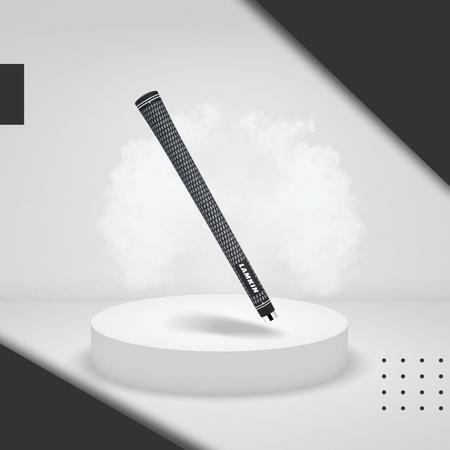 Check on Walmart
The golf bag usually carries 12 clubs and so what do you do with the 13th grip without a matching club? Well, now there's no need to worry or search for an extra club as Lamkin has got you covered.
This bundle comes with thirteen grips: one spare in case of any misfortune that might occur while playing your favorite game on the course. You can now prepare yourself beforehand to tackle the adventure anytime, anywhere! And all thanks go to this wonderful bundle from Lamkin.
It brings a seriously great gripping game to your fingers. It comes with 13 pcs and each of these pieces features the patented High Traction Pattern from Lamkin grips which guarantees superior club control, rather than constantly slipping off due to sweat or other accidental reasons.
Buying Guide To Choose the Best Golf Grips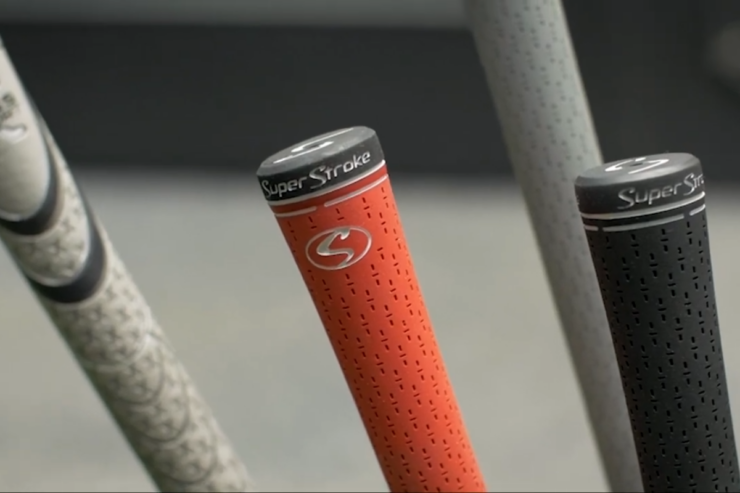 If you are a first-time buyer of a golf grip for your clubs, we recommend you to read the below-given points. In these points, we have explained various aspects that need your consideration before you make a purchase.
Size
You should always buy a grip that fits perfectly in your hand. For this, you will have to check its length and breadth. Many people use the grip of the wrong size, and it truly affects their game.
A perfectly sized grip will also not slip from the shaft of the golf drivers and let you play the game conveniently.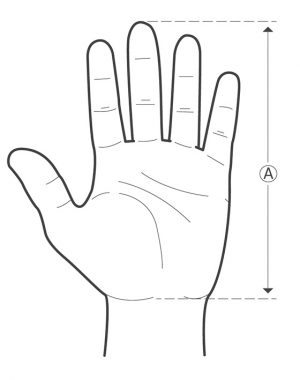 | | |
| --- | --- |
| Crease to Fingertip (A) | Grip Size |
| <5 inches | Junior |
| 5″ to 6.5″ | Undersize |
| 6.6″ to 7.5″ | Standard |
| 7.6″ to 9″ | Midsize |
| 9.1″ to 10″ | Jumbo |
If you are measuring according to your gloves size, take a look at the following table:
| | |
| --- | --- |
| Glove Size | Recommended Grip Size |
| Men's Small / Women's Small or Medium | Undersize |
| Men's Medium or ML / Women's Large | Standard |
| Men's Large | Midsize |
| Men's XL or 2XL | Midsize or Jumbo |
The firmness of the grip
When it comes to firmness, many people have claimed that it matters a lot. The firmness of the grip can either enhance or affect your grip.
If you are a young player, we suggest you use grips that are not too soft. However, if you are an old player, softer grips will work best for you.
Ribbed design
The ribbed design of a golf grip was created to enhance the hold even when the palms of the player get sweaty. The ridges in the ribbed design also help you to know where you need to place your hands to make the perfect shot.
Some grips have a smooth design. These grips are very symmetrical, and you can use them if you are very good at playing golf.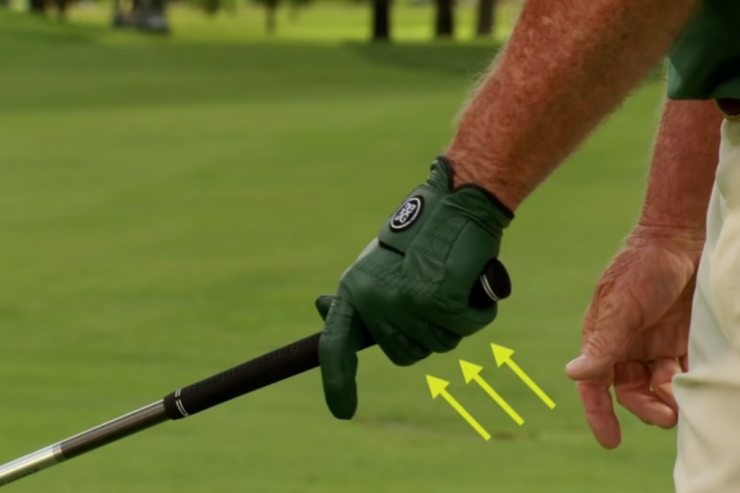 Type
Based on the material used to make the golf grips, are of various kinds. Rubber grips are the grips that give your hands an adhesive feel. These grips may also contain some amount of plastic, silicone, and elastomers.
On the other hand, corded grips are made from cord material. These grips are quite uncomfortable as they can cause abrasion. But they are excellent in preventing slips due to sweat as well as rain.
Cost
You can find grips in the different price ranges on our list. However, we advise you to choose a grip that fits well in your budget. Grips can be a long-term investment, but they still require replacement after a few years.
Hence, spending a considerable amount of money on them won't be very beneficial. However, do not compromise the quality of the product at any cost.
Read online reviews
When it comes to experience, there can be nothing better that can serve you with the same than reading reviews. Buyers across the country have posted their ratings and reviews of each product on our list.
You may consider reading them at many e-commercial sites as they will help you in knowing a lot about the product. These reviews can also save you from disappointments that you may have afterward.
FAQ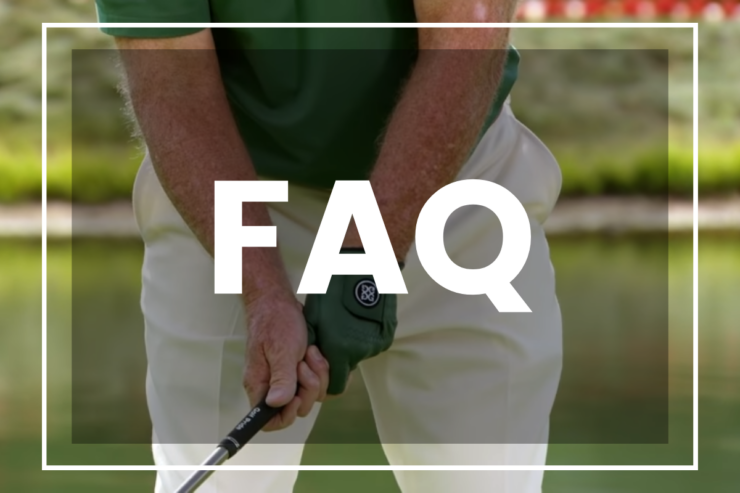 What Golf Grip Do Most Professionals Use?
There are a few different types of golf grips that professionals use, but the most popular grip is the interlocking grip. This grip is where the pinky finger of the left-hand hooks around the index finger of the right hand. The Vardon Grip is another popular professional golf grip that is similar to the interlocking grip, but the pinky finger is not hooked around the index finger and instead rests underneath it.
What Grip Does Tiger Woods Use?
Tiger Woods is one of the most successful golfers in history, and part of his success can be attributed to his grip. Tiger uses an interlocking grip, that provides a lot of stability and control for Woods, who has a very powerful swing.
Which Golf Grip Gives You the Most Distance?
One grip that is often recommended for those looking to add distance to their shots is the power grip. This grip involves holding the club in your fingers rather than your palm and can help you generate more clubhead speed. Another option is the interlocking grip, which locks your pinky finger and index finger together. This can help you maintain a lighter grip on the club, which can also lead to more distance.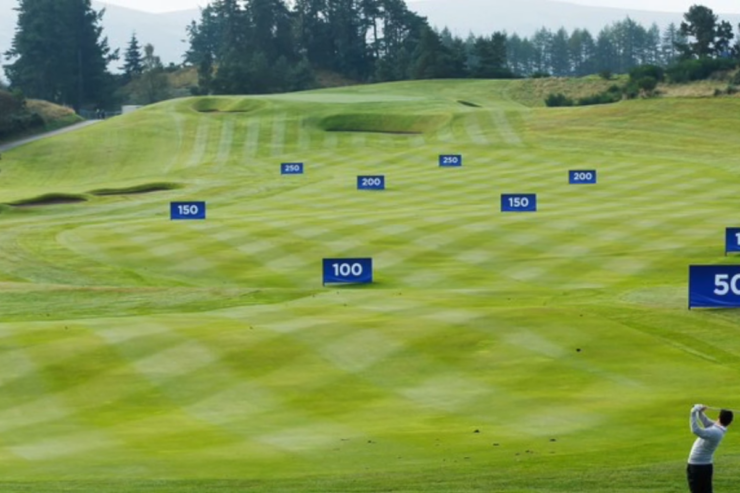 Are Thicker Grips Better for Golf?
Some golfers prefer thicker grips because they feel it gives them more control over their shots, while others find thinner grips to be more comfortable and easier to handle. Ultimately, it is up to the golfer to experiment with different grip sizes and choose the one that feels best for them.
How Often Should I Change My Golf Grips?
Generally speaking, you should change your grips at least once a year, but more frequently if you play a lot or if your grips show signs of wear and tear.
If you're an avid golfer who plays several times a week, you'll need to replace your grips more frequently than someone who only plays a few rounds per year. A good rule of thumb is to replace your grips every 40 rounds or so.
Do You Use the Same Grip for Driver and Irons?
If you're a beginner golf player, then it's recommended that you use the same grip for both your driver and irons. This will help you develop a consistent swing. However, if you're more experienced, you may want to use a different grip for your driver and irons. This is because the driver is meant to be hit further than your irons, so you need to adjust your grip accordingly.
Conclusion: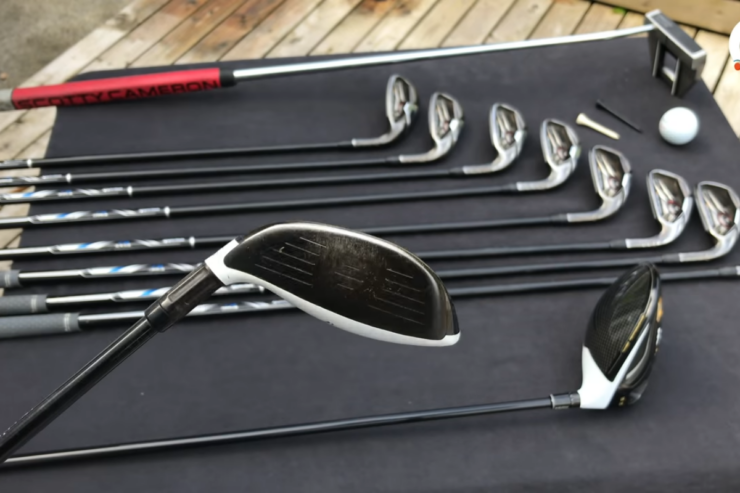 Navigating the sea of golf grips on the market can feel overwhelming, and truth be told, not all grips are created equal. That's why I've put together this comprehensive list for you, based on my passion for quality and the game.
I believe that this insight, paired with your personal preferences and playing style, will guide you toward the perfect grip. After all, every golfer deserves a firm, comfortable hold on their club – a grip that stands up to the heat and pressure of the game. So, let's level up your golfing experience together!

A lifelong devotee of the sport, Kane Franco serves as a Senior Staff Writer for Florida Elite Golf Tour. His expertise, coupled with a genuine desire to assist golfers in selecting the optimal gear, has led him to oversee a team of writers dedicated to providing the most precise and insightful reviews and purchasing guidance.