A customized golf cart is nothing short of attraction, fun, and thrill. A cart that matches your individual style and is more functional than intended; who doesn't want that?
Well, there are a number of ways you can do so, such as by adding wraps, changing wheels, replacing the interior, and adding flashy colors.
Likewise, you can also make it more comfortable by changing the seating, adding a headrest, and much more.
If you are looking for ways to add personalization, here is a complete guide on golf cart wraps: how to customize your golf cart. So, let's get in.
Customize It With a Lift Kit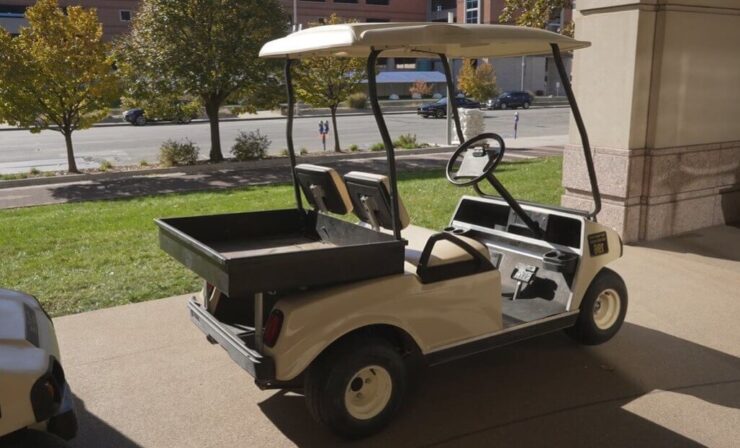 The first and foremost way you can customize a golf cart is by customizing it with a lift kit. It can help you upgrade your cart by making it impressive for rough and unruly terrains.
These often come with additional tires and wheels (ranging from 2 to 6 inches). So, this way, you can ideally enlarge the wheels of your cart. Here are some types of ways you can lift up the wheels of your golf cart;
Spindle Lifts are designed to help you with a wide wheel that makes the ride even more stable over bumpy surfaces.
Likewise, these lifts are quite affordable and offer straightforward assembly with no need for adjustments or resets.
Axle Lifts are designed for the front axles and are designed to make the process thrilling yet stable. These are also relatively cost-effective; however, they can take some time for installation because their rods are narrow.
So, only go for these if you have a certain level of expertise in this regard.
Long Travel Lifts are designed for off-road performance with a stable base that helps you with stability and balance over unruly and bumpy terrains.
They are equipped with outstanding front suspension that provides you a comfortable and controlled ride throughout, all thanks to their ability to widen the wheelbase.
Finally, these are easy to install; however, they demand financial investment.
Tires and Wheels
Likewise, another way you can customize your golf cart is by making your wheels more functional and contemporary looking.
For this, the most important factors you should consider are the wheel size, types of tires, and the wheelbase.
Likewise, I would recommend you to consider the street tires as they are quite efficient when it comes to unruly and bumpy terrain.
For off-road performance, it is important to consider the large wheels that integrate deep tread patterns, so you can achieve traction and stability.
Most commonly, you can find card wheels in matte black color with different material construction (preferably rubber).
For this, some of the high-quality wheels come from MJFX, Madjax, and Callaway. All in all, you can choose the one that suits your budget.
Seatings Customizations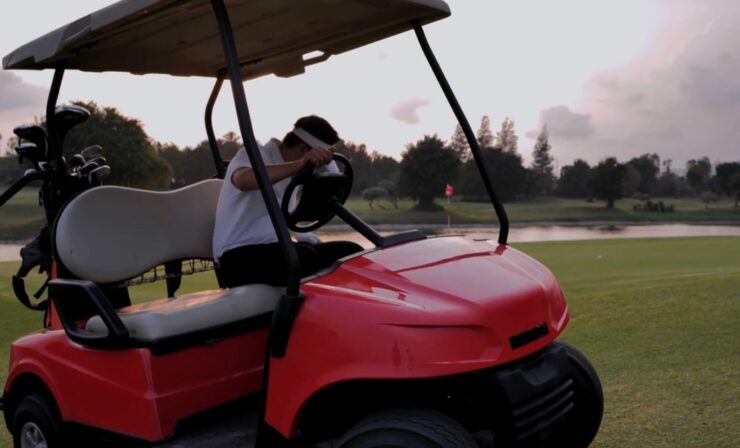 In addition, I absolutely love the seating customization as it is my favorite way to renovate and customize the golf cart.
Here, you can find a number of different designs and materials across the market for golf chairs.
You can also find ones that are equipped with headrests and armrests, with further customizations like two-tone cushions and much more.
So, you can add personalization and make it as per your individual style. Madjax is a brand you should consider if you are planning to customize your seatings.
Changing the Aesthetics
If you are bored with the exterior or interior of your golf cart and want something fun that also matches your vibe and style, it is ideal to go for aesthetics.
Here, I would recommend you consider some flashy colors and stickers to put on the bumper as well as the decal.
This will make your cart appear more vibrant and individualistic. You can further go for a change of awnings, windshields, light colors, and replacing old mirrors with the ones that absolutely go with your individual style.
Others Customizing Ideas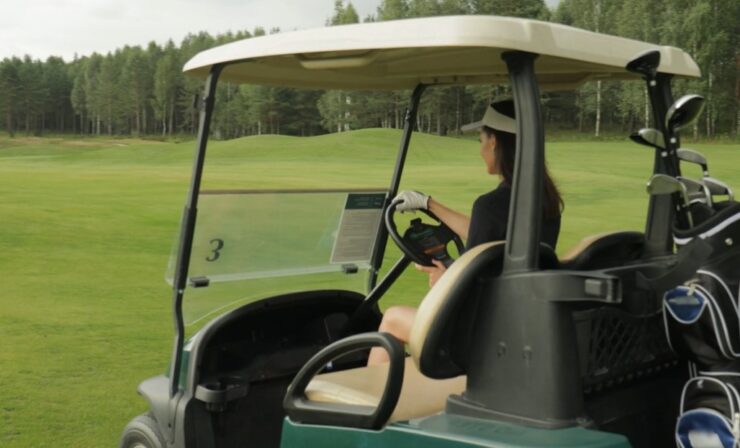 Here are some other ways you can customize your golf cart and add individuality to it;
The first way is by adding Bluetooth speakers in the design, so you are provided with better sound while making it even more fun and thrilling. You can place these on the dash area or even the struts.
To increase the speed of your golf cart, you can add an upgraded controller so you are provided with better control and stability (even on rough and unruly terrain).
You can further create your own theme by choosing a specific sports team and matching it with the interior of your cart.
Another fun way to customize your golf cart is by adding a convenient cooler. You can place it on the bracket mount easily.
Frequently Asked Questions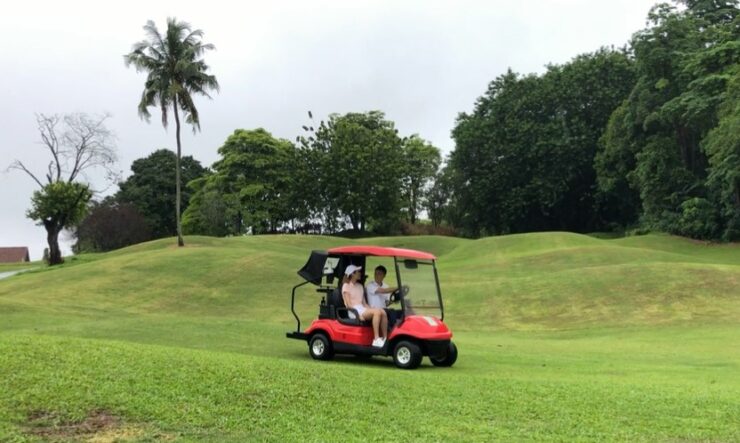 What can I add to my golf cart?
There are a number of ways you can customize your golf carts. Some major ways you can do this is by adding a wrap or personalizing it as per your individualistic design.
You can do this by changing the exterior of your cart, changing lights, and even adding extra power to it.
Another fun way to customize it is by changing the wheels.
How much does it cost to wrap a golf cart?
On the whole, it totally depends on your cart's size. For instance, a typical, standard-size cart would demand 5 to 6 squares of wraps (preferably made up of vinyl).
Thereby, this will cost you between $185 and $350. All in all, it varies based on the size of your cart as well as the material that is used in the construction.
Do vinyl wraps shrink?
Yes, when heated, vinyl wraps are the same as shrink wraps. This is because they incorporate a film that shrinks; however it is only a certain amount of it.
It further comes with different parts that have a considerable amount of filming, so there is no issue of shrinking here.
Can you modify a golf cart to go faster?
If you're looking for a way to make your golf cart go faster, there are a few things you can do. You can add horsepower by installing a new engine or upgrading the existing one.
You can also install upgraded suspension and wheels to make the cart travel over obstacles more easily. In addition, you can modify your golf cart's aerodynamics to create more air resistance, which will slow it down.
Do golf carts go faster with bigger tires?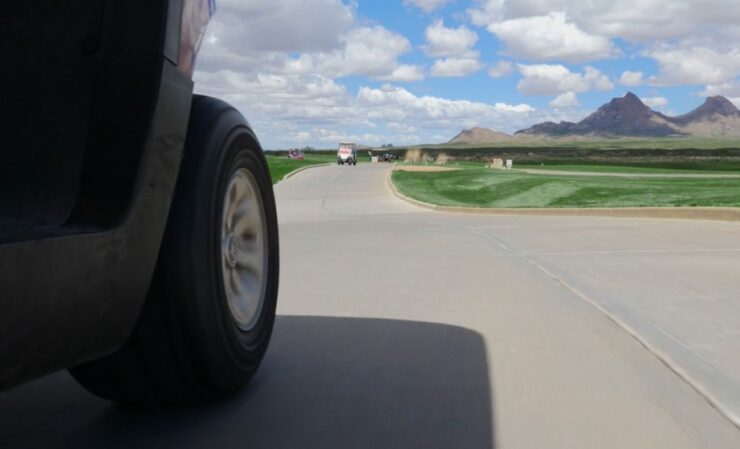 Golf cars with bigger tires can travel at a higher speed on the ground. This is due to the larger contact surface area between the tire and the ground.
Bigger tires also provide more stability on rougher terrain, making them better suited for golf carts that are used primarily for transportation purposes.
Is it easier to paint or wrap a golf cart?
Painting and wrapping a golf cart can be easier or harder depending on the skill level of the painter.
If the painter has experience, painting a golf cart can be easier because they will know how to prep the area and avoid damaging the cart.
Conversely, if the painter is not familiar with golf carts, they may struggle to paint them properly because there are many small details that need to be taken care of.
Generally speaking, golf carts are made out of plastic and stainless steel so they are easy to work with when it comes to painting.
However, some models are made out of more challenging materials such as fiberglass which can be more difficult to cover. In addition, golf carts often have intricate designs that must be painted evenly and without mistakes.
When it comes to wrapping a golf cart, most people use duct tape because it is easy to apply and remove.
However,wrap a golf cart in duct tape may not be the most durable option so other methods such as Velcro or zip ties should also be considered.
Final Thoughts
In the end, here are some ways you can add customization to your golf cart and make it more personalized.
Over time, the more simplistic ways of wrapping your cart or changing the wheels can provide you with functionality and comfort. So, do consider customizing your cart and making it match your individual style.

A lifelong devotee of the sport, Kane Franco serves as a Senior Staff Writer for Florida Elite Golf Tour. His expertise, coupled with a genuine desire to assist golfers in selecting the optimal gear, has led him to oversee a team of writers dedicated to providing the most precise and insightful reviews and purchasing guidance.