It is essential to decorate your office properly to improve productivity because you feel what you see.
If you watch inspiring and exciting items in the office space, you will feel happy and motivated to perform.
Therefore, the best way to decorate the office is to set a theme as per your personality and liking.
If you are a golf lover, the best way to decorate the office space is to add golf-themed décor items. It will keep you active and remind you about good memories related to the game.
As a result, you will perform better in a good mood, and your productivity will eventually improve.
Moreover, incorporating golf-themed accessories is fun, and you will feel like you are present on a golf course.
The following are some fantastic golf-themed décor items for your office:
1. Install Bookshelves or Open Wooden Cases
Install a bookshelf or open wooden cases to organize your books or files and showcase the trophies.
You can show your golf love by customizing the bookshelf or displaying the case in a way that highlights golf balls and golf clubs at corners.
You can also put the trophies of golf tournaments if you have any.
2. Hang Golf Inspired Artwork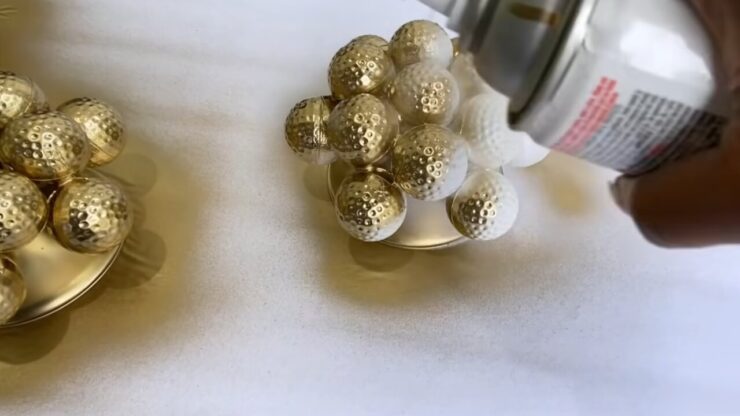 Generally, office walls are bland. You feel more discouraged whenever you look at empty walls, which worsens your productivity. So, why not make them attractive and inspiring.
You can easily do it by hanging eye-catching golf-inspired wall prints, like these ones. It will reflect your passion for the game and make the office space look stunning.
You can hang canvas prints of caddy bags, golf clubs, tee, or balls. They will represent your interests and style up the workspace beautifully.
So, show your passion to colleagues or clients and look for abstract artworks or vintage golf-inspired paintings for the office.
3. Add Golf-Themed Table Lamps
The desk is the first thing when anyone visits you at the office.
So, decorate it with stylish table lamps. You can easily get iconic golf club table lamps online or in the market.
These items depict several aspects of golf.
So, this accessory will indeed become an exciting topic of conversation. You can also be creative by getting a customized fairy garden with some golfing birds.
4. Place Golf Ball Shaped Coasters on Desk
Do you feel irritated by water condensation marks or tea spots on the office desk?
If yes, then place a coaster set on the desk.
So, get a golf ball-shaped coaster set to add interest. It will not only enhance the look of your tabletop but is also a functional item.
5. Use Golf-Themed Bookend
The golf-themed bookend is a beautiful décor item to enhance the office look. This set usually features two golfers in different positions.
It has a high-quality, durable iron material that can easily hold multiple books more than five pounds. It also has a bronze finishing that provides a pleasing look and excellent durability at a reasonable price.
Moreover, it is not only a décor item, but it can also keep large and heavy books properly organized. It can become a good topic of discussion with whoever enters your room.
6. Place a Golf-Themed Pen Holder on Table
A golf-themed pencil or pen holder is a perfect décor item that complements the office space. It is a unique yet stylish way to amp up your work area.
You can place it on the desk to delicately display your liking for this game. In addition, customize it by adding a metal plate in front engraved with your initials.
This set consists of a letter opener, pen, and pencil featuring golf accessories shape designs. This set can help to keep a person inspired during long working hours.
Moreover, it gives a professional look to your table and reminds you about precious gaming moments.
7. Include Golf-Themed Crystal Paperweight
You all need paperweights in the office to keep loose papers from blowing away because of the breeze. So, why not add a touch of golf with it.
You can showcase your passion by including a golf-themed crystal paperweight on the working desk. It will help you to keep the workspace classy yet functional.
A crystal paperweight in the shape and design of a golf ball is a perfect décor item. It makes your work area aesthetically pleasing and conveys your passion for the game without overpowering the space.
Usually, a golf ball's diameter is three-and-a-quarter inches. So, it is the perfect item to keep next to other office supplies.
8. Add a Golf-Themed LED Clock in the Space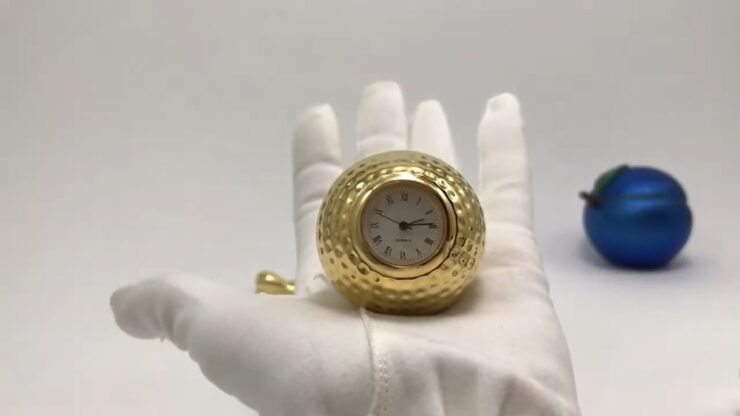 Add a décor item that is functional and unique to make your space look eye-catching. The best way to do this is to place a tiny golf card LED clock on the table.
You can also hang a ball-shaped LED clock on the wall. These LED clocks add style and character to the space and tell you the month, time, date, day, temperatures, and other things.
These clocks usually have accessible batteries that you can change yourself when needed.
This item allows you to manage your work on time, and it complements well with your theme.
9. Use a Golf-Inspired Business Card Holder
Business cardholders are the other essential item present on the table of employees. So, you can add style to the table with classy golf-inspired business card holders.
For instance, there can be a metal golf ball and two tees in the holder. It makes an ordinary holder look attractive.
10. Install Golf-Themed Blinds
Blinds are necessary items to maintain privacy in the office. You can add an exciting and classy touch by installing golf-themed blinds in place or ordinary ones.
Get them customized, featuring the golf courses or golf accessories. It will add a unique character to the space and showcase your passion for golf.
11. Golf Themed Mug or Glass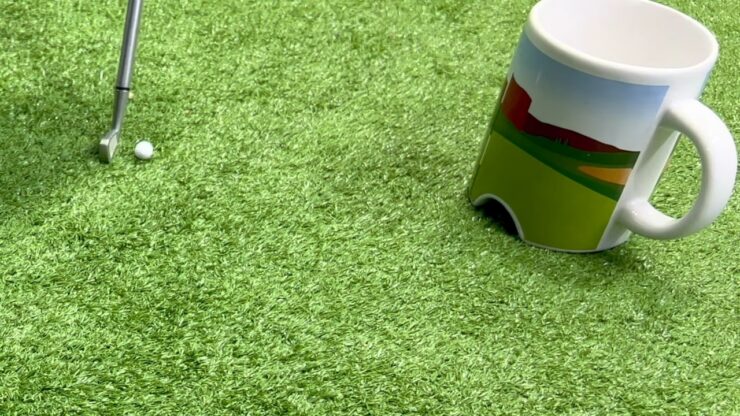 If you're looking for a small but fun way to liven up your desk, consider getting a golf-themed mug or glass.
These pieces are perfect for any golf fan and can be used to drink your morning coffee, take a break during the afternoon, or even celebrate a good shot during dinner.
There are plenty of options available on online and in store, so there's sure to be something that suits your needs.
12. Golf Pillowcase or Blanket
Do you need someplace to sleep on overnight trips to the course? Then get yourself a golf pillowcase or blanket!
Not only will this provide comfort while sleeping on the ground, but it'll also look great in your home as an added accent piece.
We have both standard and oversized options available, so there's bound to be something that fits your needs.
13. Golf Collage Wall Art
Creating a golf-themed collage wall art is a remarkable way to exhibit your passion for golf in your office, offering both visual appeal and a conversation starter for visitors. Start by selecting a mix of your favorite golf photographs, memorabilia, and vintage posters. Arrange them on a large board or canvas, incorporating different frame sizes and styles, and add a personal touch with captions or anecdotes.
Incorporating golf-themed accessories can be a fun and creative way to personalize your office space, and with tools like Adobe Express collage, you can easily design a collage of your favorite golf memories to hang on the wall. This collage will not only add a touch of nostalgia but also serve as a source of inspiration for improved productivity throughout the workday.
Consider a harmonious color scheme, reminiscent of golf courses, and include 3D elements like miniature golf clubs for added texture. Centralize a focal point and surround it with other elements creatively. Once content with the arrangement, opt for professional framing to enhance and protect your personalized golf collage, making your workspace more inspiring and aesthetically pleasing.
Final Thoughts
It can be challenging to buy golf-themed accessories, especially for the office. But it is not impossible.
So, be intelligent and creative to show your love and make the space functional yet stylish with useful décor items.
Hopefully, the above items will help you achieve the look you want.

A lifelong devotee of the sport, Kane Franco serves as a Senior Staff Writer for Florida Elite Golf Tour. His expertise, coupled with a genuine desire to assist golfers in selecting the optimal gear, has led him to oversee a team of writers dedicated to providing the most precise and insightful reviews and purchasing guidance.