During the off-season, golf simulators have a high demand among golf players. Also, many people love the game but have no access to the course. Some people play the game in their free time just to have some fun, so they don't want to go to the course.
So, golf simulators offer an alternative solution for these kinds of people. With this product, it is easy to play the game at home.
Best Golf Simulator Online
If you are looking for a golf simulator, you can get your preferred product here. So, you can go through the reviews and select the right product for you. You can also use the buying guide for that.
1. Phigolf Mobile and Home Smart Golf Simulator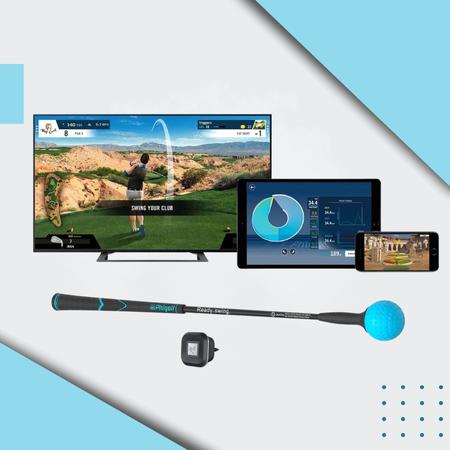 This is a superb product to play golf at home. You just need to connect the app to your TV and enjoy the 8 Phigolf courses for free. It also contains 24 WGT courses on a monthly subscription basis at an affordable price. It is easy to play the game without nets or balls.
It includes a swing trainer of 2 feet long, which enables you to play the game in your living room. With this product, you can play golf at any weather condition anytime, anywhere. Also, you can challenge your friends online from home. It offers practice goals and ability tests to let beginners learn the game.
Pros
Ideal for small places.
It offers free and affordable courses.
Suitable for beginners.
2. Rapsodo R-motion and the Golf Simulator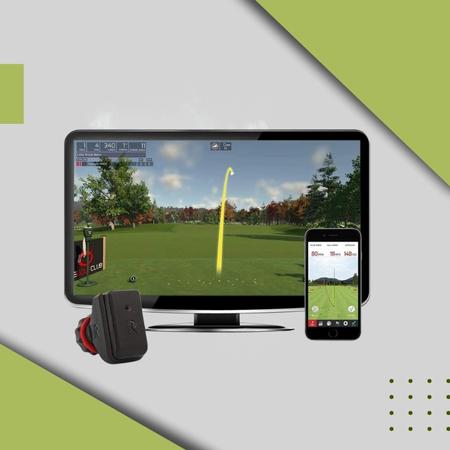 This golf simulator can be installed in any living room for playing golf at home. By including this product in your home, you can easily improve your golf. It lets you know about the data, such as distance, swing path, smash factor, ball speed, club speed, etc.
It comes with an easy user interface feature that allows you to connect it to your Smartphone or PC and start playing. During bad weather conditions, this product can help you in practicing the game so that you can confidently go to the course again.
You just need to attach the tracker to the club, sync your ball and start to play real rounds with your friends at home.
Pros
User-friendly design.
Easy to connect and play.
It comes with the required accessories.
Cons
It can run only on Windows 10, 64 bit.
3. Generic WGT Edition Phigolf Game Simulator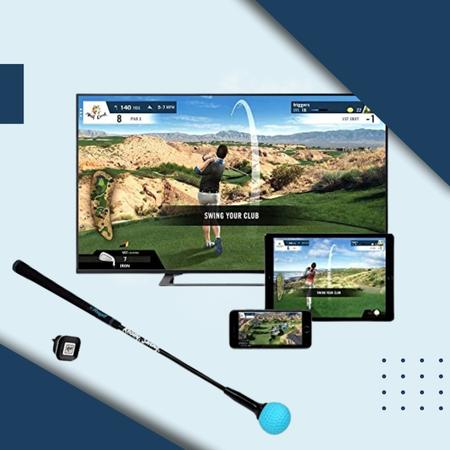 This product is ideal for playing golf at home virtually. With this product, you can enjoy playing golf anytime anywhere. You can use this product in your home, office or hotel room easily. If you have this product with you, then you can continue enjoying golf even in bad weather conditions.
This portable golf simulator includes 9-axis 3D sensor for scanning head speed, swing path, angles, and other data. It is an ideal product to master golf at your home. It includes 7 game modes, which are free for the user for playing. Also, you can get 24 extra game modes through WTG app at an affordable price.
Pros
Great product for beginners.
It allows playing with friends and family remotely.
It offers multiple game modes.
4. OptiShot Season Pass Golf Simulator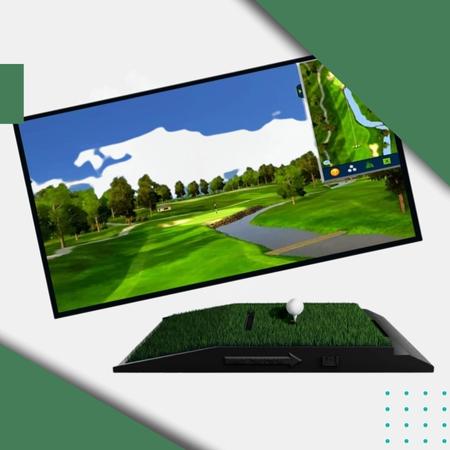 Optishot season golf simulator offers the easiest way to improve your golf at your home. It is comfortable to use at home to play golf with your friends and family. This product allows you to enjoy golf all year in your home without worrying about the weather conditions. This golf simulator offers an excellent environment for playing golf for up to 4 people.
This product includes 6 game types and allows you to choose your preferred game effortlessly. It allows playing with real clubs, drivers, wedges and putters. It can track each swing effectively. This product includes 15 courses, Optishot hitting mat and net, and other accessories.
Pros
Easy to set up.
It can be used at any place for enjoying the golf game.
Offers an easy-to-use simulator platform.
5. Optishot Complete Golf Simulator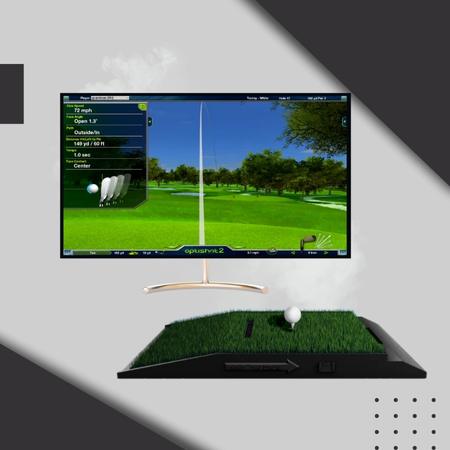 This is another great golf simulator from Optishot. The product offers a nice platform to you for playing golf. It includes a large Optishot hitting screen of size 9 feet tall and 9 feet 8 inches wide. The hitting screen is ideal for stopping the ball effectively. It includes a mat, net, and other accessories to provide you with a completely realistic experience of playing golf at home.
This product can be installed easily in your home to play golf with your friends and family. The driving mat and net are made of high-quality material to offer high strength during the play. This product comes with the required instructions so that you can use it easily.
Pros
It comes with a projector and HDMI cable.
Ideal for playing golf at home.
It has a large screen.
Buying Guide for Golf Simulator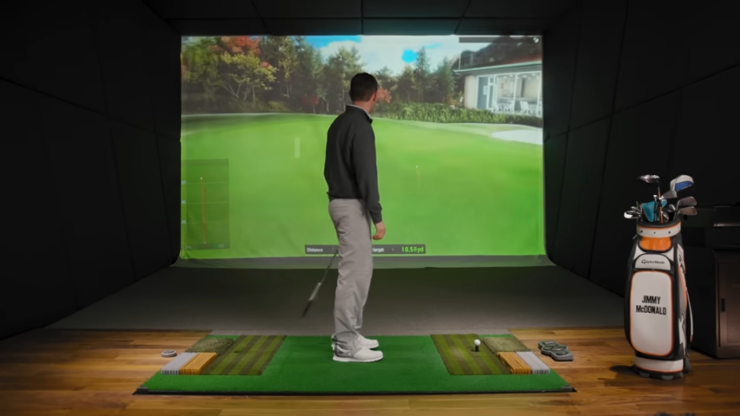 While buying a golf simulator, you need to know several important things to select the right product. Here are the points that you need to know
Check the software requirement
Software is an important need in your golf simulator. Many simulators include software so that you can play without spending more on it. The software may run on a PC, tablet or Smartphone. If there is no software in your simulator, you need to buy it separately. Buying software separately is expensive, but it can also offer great features.
Consider the number of the player's option
If you are buying the golf simulator for single use, then you may not consider this feature. Those who want to play golf with their friends and family need to check how many players can play with the product. By considering this option, you can easily allow multiple players to play.
Check the size
You should check the size of the golf simulator so that it will fit into your living room perfectly. You should ensure that the golf simulator fits your preferred room in your home easily.
Check the material quality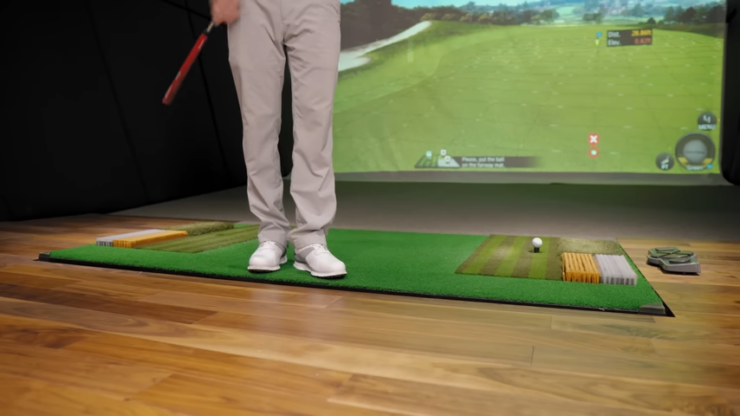 If the golf simulator includes items such as mat, net, etc., you should ensure that those items are made of high-quality material. If the material quality is not good, they will damage after a few usages.
Portability
You should check that the screen can be carried to any place easily. If the simulator is portable, you can fix it at any place and enjoy the game.
Accuracy
You should ensure that the simulator can provide the correct data after analyzing it. If the simulator data is not accurate, then you can't enjoy the game effectively. Also, it will affect your learning process.
Easy to install
While buying a golf simulator, you should check that it can be installed easily. If the installation process has difficulties, then more time will go in installing the product instead of playing.
FAQs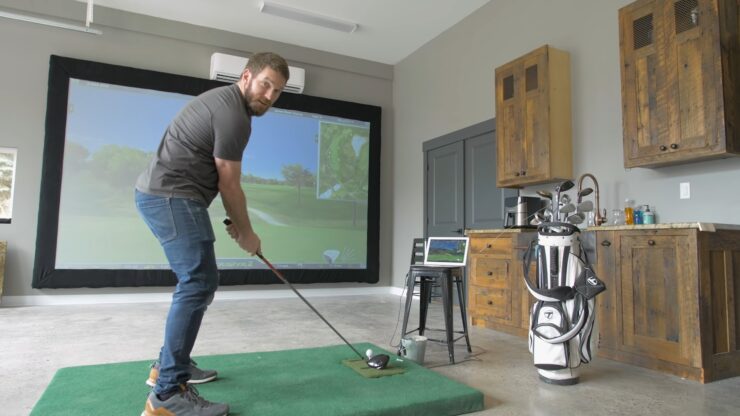 1. What golf simulator does Tiger Woods use?
Tiger Woods is one of the most accomplished golfers of all time and uses a Full Swing Golf Pro Series golf simulator to improve his game. This simulator allows him to practice strokes in a controlled environment, increasing his accuracy and consistency on the green.
The Full Swing Golf Pro Series is one of the most popular simulators on the market, and it's easy to see why. It's realistic, featuring realistic ball flight and physics, making it an ideal tool for practicing your swing.
2. Do PGA pros use golf simulators?
Golf simulators are a popular tool used by PGA pros. The simulator allows for a better understanding of how the golf swing works, and can help players improve their game. By playing through different scenarios, pros are able to see where they need to make adjustments in order to improve their play.
3. How much does the TrackMan 4 cost?
The TrackMan 4 golf simulator is a high-quality, realistic golf training tool that can be used by golfers of all abilities. It sells for around $22,000, making it one of the more expensive golf simulators on the market. However, its high price tag is well worth it if you're looking to improve your game.
4. Is full swing better than trackman?
Full swing golf simulator is better than trackman golf simulator because it gives you a realistic experience of what it's like to hit a golf ball. Trackman golf simulator only simulates how the ball will fly, but doesn't give you the feeling of swinging the club.
Conclusion:
Golf simulators are available in many types and offer different features. So, you should ensure to pick the right product for you. The golf simulators discussed in this article are the best products available in the market. So, you can select any golf simulator that meets your needs.

A lifelong devotee of the sport, Kane Franco serves as a Senior Staff Writer for Florida Elite Golf Tour. His expertise, coupled with a genuine desire to assist golfers in selecting the optimal gear, has led him to oversee a team of writers dedicated to providing the most precise and insightful reviews and purchasing guidance.