Cleanliness is an essential thing in daily life. Just like we take care of the purity of our bodies, we should do it for all our possessions. We should properly clean our houses, clothes, cars, and everything.
So cleaning golf clubs or other sports equipment has the same importance. This article is all about the best way to clean golf clubs. But before that, we have to know the importance of cleaning golf clubs.
Importance Of Cleaning Golf Clubs
Cleaning golf clubs is very important for so many reasons. You can assume the importance of the cleanliness of golf clubs by the saying of a senior golf player that if you don't clean golf clubs, you don't need to play golf.
Before starting we would like to describe what is Golf Club is, it's necessary to have a primary idea about golf clubs if you are a beginner.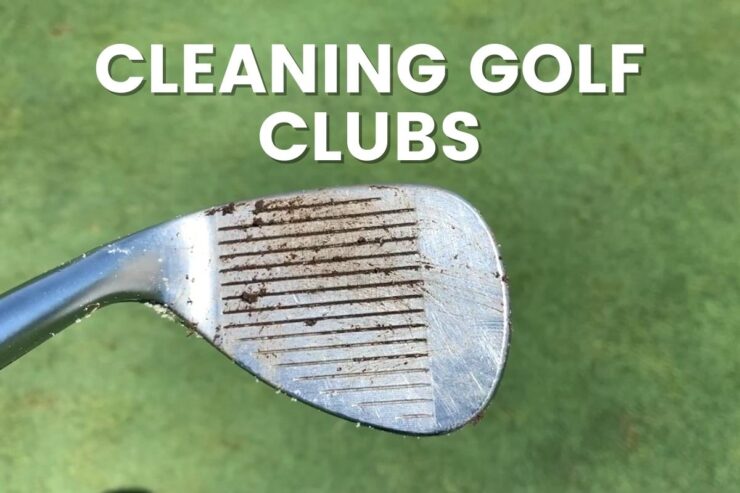 What is Golf Club?
A Golf club is the most essential piece of equipment on the Golf field, you need a Golf club to hit the Golf ball. Massive strong head made of wood or sturdy metal including a shaft on its head portion.
Why You Need To Clean The Golf Club Regularly
Being a golf player, you are aware of how costly good golf clubs are. You cannot buy new ones so early. So if you don't wash them, they will get dirty and will look old.
Increasing Longevity
To increase their lifespan, it is essential to clean them and use them with extra care. Also, it is crucial to keep them clean because germs can grow in dirty golf clubs. Dirty clubs also affect your performance.
Getting Accurate Hit
The grooves of the club are the bin of the club which captures mud and grass while spinning a ball. The spinning of the ball at the right angle is important for a good game. So if so much mud is attached to the grooves, it will affect the ball's spinning.
Mud and dirt stuck in the grooves of the golf clubs can affect the overall performance of the player. That mud also can cause rusting of the club's iron, which will damage golf. So cleaning the grooves regularly is essential to gain greater spins.
Holding Great Grip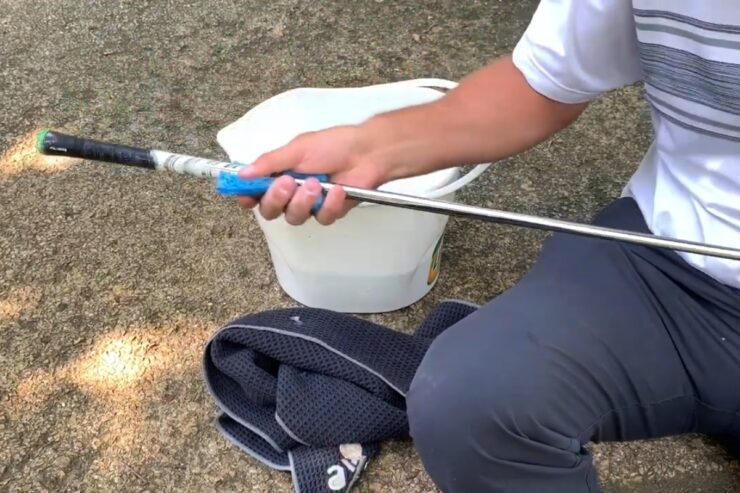 Not only lower golf iron part is important but also grip cleanliness is essential. The shaft or grip is the part that has a direct connection with the hand, so it must be germ-free.
In the same way, sweat from the side can make it slippery, which can lose your hand grip on it, and you can miss a shot during a swing. Washing your golf club regularly is essential and the only way to help you clean it and also helpful in a good game.
So after the game before leaving for home, it is necessary to clean your club. It will not takes much time but will protect your equipment from damage.
Different Types Of Golf Clubs
Before knowing the way to clean a golf club, it is very important to know the different parts and types of golf clubs. It will make it easy for you to understand what things you can use to clean it.
So typically, a golf club contains a head for hitting the ball and a shaft, which also has a grip for holding it.  The administrator has grooves that capture debris, grass, and mud when the player hits the ball.
Materials Used In The Manufacturing Of Clubs
Mostly the shaft part of the golf is made up of wood, which can be from different trees like orangewood, Purple Heart, apple and dogwood, etc.
But the new shafts are metallic made of aluminum, steel, titanium, or maybe copper. The grip is made of rubber or leather for a strong grip.
Golf clubs are of different types depending on the material and the manufacturing. Here is a detail of the types of golf clubs.
Woods Golf Clubs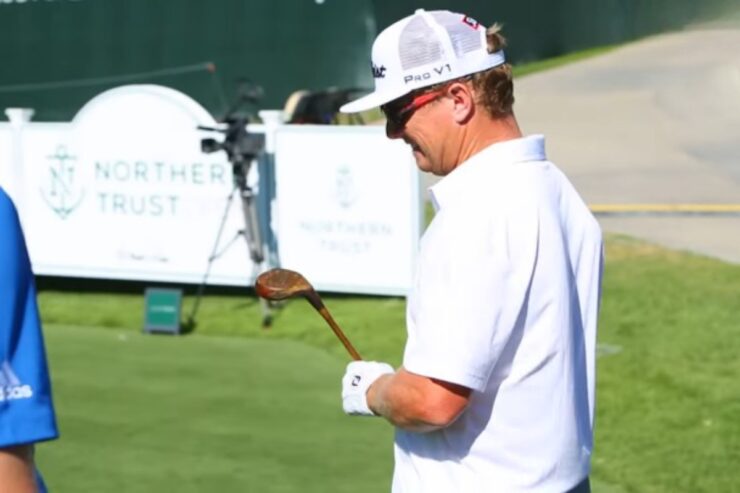 The shaft of these clubs is made of wood. These clubs have long rods with a wider head, which is shallow but not made of wood. The head is made of titanium or steel.
Further wood clubs also have different categories depending upon the length of shift and size of the head, but we are not going to discuss them here.
Iron Golf Clubs
As the name shows that they are made up of iron, Iron clubs are smaller in size than wood clubs. The Head size is not too big and mostly, it is solid and may be hollow sometimes.
The head is attached to the shaft at some specified angle. These clubs are used for tee shots or fairway shots on small holes. The iron golf club also further has different types like five iron, and six iron depending on angled loft or faces.
Hybrids Golf Clubs
Hybrids are also known as utility clubs. They are made of a combination of iron and wood. These clubs have many benefits and they are easy to hit with. Long irons like 3,4,5,6 and high alloys are replaced by hybrids in these clubs.
They have short shafts and small club heads, which increase the control of the player on it and improve the game.
Wedges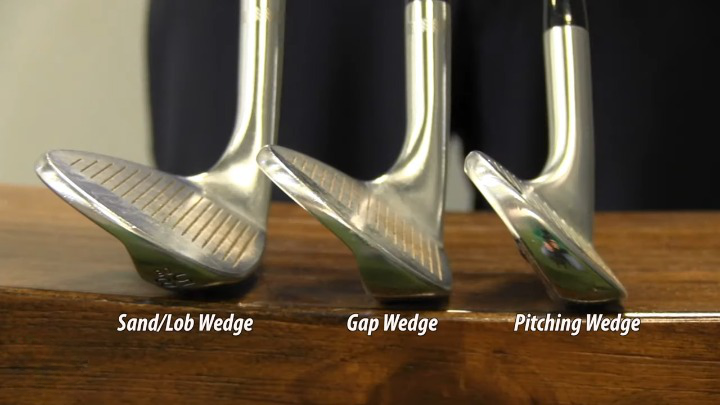 They are just like iron clubs but have more angled faces. So clearly they are made of iron. Wedges are usually used for pitch shots and chip shots.
Further, it also has different types including sand wedges, pitching wedges, lob wedges, and gap wedges.
Putters
Putters as the name indicate are used for pitting balls in holes or wells. Putters are used at the last of the shot to enter the ball to the well. So they have a wide variety depending on the size and shapes.
Depending on the club head, putters are of 3 types: a traditional clubhead or blades, mallet clubhead, and heel-toe club head. And also, depending on size, they are conventional putters having a length of 32 to 36 inches.
Belly putters have a range up to the belly of the player and long putters have a range between 40 to 50 inches.
Best Way To Clean Golf Clubs: How To Clean Golf Clubs
When mud is stuck to the grooves of the club, it affects your performance. So you have to clean the clubs between and after the game too as many professional golfers do.
But as it has been discussed golfs are of different types, so you cannot clean them by the same procedure as you cannot wash the wood with water.
So here we are going to tell you the best way to clean different types of golf clubs. You can buy proper golf club cleaning kits, but you can do the task with simple household things.
During the game, you can clean the mud and dirt with your foot or rub the face of the club on the ground; This will remove debris from it, but still, you will need to wash it thoroughly.
Many golfers prefer to keep damp cloth or towels, and they clean the club head after every shot. You can also take an old toothbrush or wire during the game to clean the grooves.
But still, you will need the detailed cleaning of your stuff. So for the best way to clean the golf clubs at home in detail, you will need very common things. Here below you can learn how to clean golf clubs;
The Steps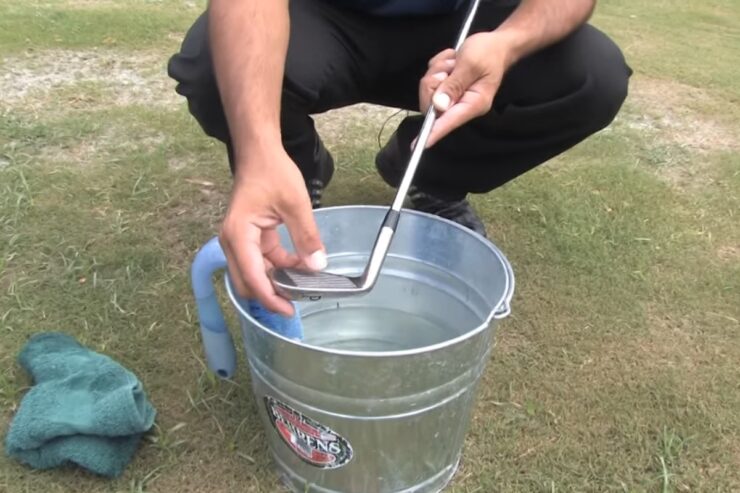 Step: 1: First of all, you will need water to wash your club.
Step: 2: Then you will need a pot or bucket in which you will dip the equipment.
Step: 3: You will require some detergent or dish soap for washing. Try to buy a chemical-free or mild detergent to protect against discoloration.
Step: 4: A brush will also be required for the deep cleaning of grooves.
Step: 5: Sponge or scouring pads or overall cleaning of the club.
Step: 6: After the whole washing process, you will require a towel to dry your equipment.
Then you will require a polish to give the final finishing of your club. You can buy polish according to the type of club, whether it is metallic or wooden.
Instructions To Follow
Place liquid in a bucket and pour warm water into that. Place the club in it for some time to soften the dirt. But take care of the level of water. It shouldn't rise above the face because water can weaken the glue where the face is attached to the shaft.
After a few minutes, remove it from the water and clean it. Dip a sponge in the bucket and start cleaning. Take an old toothbrush and clean the grooves and face of clubs. Remove all mud and debris with the help of a brush. Make sure to remove all dirt from the grooves.
Wet the sponge and lean the shaft and grip.
Once it is clean, dry it with towels. Make sure not to put the wet club in the bag.
Cleaning Wood Clubs
Don't soak or put wooden clubs in the water. And also don't put water directly on that. It can damage your wooden golf club. The easiest way to clean a wooden club is to wipe it with a damp cloth.
Dip a cloth in soapy water and clean the club with it. Dip a brush in that water and clean the grooves and head. Then wipe a dry towel over it to make it dry.
You can then polish it with wood wax to make it shiny and look new.
Read also: Best Golf Chippers
FAQs
1. How do I make my golf clubs look new again?
If you're looking to restore your golf clubs to their former glory, there are a few things you can do. First and foremost, make sure you keep them clean. Use a mild soap and water mixture, or a clean cloth if necessary, to clean them regularly.
This will remove any residue that may be building up on the clubface and shaft. Additionally, store your clubs in a dry place when not in use. This will help preserve their finish. Finally, polish your clubs as needed with good quality wood polish. This will add years of shine and protection to your clubs.
2. Can you use vinegar to clean golf clubs?
There is no one-size-fits-all answer to this question, as the effectiveness of vinegar for cleaning golf clubs will vary depending on the type of club and its condition of it. However, many golfers find that vinegar is an effective way to clean their clubs.
One common method for cleaning golf clubs is to soak them in a solution of water and vinegar for several hours. Another method is to spray the clubs with a diluted solution of vinegar and water before wiping them down. It is important to note that not all types of golf clubs are suitable for using vinegar, as it can damage some materials.
3. Can you use Coke to clean golf clubs?
Coke can be used to clean golf clubs, but it is important to follow the manufacturer's instructions. It is not recommended to use any type of cleaning agent on a golf club's face since this could damage the club. Coke can be used as a degreaser, and if the club needs more intense cleaning, water and soap can be used.
4. How do pros clean their clubs?
Cleaning a golf club is a necessary step in the game. Professionals must keep their clubs clean in order to play at their best. There are many different ways to clean a golf club, but the most common way is to use water and soap. Pros typically use a brush or cloth to clean the clubface, shaft, and grip.
Conclusion
Learning how to clean golf clubs could be very beneficial for you. Cleaning, maintaining, and taking care of golf clubs are important steps to increase their life. So in this article, we have discussed the easiest way to clean your clubs.
It doesn't take much time but many people ignore it just because of laziness. But if they know the importance of something, then they will not ignore it. We hope this article has well explained the importance of cleaning golf clubs.

A lifelong devotee of the sport, Kane Franco serves as a Senior Staff Writer for Florida Elite Golf Tour. His expertise, coupled with a genuine desire to assist golfers in selecting the optimal gear, has led him to oversee a team of writers dedicated to providing the most precise and insightful reviews and purchasing guidance.