You probably once saw what a game of golf looks like. You may not have attended the live match or played this very interesting game, but there is no doubt that you saw what it's all about, at least on TV.
So, if you didn't pay attention, one golf match lasts an average of about 4 hours and involves playing 18 holes. Of course, this can vary depending on many factors, but in essence, it is not possible to finish the game without a couple of hours spent on precisely mowed grass and with a golf stick in your hands.
The Idaho Golf Association (IGA) is a non-profit organization dedicated to promoting and preserving the game of golf in Idaho. The IGA provides opportunities for all Idahoans to experience the game of golf through programs like junior golf, adult clinics, tournaments, and more. The IGA also works to educate people about the rules and etiquette of golf, so that everyone can enjoy the game in a fun and respectful way.
However, one of the facts is that golf is quite an expensive sport. First of all, the golf course occupies a huge area (about 60 hectares), though there are also smaller courses (30 hectares). However, it needs regular maintenance. In addition, equipment is quite expensive, as well as membership.
This makes golf an elite sport, for people who have enough money. However, this does not mean that there is no room for golf enthusiasts who want to engage in the sport amateur or recreationally.
One great example is the Idaho Golf Association, where you can become a member and access a variety of educational and competing content. Below, we will talk a bit more about the history, members and competitions organized by this association.
Idaho Golf Association History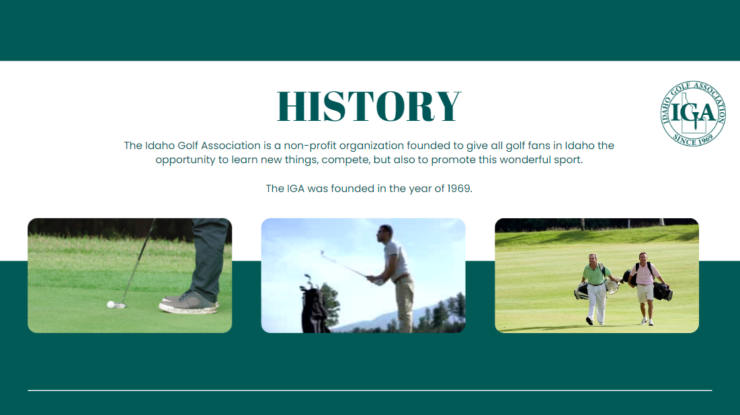 The Idaho Golf Association is a non-profit organization founded to give all golf fans in Idaho the opportunity to learn new things, to compete, but also to promote this wonderful sport.
The IGA was founded in the year of 1969, which means that the last year, the association celebrated a major jubilee of half a century of existing. Their focus is on professional as well as amateur golf right now, so it's a great opportunity for everyone to learn about golf and compete with other professionals and amateurs.
The IGA is dedicated to promoting and preserving the game of golf in Idaho. The IGA hosts several events each year, including the Idaho Open, which is one of the oldest and most prestigious golf tournaments in the Northwest. The IGA also offers junior golf programs, adult golf leagues, and handicap services.
The IGA has been instrumental in the development of many great Idaho golfers, including PGA Tour winner Tyler Aldridge and LPGA Tour winner Amy Alcott. The IGA is also responsible for maintaining the course rating system in Idaho, which is used by all major golf organizations in the state.
Idaho Golf Association Membership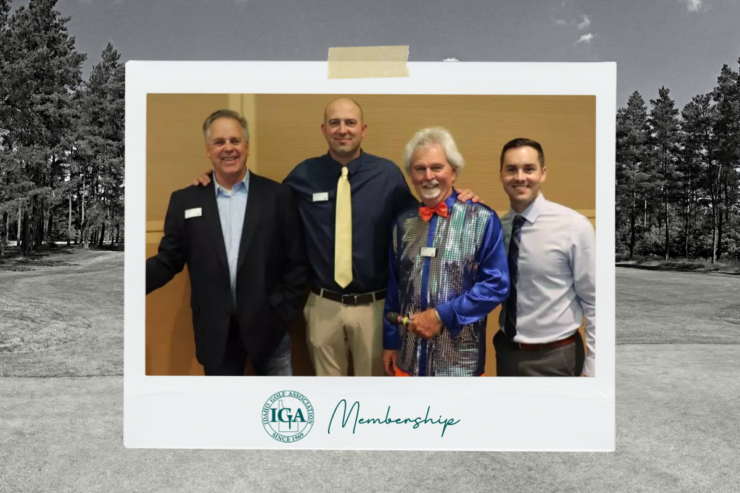 What IGA offers are handicap services as well as a course rating for all club members that are part of the association, but also the ability to participate in various competitions and to educate. Whether you are an amateur or a professional, the Idaho Golf Association is there to provide you with the opportunity to compete, and other privileges you may receive as a member.
Currently, over 18,000 members are part of the Idaho Golf Association. This means that all of these players are privileged to participate in various tournaments, events and competitions.
The membership also brings many other benefits such as GHIN handicap service, various discounts, PNGA Magazine subscriptions, and travel benefits and discounts. So, being a member is pretty good, right?
As an IGA member, you'll enjoy access to more than 70 private and public golf courses throughout Idaho, as well as preferred tee times and rates at many of these courses. You'll also be able to take part in exclusive member-only events, such as the annual Member-Guest tournament and the Members-Only Invitational.
In addition, IGA members receive a subscription to Idaho Golfer magazine, which features course reviews, tips from top local players, and information on upcoming tournaments and events.
Idaho Golf Association Tournaments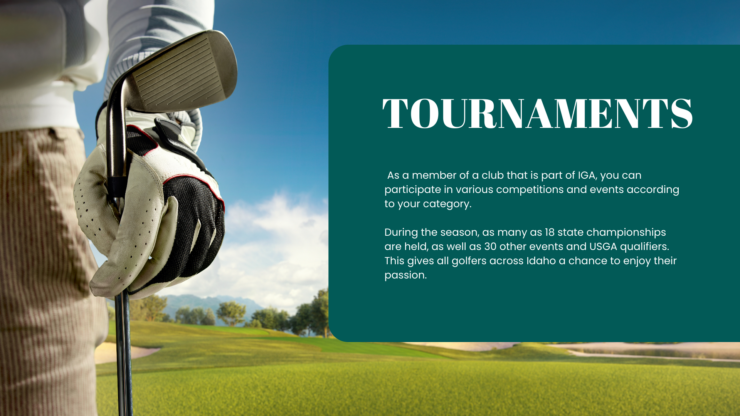 As mentioned above, as a member of a club that is part of IGA, you can participate in various competitions and events according to your category. During the season, as many as 18 state championships are held, as well as 30 other events and USGA qualifiers. This gives all golfers across Idaho a chance to enjoy their passion.
The IGA hosts several tournaments throughout the year, including the Idaho Open, the state's premier amateur event. The Idaho Open is open to any amateur golfer with an up-to-date USGA Handicap Index not exceeding 4.4. The tournament features two days of stroke play, with the low 70 scores and ties advancing to the final round on the third day.
Other popular IGA events include the Senior Amateur Championship (for golfers aged 55 and over), the Women's Amateur Championship, and the Men's Mid-Amateur Championship (for golfers age 25 and over). These events are also open to any amateur golfer with an up-to-date USGA Handicap Index not exceeding 7.0.
Whether you're a competitive player looking for a challenge or just enjoy getting out and playing some golf with friends, IGA tournaments are a great option for you!
Idaho Junior Tour
The Idaho Junior Tour is a developmental golf tour for junior golfers in the state of Idaho. The Tour provides a competitive environment for juniors to develop their skills and prepare for a future in college or professional golf.
The Tour offers several membership options, including an annual membership and a one-time tournament entry fee. Annual memberships are valid for the calendar year and allow unlimited tournament play. Tournament entry fees are paid per event and include greens fees, cart rental, and range balls.
The organization strives to create a positive experience for all participants by promoting sportsmanship, developing players' skills, and providing opportunities to compete at a high level.
Benefits of Playing Golf in Idaho?
One of the best benefits of playing golf in Idaho is that it provides an opportunity to socialize with other like-minded people. Whether you join a league or simply play with friends on the weekends, spending time on the course is a great way to meet new people and make lasting relationships.
So, if you're looking for a way to connect with others and have some fun at the same time, playing golf in Idaho is definitely worth considering.
FAQ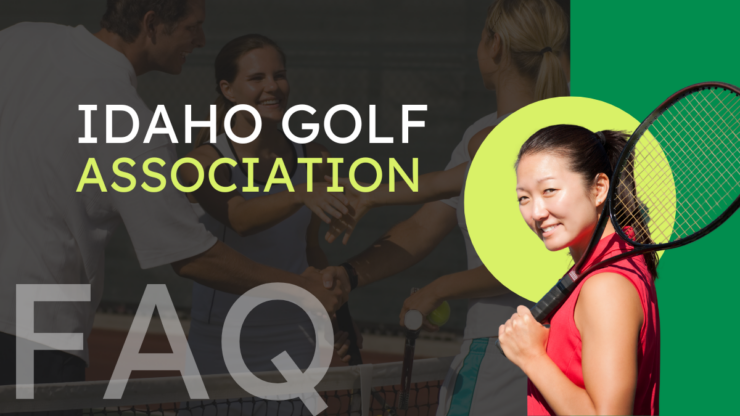 How Do I Get a GHIN Number in Idaho?
If you're an Idaho resident and want to start playing golf, you'll need to get a GHIN number. GHIN stands for Golf Handicap and Information Network, and it's a system that allows golfers to track their handicap index. You can get a GHIN number by joining a golf club or course that participates in the GHIN program.
Once you've joined a participating club, you'll need to provide your number any time you post a score for handicap purposes. Your local club or course can help you get set up with a GHIN number, and they can also answer any questions you have about the program.
What Are the Best Golf Courses in Idaho?
There are many great golf courses in Idaho, but these are our favorites.
1. Coeur d'Alene Resort Golf Course – This course is located in the northern Idaho town of Coeur d'Alene and is consistently ranked as one of the best courses in the state. It features a beautiful lakefront setting and has been rated as one of the top 100 public courses in the country by Golf Digest.
2. BanBury Golf Club – It is located in Eagle, just outside Boise, and offers stunning views of the Boise River and surrounding mountains. It was designed by famed golf course architect Robert Trent Jones Jr. and features a challenging layout that is sure to test your game.
3. Shadow Valley Golf Club – Located in Kimberly, near Twin Falls, this course features 27 holes of championship golf. The course is set amidst scenic rolling hills and provides a great challenge for all skill levels.
4. Circling Raven Golf Club – This award-winning course is located on the Coeur d'Alene Indian Reservation near Worley and features 7,189 yards of challenging golf. The course winds its way through ponderosa pines and native grasses and offers stunning views of Lake Coeur d'Alene.
5. Blackfoot Municipal Golf Course – This affordable municipal course is located in Blackfoot, southeast of Idaho Falls, and offers 18 holes.
Conclusion
The Idaho Golf Association is a great way to learn more about golf and get involved in the sport. If you are interested in playing or teaching golf, this is a great organization to join. They offer many benefits such as clinics, tournaments, and educational opportunities. This is a great way to meet other golfers in Idaho and improve your game.

A lifelong devotee of the sport, Kane Franco serves as a Senior Staff Writer for Florida Elite Golf Tour. His expertise, coupled with a genuine desire to assist golfers in selecting the optimal gear, has led him to oversee a team of writers dedicated to providing the most precise and insightful reviews and purchasing guidance.