A sport historically dominated by personalities, golf's popularity is largely due to the unique and charismatic players that often emerge as tournament winners.
Throughout the history of golf, rivalries have been a talking point among pundits and followers of the sport. Before you click here to find the latest odds for upcoming tournaments, knowing a bit more about the sport's great rivalries may help you better understand the game of golf.
Whether the debate ranges around how many PGA titles a player would win before retirement or if they would end up with the most majors, fans and experts love to argue about the players that will be seen as among the best in history.
While assessing the greatest golfer of all time is a debate for another day, we have put together an in-depth analysis of the most interesting rivalries of the past decades.
Below is our rundown of the top five golf rivalries and how those matchups dominated the sport during their respective eras.
1. Tiger Woods vs. Phil Mickelson
When you compare the records of Tiger Woods and Phil Mickelson, you realize that one golfer enjoyed a lot more success than the other. While Mickelson is an outstanding golfer in his own regard, his achievements do not compare to Woods.
The latter is a legend of the game who will go down in the history of golf as arguably the greatest. However, the two did have an incredible rivalry over the years, with Mickelson often pushing Woods closer than any other player had managed when the latter was in his prime.
Aside from their intense rivalry on the golf course, they also had a frosty relationship in general. Woods and Mickelson did not always get along, which made the rivalry even more interesting for fans. While Woods was by far the better player in his prime, Mickelson would argue in 2023 that he was the better golfer. Tiger Woods and Phil Mickelson have engaged in a rather lopsided rivalry since the late 1990s.
Until two-and-a-half years ago, Woods was the most dominant player in PGA tour history. Most No. 1 players before him had a close rival to challenge them every step of the way.
So, when Tiger started dominating the field, people started searching for another player to pair with him as a rival. Phil Mickelson was the closest thing they could find, and a "rivalry" was born.
There are a few reasons this "rivalry" isn't all it's cracked up to be.
2. Walter Hagen vs. Bobby Jones
The 1900s were a very interesting time in the golf world. The two best players in the world were Bobby Jones and Walter Hagen, but only one of them was a professional golfer! Jones was an amateur, while Hagen was a pro, but they had an intense rivalry when it came to major championships.
Jones went on to win 13 majors in his career, while Hagen managed 11 during his time on the golf course. Between 1924 and 1930, the two won five of the six British Opens. The only time neither of them won during those years was in a tournament where they were both absent.
Fans may think that a player they follow in the modern game is dominant as compared to his peers, but nothing can compare to the dominance those two showed during their peak years on the golf circuit.
3. Sam Snead vs. Ben Hogan
Sam Snead vs. Ben Hogan, another rivalry from the early to mid-1900s, is a battle for the ages. The two would go on to become incredibly famous and legendary players in their own right, but Slamming Sammy and the Hawk were both defined by their rivalry with each other.
These two were incredible golfers at their peak, with Snead winning nine majors and Hogan managing seven. They were, however, very different in their playstyles and mannerisms. While Snead was a tall and easygoing person from the deep South, Hogan was intense and uptight and always felt he had a point to prove.
Even though Hogan is often considered the better golfer at his peak, thanks to his four US Open wins, Snead was more successful overall. He won 81 tournaments in his career, while Hogan managed 61 successes.
4. Paul Azinger vs. Steve Ballesteros
The 1980s and 1990s saw two of the most renowned golfers, Paul Azinger and Steve Ballesteros, go head-to-head on many occasions. The duo did not have an all-encompassing rivalry as those detailed above, but they did compete intensely during Ryder Cup matches.
For those unaware, the Ryder Cup involves the United States picking its best golfers and taking on their European compatriots. Ballesteros was often the leader of the European team, while Azinger was a major player for Team USA.
The 1991 Ryder Cup is when their rivalry peaked, with Ballesteros famously saying that the American team "has 11 nice guys and Paul Azinger." His comment was proof that golf was not always a gentleman's game.
5. Tom Watson vs. Jack Nicklaus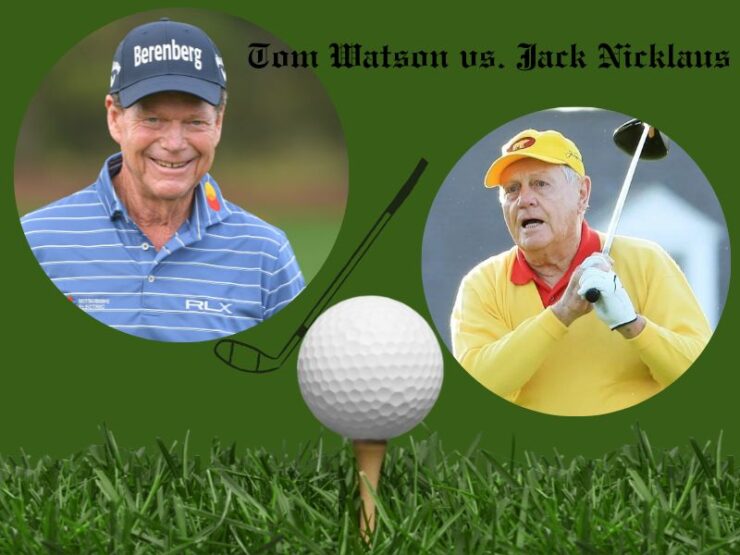 The duo of Jack Nicklaus and Tom Watson had a very interesting rivalry for two reasons. First, they were incredible golfers who racked up PGA titles and majors for fun. Second, they were very humble and incredibly gracious towards each other.
Most of the rivalries on this list not only involved golfing competition but also a battle of personalities and emotions – two athletes going for the same goal and not seeing eye to eye. Nicklaus and Watson were not such rivals, as each had immense respect for the other regardless of their battles on the course.
Nicklaus finished with 18 majors, while Watson managed eight during his career.

Grace Fujimoto, a prominent figure in golf journalism, has been crafting compelling narratives for golf publications for over two decades. Her fervor for the sport and her prowess in writing converge to provide her with a unique and comprehensive insight into women's golf.