Regularly playing golf can be very helpful, especially for the elderly. It is considered to be a sport of low intensity, dynamic and, at the same time, static, which can be ideal even for people with cardiovascular, metabolic, neurological, and musculoskeletal system diseases.
Of course, a person who presents some ailment must undergo a complete medical examination before starting this or any other sporting activity, to guarantee that the exercise is compatible with the pathology that he suffers.
There are many benefits that golf can provide you, contributing to your health and well-being. The basis of this sport is walking, something recommended at any age and which also involves low-impact exercise, so the risk of injury is very low.
On the other hand, golf is practiced outdoors. Walking between holes implies enjoying a natural environment and solar rays whose action (with due protection) will favor the synthesis of vitamin D and the excellent condition of the bone structure, helping prevent osteoporosis.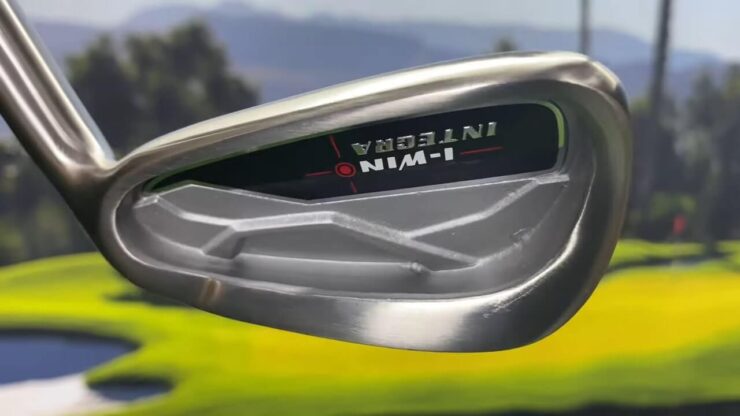 If you have never played golf, it is advisable to take some classes to learn more about this sport and monitor to teach you to maintain the correct posture when taking each shot.
Although it seems simple, it is not. The back must be well-positioned to avoid damage to the lower back or cervical vertebrae. Keeping the feet' posture, keeping the corresponding distance from the shoulders to maintain the maximum balance, is also an important detail.
Golf is beneficial for keeping your brain active since it requires concentration and calculation to plan the course and take each of the strokes. It is also an enjoyable sport that is relaxing and that, even if you compete with yourself, you can practice with friends or family, promoting social relationships.
New research shows that this could reduce the risk of premature death. Researchers followed nearly 5,900 people over the age of 65 for ten years and found that those who played golf regularly, at least once a month, were eight percent less likely to experience premature death.
The most popular Golf Clubs
1. STRATA Men's Golf Packaged Sets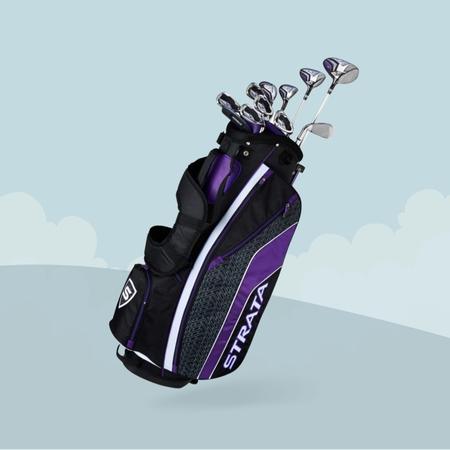 It's a great setup for the new golfer. Full set of irons, hybrids, and woods provide coverage for new golfers' many situations. The whole collection, including the bag, is incredibly light.
The main features:
The Strata 12 piece set is designed for maximum performance right out of the box; The set includes: driver, 3 Wood, 5 Hybrid, 6 to 9 Iron, PW, Putter, stand bag, and two headcovers
Woods: Lightweight 460cc forged driver with a large sweet spot, a titanium head, and provides more forgiveness to help you hit it farther off the tee. An oversized three wood is forgiving with a more aerodynamic head shape for long, high flying shots
Hybrid: A 5 Hybrid is an excellent alternative to difficult long irons that gives you more confidence on a variety of shots
Irons/Wedge: Stainless steel irons (6 9 irons, PW) offer a great combination of forgiveness and control
Putter: A mallet putter with alignment to help give you incredible accuracy
2. STRATA Women's Golf Packaged Sets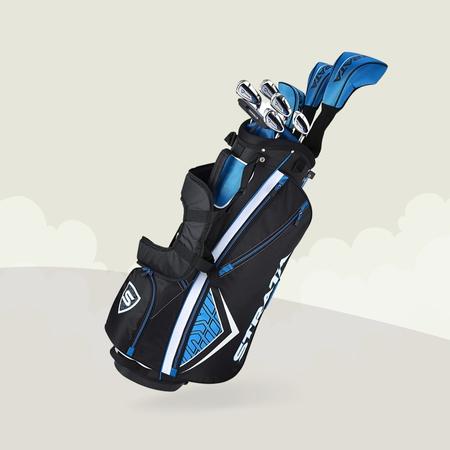 These are Standard length clubs for an Average women's height of 5′ -5″ to 5'9″. For women shorter than average, it is recommended to cut the clubs shorter or to purchase Ladies' petite sets. The set has both the pitching wedge and the sand wedge, and the bag has sections for each club. The irons come with graphite shafts.
The main features:
The Strata Tour Women's Set is designed for increased performance for women who want to hit better shots from tee-to-green
The complete set includes: Driver, 3 Wood, 4 & 5 Hybrid, 6-9 Iron, Pitching Wedge & Sand Wedge, Stand Bag, 4 Headcovers
Woods: A lightweight 460cc forged driver with a large sweet spot and a titanium head is designed for distance and forgiveness. The fairway wood is very forgiving and has a more aerodynamic head shape for long, high flying shots
Irons/Wedges: Stainless steel irons offer excellent performance with a combination of forgiveness and control
Putter: A mallet putter with a visual alignment aid to help give you incredible accuracy
3. Pinemeadow Excel EGI Hybrids (Men's, Right Hand, Graphite, Regular Flex)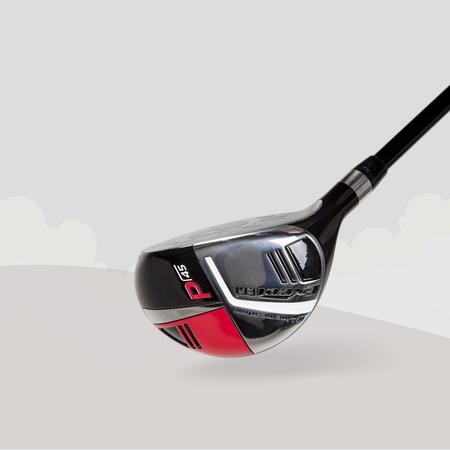 The club has a "weighty" feel that carries it through the light rough with minimal effort, and it is incredibly accurate. Sometimes one needs a good lofted shot off the fairway with some power behind it. This club does it. This club is suitable for short shots getting over creeks, mounds, over a bunker, and up to a raised green.
The main features:
Club/Loft: 3 Hybrid/19°, 4 Hybrid/22°, 5 Hybrid/25°, 6 Hybrid/28°, 7 Hybrid/32°, 8 Hybrid/36°, 9 Hybrid/40° & PW Hybrid/45°
Hybrid Movement: More and more players are trading in their traditional irons and replacing them with hybrids. The EGI hybrids allow you to do this for every iron in your bag. Join the movement and expect an improvement in your game
Bigger Sweet Spot: All hybrids feature a nice balance of weight throughout the entire club head, increasing and widening the sweet spot. The shape of the clubhead allows you to use these clubs from various lies, good or bad
Graphite Shaft: Hybrids are equipped with a Pinemeadow Graphite shaft. The hybrid shaft paired with the stainless steel clubhead gives you the best combination you need in a hybrid
Headcover: All hybrids come with a headcover to protect your club while it is being transported in your golf bag
4. Pinemeadow Golf Men's PGX Putter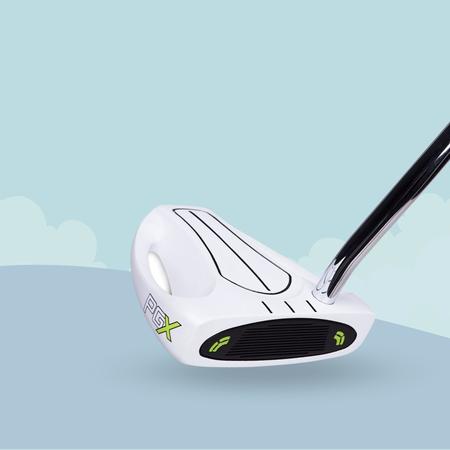 It's reliable and feels great, the grip is legit, and the roll and balance are every bit as good as my brand new TM spider putter. The weight of the head and the way the ball rolls off the face is outstanding. This putter is worth triple the price. We highly recommend this for beginners who want a low-cost, well-made, reliable putter.
The main features:
The PGX putter features a precise white finish, which stands out when the putter is in the address position on the green.
This contrast of the white color against the green grass helps maintain focus on the alignment lines that help ensure that your putter is on target at the start.
At 380g, the additional 40g weight of the mallet putter is "tour-weighted," suited best for the faster greens that are more and more common around the world.
Includes custom PGX headcover
Putter length 34″.
5. PreciseGolf Co. Precise X7 Junior Complete Golf Club Set for Children Kids – 3 Age Groups Boys & Girls – Right Hand & Left Hand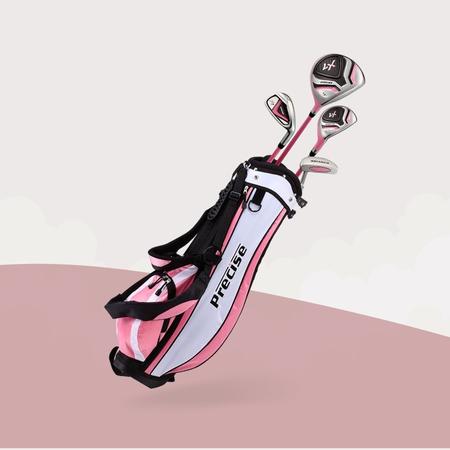 It is a phenomenal product and great value for the price. The quality of this set is supreme. We were highly impressed with it. You can specify the club shaft size based on the age of the child. These are great golf clubs to take to the driving range and practice putting green. And they can also be used for junior golf lessons.
The grandkids are certainly more interested in hitting the balls than really learning how to play golf. However, that's pretty much how learning to enjoy/love any sport starts.
The main features:
Left-Handed Junior Set Includes: Driver (15″), Hybrid Wood (22), #6/7 Irons(1 piece), #9/p Iron (1 piece), Putter, Bonus Stand Bag, and 2 Headcovers
Height: 4'4" to 5'0"
Left-handed
Ergonomical lift handle for easy use
Designed for Juniors to improve distance and accuracy
Buyer's Guide – FAQs
Are graphite shafts better for seniors?
Yes, they are. Graphite shafts are more expensive than steel, but we would say they're worth it. Those are generally much lighter than steel. Also, they are much easier to swing because of their lightness. That's why they are perfect for those with slow swing speeds or the ones that lack strength, like senior golfers.
How Far Should a Senior Hit a 7 Iron?
A 7 iron is a golf club used to hit the ball from approximately 70 to 180 meters. It has a trapezoidal head that is rarely hollow, although it is usually hollowed behind. Most seniors hit a full 7 iron 100 yards (men) or 60 yards (women).
Best Low-Compression Golf Balls For Seniors and Older players
Senior golfers must choose their golf ball wisely because they might not be able to pick up a few yards off the tee. That's why they should find a quality ball with a low compression core. It makes it possible for them to compress it and maximize their distance.
Why are MG senior golf balls illegal?
These balls are considered illegal due to exceeding the maximum distance allowed by the USGA. Throughout that, we found that these golf balls did indeed add extra space to your drives but only when they make contact with the sweet spot. We discovered that off-center hits with this golf ball perform the same or worse than regular legal balls.
What are the best irons for a mid-handicapper?
About 35% of golfers carry a single-digit handicap. Those handicaps have the purpose of setting up equitable matches for both casual and tournament play.
What Should A Senior Golf Set Include?
Let's start with what it shouldn't include, and that would be a 4-iron. The best option would be to have AW, which could mean a Gap Wedge, Approach Wedge, or Utility Wedge.
We recommend the following:
MAZEL Single Length Golf Club Irons Set for Men & Women
It would also be great for beginners. It comes with 9 pieces golf club set, including 4,5,6,7,8,9, PW, AW, SW. They are all the length of a 7 iron, 37.5 inches. If you like swinging a 7 iron, you will like these.
Senior Vs. Regular Golf Clubs
Senior flex shafts are appropriate for golfers who swing between 75 and 90 mph and carry a driver about 180 to 200 yards. Regular flex shafts are designed for golfers who swing 90 to 100 mph and hold a driver about 200 to 240 yards.
You should pick a shaft that matches your swing speed. The one that is too stiff will limit your distance, while a rod that is also too flexible might feel "whippy" and can lead to either inaccurate shots.
It would be best if you had your swing speed measured at some local golf shop. That would help you determine the correct shaft flex.
6 Tips for Senior Golfers to Increase Distance
There is a widespread belief that hitting the golf ball harder will increase its speed and distance—bad news for those golfers who have signed up for this idea because it is not valid. But do not worry, we are going to give you the keys to increase the distance you reach with your swing.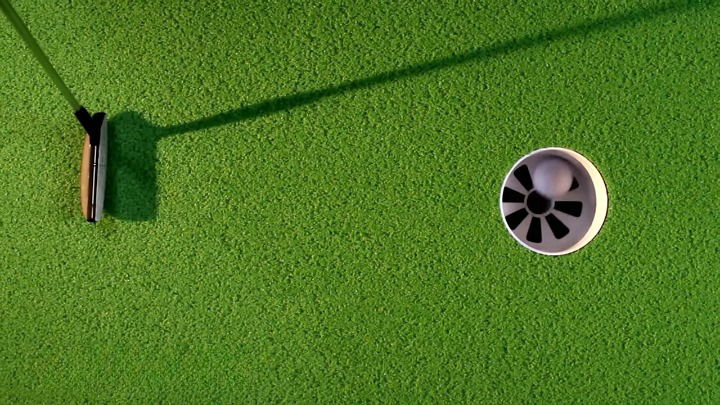 Are you ready?
To gain distance with your shots on the golf course, you need to focus on finding a swing rhythm that allows you to gain speed without giving up good contact with the ball. For this, it is necessary to take into account the following premises:
#1 Keep your arms relaxed, as you would if you weren't holding a golf club. If you can't, try putting your driver aside for a second and feel the sensation of having and moving your arms around you. That is the feeling we must get to gain speed in the swing. As paradoxical as it may seem a priori, tense arms will make us lose speed and power.
#2 Try to move the head of the club from above and let the movement carry you, without stopping it or creating resistance. In this way, you will get a more fluid, more repetitive, and less expensive swing.
#3 The good golfer's technique on the golf course is a game of science and physics. Let's observe from the biomechanical point of view the body's movement when making the swing: in the backswing, there is torsion of the body, right? Well, the more significant the difference in rotation between the shoulders and the hips, the more incredible kinetic energy we will be printing to our blow.
Watch the following video for more instructions for senior golf players:
#4 Keep your head and body behind the ball until the moment of impact. The position of the feet is decisive. If you already have a good swing, you can open your left foot a little to finish the shot better.
#5 We should hear the hum at the end of the swing. The louder that sound, the better. It is a good indicator of the speed of the movement we are making. There is a simple exercise that we usually do on our golf courses in Murcia to practice the rate that your shot needs. It involves holding one of your golf clubs upside down, trying to hear the buzz generated at the end of the movement. What is not the same sound when your arms are relaxed and when they are rigid?
#6 The hit must be made in the center of the clubface. It is the last piece of the puzzle that must fit: we can now have a fast and natural swing capable of generating a mighty blow, which, if the ball and the stick do not contact at the precise point, we will miss the shot.
How to Clean Golf Club Irons?
The state of cleanliness and care of your club irons can affect your game and your card results since cleaning mainly conditions the ball's control. Besides, if the clubs' grooves are clean, you will achieve a cleaner impact of the ball, which improves the launch's result and will help us produce better effects on the ball. Not to say that your clubs, with proper cleaning, will last much longer.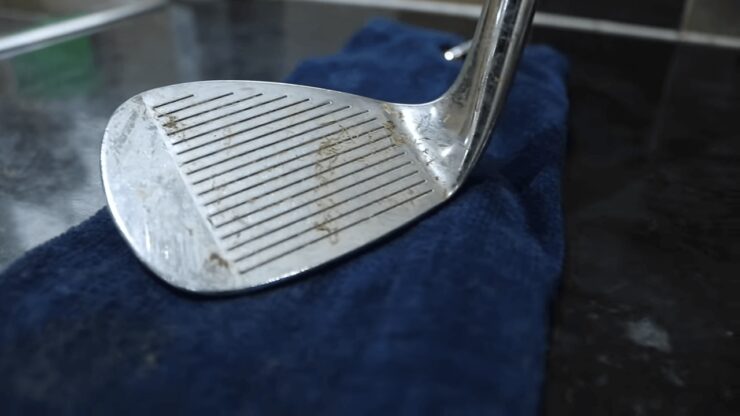 There are several ways to clean our golf club irons, among which we highlight:
#1 Use ultrasound machines. In some golf courses, they can be found. The system is based on the use of ultrasound to clean the clubs. It is a fast, paid service with acceptable results.
#2 Use a special Cleaning Kit purchased from a golf specialty store. In the market, we can find different kits specially manufactured for cleaning the clubs. There are complete models, which allow us to perform deep cleaning. This type of equipment includes all kinds of elements to guarantee a "professional" cleaning of the sticks: special brushes, polishing waxes, anti-slip for the grips, cloths, and polishing sponges.
#3 There are other simpler cleaning kits, which have the advantage of taking up little space. Therefore, we can carry them tucked into any pocket, which allows us to use "emergency" whenever necessary during any journey. These kits often contain "special" brushes to make cleaning easier. Care must be taken when cleaning with these kits. There is the possibility of scratching the golf clubs if the metal brush that usually accompanies this kit is not used correctly.
Cleaning them ourselves at home is very easy to do, and is the most economical option. To do this, we need the following elements:
A cube.
Liquid dishwasher.
A toothbrush
A rag or towel.
Take cleaning easy – keep in mind that this is an excellent time to inspect your clubs' condition slowly and closely. That is a unique opportunity to appreciate things that usually go completely unnoticed.
Learn how to properly clean your old clubs in the following video:
What Are Game Improvement Irons?
Choosing the best irons depends on several factors in addition to your playability. The size, shape, flexibility, material, and feel of the clubs are crucial elements to consider. Price is also a serious consideration, but not necessarily the most expensive irons are the best for you.
If you're one of the many golfers who have steadily improved over time, slowly lowering your score and lowering your handicap, but then reaching a plateau, you can benefit from irons to improve your game. The construction of these irons gives you the extra oomph you need to lower your score. Game-enhancing irons are specifically designed to hit the ball higher, further, and with greater precision.
What separates a game improvement iron from the 5 iron used by the pros is that game improvement irons have characteristics that enhance your skills and translate to better gameplay on the course. These irons typically feature a greater distance-directed flex, a weighted clubhead that shifts the center of gravity for optimized launch angles, and a larger sweet spot to improve forgiveness and ball contact.
If you're trying to get over the hurdle and compete, a game-enhancing iron might be the right thing to do to get the score you're looking for. Additionally, Game Improvement Irons can help you "improve your game" by honing your skills and allowing you to beat these irons for a pro-style club set. You should take a god look at our picks for the best game improvement boards available today to lower your score immediately.
FAQs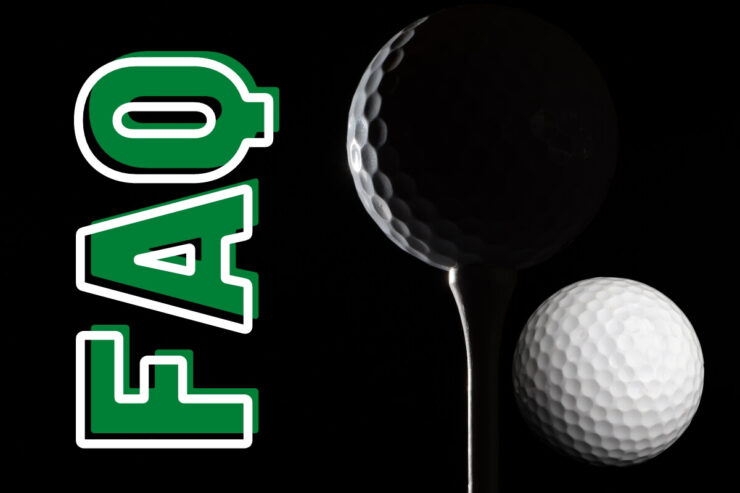 1. How far should a 70-year-old hit his golf clubs?
At 70 years old, a golfer's swing should not be as powerful as it was at 30 years old. The goal is to maintain the same distance and accuracy while playing slower. A 70-year-old golfer should also take care to keep his wrists straight during the swing so he does not hyperextend them. Approximately a 70-year-old can hit his golf clubs around 100 yards.
2. At what age is a golfer considered a senior?
Senior golfers are typically considered to be over the age of 50. However, there is no definitive answer because age can vary from person to person. Generally speaking, a senior golfer is someone who has reached their physical and/or mental peak and can no longer play at the same level as they did when they were younger.
3. What tees should seniors play?
The best tees for senior golfers can vary depending on their playing level. A beginner golfer should play from the back tees, while a more experienced player may want to try playing from the middle tees. Advanced senior golfers may want to try playing from the front or even long tees, as these positions will give them more distance and better viewing of their opponents.
Final Word
Golf is an excellent option for seniors who want to be physically active. The activity intensity level is such that it can be maintained for a more extended time. That is something that is in the interest of individuals so that people can play it regularly.
Physical activity is undoubtedly important and can play a protective role when it comes to cardiovascular health.

A lifelong devotee of the sport, Kane Franco serves as a Senior Staff Writer for Florida Elite Golf Tour. His expertise, coupled with a genuine desire to assist golfers in selecting the optimal gear, has led him to oversee a team of writers dedicated to providing the most precise and insightful reviews and purchasing guidance.