Golf is regarded as one of the most exclusive sports but how many people can answer this question: how long does it take to play 18 holes of golf? Read more about Golf history.
That said, this is of the most interesting questions in the time-honored game of golf. In this piece, the focus will be on the answer. Hence, the remaining sections will shed more light on it.
All about the Golf Holes
From the United States to Scotland to South Africa, there are golf courses all across the globe.
These golf courses are designed using different styles, patterns, and sizes. However, no matter the nature of the golf course, there is one constant thing and that is the golf hole.
Typically, a golf hole always seems so constant and somewhat tiny. Standard measurements are in place to follow when constructing a golf hole.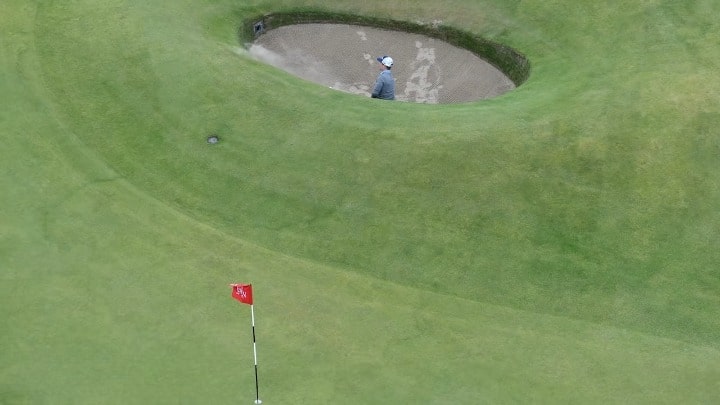 Irrespective of where a golf hole is located, it should measure precisely 4.25 inches for diameter. Tradition has had it that way since 1891.
A well-respected association at that time, the Royal and Ancient Golf Club of St. Andrews rolled out several regulations. Such regulations include the size of a standard golf hole.
At that time, this was the highest decision-making body on golf matters worldwide.
Some may wonder why this particular size was chosen for a golf hole. In 1829, the Royal Musselburgh Golf Club invented the first hole cutter. The exact dimension was 4.25 inches.
Interestingly, no one knows why that measurement was selected. However, that did not stop clubs all over from accepting it as the standard.
All Types of Golf Holes
Since golf holes are the same in terms of size, the variation is often based on the type of golf hole design. In this regard, there are five variations of golf hole designs.
They are as follows: switchback, punchbowl, redan, volcano, and road.
Switchback
A par 4 or 5, this has been described as one of the most demanding golf hole designs for professional and amateur players alike. With the 5th at Oakland Hills as an outstanding example, this concept allows the ball to rest on the right as it tilts into the green.
Punchbowl
Just as it can be deducted from the name, this golf hole design directs the golf ball along the center of the putting surface. Good illustrations of a Punchbowl golf design include the 4th at Fishers Island (Number 18). Another is the 16th at the National Golf Links of America.
Furthermore, the hole design is inspired by Raynor and is par-4. An outstanding feature of this golf hole design is having to look for your ball after all the rolling.
Redan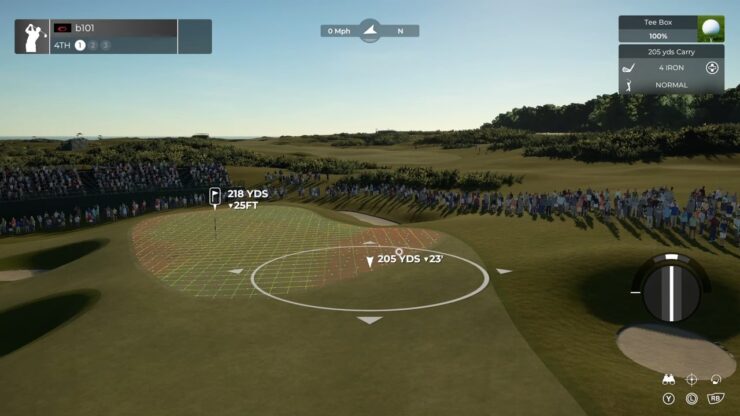 Besides, the golf hole design is one of the most well-used on golf courses all over the globe. That said, it is a par-3 hole and its green has a longer width than depth.
Due to the angulation, its left portion of the green is at a greater distance from the tee box when compared with the right side.
Talking of the green of a redan golf hole, it also slopes from the front to the back and has a massive bunker flanking the left portion. Interestingly, the name 'redan' stemmed from the original number 15 hole at the North Berwick Golf Links in Scotland.
Originally, this hole was named Redan and all other Redan holes are simply imitations of the real one.
Volcano
As the name implies, the design has its green complex truly resembling a volcano. Hence, the reason for the name given to it. There is a minimum of three sides that jut in an upward direction.
That way, the greens look like they are much taller than the golfers on the tee box. So, the design means that shots have to be very precise as even the tiniest flaw will wreck the shots.
Road
Although it is not complicated, it remains one of the most well-known golf hole designs as it challenges the player to deploy all possible strategies while playing.
Road holes are deliberately designed in a way that it is almost impossible for you to locate the correct portion of the fairway. Better called par 4.5s, this is one design that will stretch you to the limits.
What does it mean by "18 holes of Golf?"
When it comes to golf, the term '18 holes of golf' is a description of the activity of playing the game of golf itself. As golf is played on a massive and open course with either 9 or 18 holes, the term has come to stay.
Therefore, '18 holes of golf' is used to describe a completed total of 18 holes of golf or even the scores that you have garnered for all the 18 holes.
How Long Does It Take to Play 18 Holes of Golf!
Even though a session of golf does not have a specific time frame, the generation assumption is that it will take approximately four hours (or more) to complete a round of the game.
However, it must be pointed out that several factors and parameters must be taken into consideration. Especially when talking about how long it takes to play 18 holes of golf.
Typically, it will not take a player more than four hours to finish the 18-hole golf round itself from start to finish. There is a professional procedure to follow when playing golf but as a result of other activities like searching for the ball or waiting for turns.
Others include transporting the bags and even recording the data, which can make one round last for up to six hours. In all, the following are other factors that can affect the timing of an 18-hole golf round:
Number of Players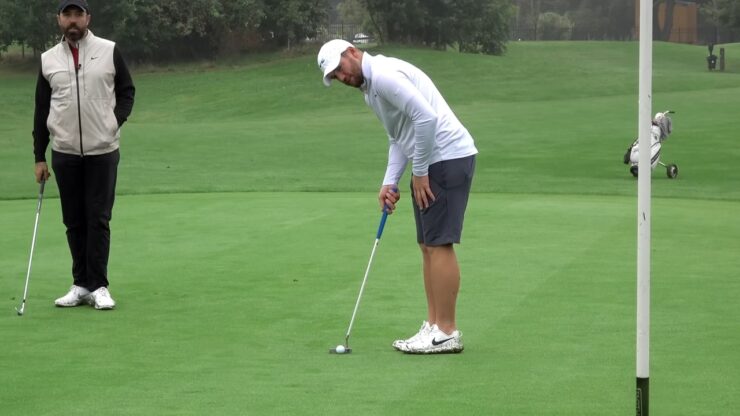 Overall, the time needed to play 18 holes of golf is directly proportional to the number of players involved. With more players, the longer it will take to finish the game.
If you are playing alone, you can cover almost 7,000 yards in just four hours. But in a case where other players are involved, you will have to wait and that can make the game to be much longer than four hours
Gear and Equipment
If a golfer selects the perfect golfing gear and equipment, it becomes really easy and straightforward to play the game, as everything will be smoother.
If you end up choosing the wrong gear or equipment, you are going to end up spending a lot more time than usual while playing the game. These can be in the form of errors in the iron selection, flawed golf ball, or even inappropriate club.
Golf Carts
Golf carts improve mobility and reduce game playtime. By making use of a golf cart, you can get to your next shot on time. If you decide to do all these by just walking, you are going to end up spending a lot more time.
Size of the Course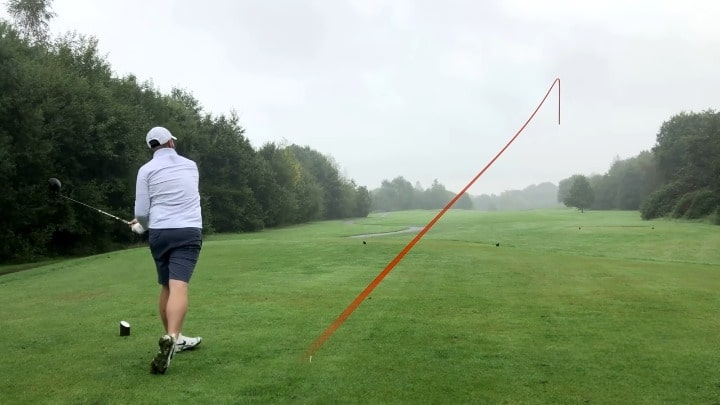 As for the size, the length is what is most influential in this instance. In a case where the golf course is more than 7,000 yards, then the timing can fluctuate.
Interestingly, this is because players are in different categories and navigate the course with varying levels of dexterity and skill. While some golfers are amateurs, others are world-class professionals.
Expectedly, it is understandable that it will take an amateur remarkably longer period to play 18 holes of golf when compared with a pro.
The Pace
Each golfer is unique. While some golfers like to walk slowly, some prefer to do their own briskly. As a result of this difference in pace when walking, it is understandable that the time needed to play 18-hole golf can be noticeably increased.
Natural Factors
Natural factors like heavy rainfalls or even extremely hot temperatures can make playing hectic. For example, if it rains, the game will be greatly slowed down or even halted depending on the volume of the rainfall.
There is the possibility to start the game when the weather is perfect only for the rains to start in the middle of the game. In such a condition, you will have to start the game all over again.
Understandably, that will add to the overall duration of the game.
Why "18 holes of golf" has become popular?
Interestingly, the term '18 holes of golf' has become quite popular because it was derived from the golf course itself. A vast majority of golf courses have a total of 18 holes each.
Some other golf courses contain subsets of nine holes each but are played twice in each round, coming to a total of eighteen.
FAQs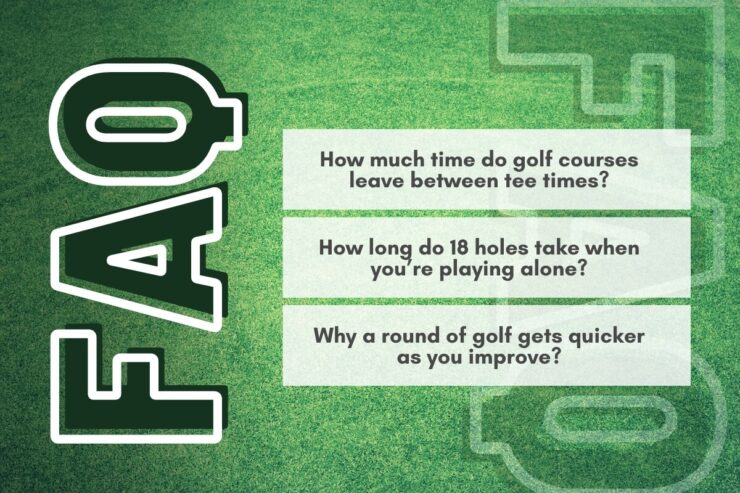 1. How much time do golf courses leave between tee times?
Golf courses typically leave at least 15 minutes between tee times to ensure that players have enough time to get to their next hole. This allows for a smooth flow of play and prevents congestion on the course.
Some golfers may prefer to have more time between tee times, while others may not mind waiting a few extra minutes if it means they can get in a round of golf. Ultimately, it is up to the golf course to decide how much time to leave between tee times.
2. How long do 18 holes take when you're playing alone?
If you're playing golf alone, 18 holes can take anywhere from 1.5 to 4 hours. The average time for 18 holes is 2.5 hours, but this can vary depending on your skill level, the course you're playing, and the weather conditions. If you're a beginner, or if the course is particularly hilly or difficult, it may take closer to 4 hours.
Conversely, if you're an experienced player or the course is relatively flat and easy, you could finish in as little as 1.5 hours. Weather conditions can also impact your play time – windy days can make the game take longer, while cool, calm days may allow you to play more quickly.
3. Why a round of golf gets quicker as you improve?
As you improve at golf, you start to notice that a round of golf gets quicker. This is because you are able to make better shots and get better results. When you are first starting out, you may take more time to line up your shot and make sure you are hitting the ball correctly.
However, as you improve, you will start to trust your swing more and be able to hit the ball without thinking about it so much. This will save you time and help you play a quicker round of golf.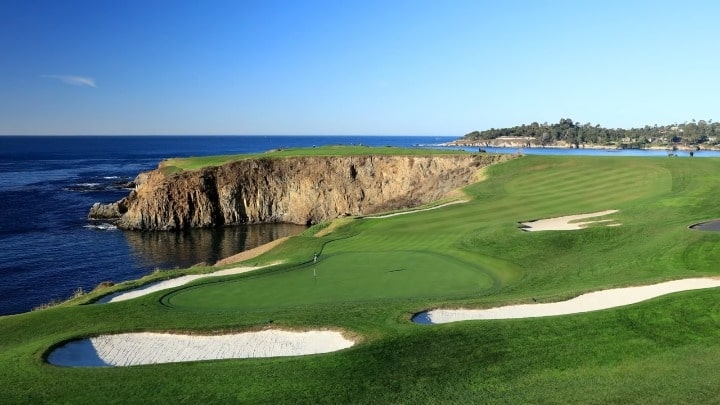 Conclusion
In conclusion, you now have a good idea of how long it takes to play 18 holes of golf. Moreover, the piece has provided useful details about the interesting game of golf.
At a time when golf is attracting greater interest from different parts of the globe, giving the most relevant answer to the question is the right thing to do.

A lifelong devotee of the sport, Kane Franco serves as a Senior Staff Writer for Florida Elite Golf Tour. His expertise, coupled with a genuine desire to assist golfers in selecting the optimal gear, has led him to oversee a team of writers dedicated to providing the most precise and insightful reviews and purchasing guidance.