The gentle breeze, a comforting presence on your skin. The melodious chirping of birds, nature's own soundtrack. And then there's me, navigating through the underbrush, in pursuit of my errant golf ball. Learn from me. Aim higher. Be better.
I took up golf when 'Fast and Furious' was merely a cult movie, not the global franchise it is today. Back then, 'Tiger' was a jungle cat, not yet the golfing G.O.A.T. he has become. Over the years, I've seen the sport evolve with innovative changes that have improved gameplay and just made the general game more enjoyable.
Today, I'll introduce you to one such innovation: the Golf GPS. But first, let's understand what a Golf GPS is and how it works.
In essence, it is a device that uses satellite technology to provide accurate location information on a golf course. It can tell you the distance from your current location to the front, middle, and back of the green, as well as to hazards or specific targets. This information can be incredibly useful in helping you choose the right club and plan your shots strategically. It's like having a professional caddy in your pocket, offering advice on every shot.
Our Top Picks of Golf GPS
Now that we've piqued your interest in golf GPS devices, let's dive into my top recommendations. These aren't ranked in any particular order, but rather represent the best of the best that I've tested.
1. Bushnell Phantom Golf GPS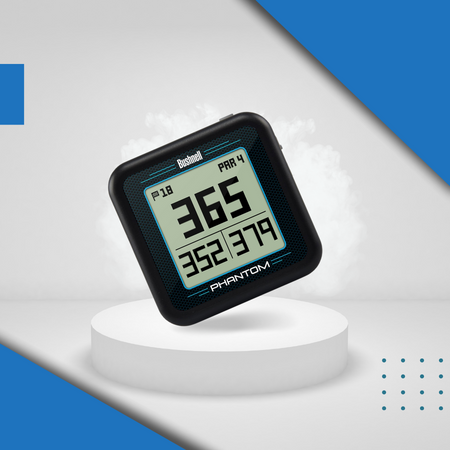 Check on Amazon
Check on GlobalGolf
Check on 3balls
First on the tee is the Bushnell Phantom Golf GPS. This device isn't necessarily the top of the leaderboard, but it's a strong contender with a host of impressive features.
It comes preloaded with nearly 36,000 courses from 30 different countries, making it a veritable world tour in your pocket. It recognizes the course you're on with ease, and its Bluetooth functionality provides seamless course updates.
I found it incredibly user-friendly, making it a breeze to navigate across the course. It's an excellent choice if you're new to the world of golf GPS and want to familiarize yourself with the standard features without getting lost in the rough.
Pros
It is a basic model but has some important features.
The battery can last a long.
It is very simple and easy to use.
Cons
The plastic casing can break easily.
2. Garmin Approach G10 Golf GPS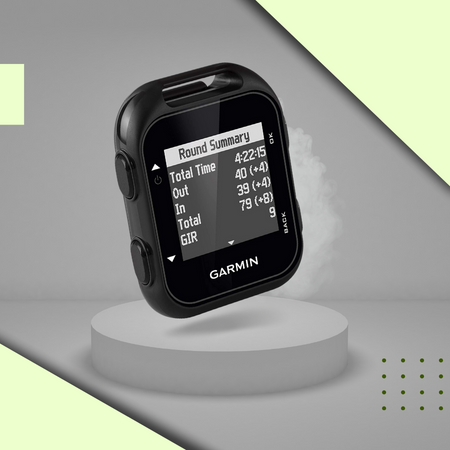 Check on Amazon
Check on Walmart
Garmin, renowned for their mastery in sports watches, brings the same expertise to their golf GPS devices.
If you're in the market for a device that's compact and sleek, then the Garmin Approach G10 could be your perfect golfing partner. It displays the exact shape of the green and even allows for manual pin placement, giving you a strategic edge.
What I particularly liked about this device is its portability. Its small design makes it easy to carry in your hand or slip into your pocket. Plus, it boasts a 1.3-inch display screen, making it easy to read without being cumbersome.
Pros
It is a small and sleek device.
It has a 1.3-inch display screen.
Sand trap locations can be identified easily.
It can acquire signals from the satellites very easily
3. GolfBuddy Voice 2 Golf GPS
Check on Amazon
Check on 3balls
If you're the kind of golfer who likes to match their gear to their outfit, then the GolfBuddy Voice 2 Golf GPS might just be your perfect accessory. Available in a variety of colors, this device lets you customize your look on the course like no other.
Not only is it a fashion statement, but it's also the smallest device on our list, making it a lightweight companion on the course.
Its simplicity of use is a major plus, and it even features a voice readout, making it one of the standout Golf GPS devices on the market. And the cherry on top? It's budget-friendly, so you can up your game without downing your bank balance.
Pros
It a quite an affordable price
It is very simple to use.
It has long battery life.
Cons
It is not a waterproof device.
4. Garmin Approach G30 Golf GPS
Check on 3balls
Check on GlobalGolf
Did you really think Garmin would only make one appearance on this list? Well, think again. Here's their second contender.
If you're on the hunt for a touchscreen Golf GPS device, then the Garmin Approach G30 might just be the treasure you're seeking. This high-quality device sports a slightly rounded back and a sleek design, making it a stylish addition to your golfing gear. Simply power it on with the press of a button, and the rest is a breeze with the user-friendly touchscreen.
However, be prepared to shell out a pretty penny for this one. It's a premium device with a price tag to match. But trust me, it's worth every pretty penny.
Pros
Colorful display screen
You can receive calls and text notifications
It has a touch screen.
5. Voice Caddie VC300SE Golf GPS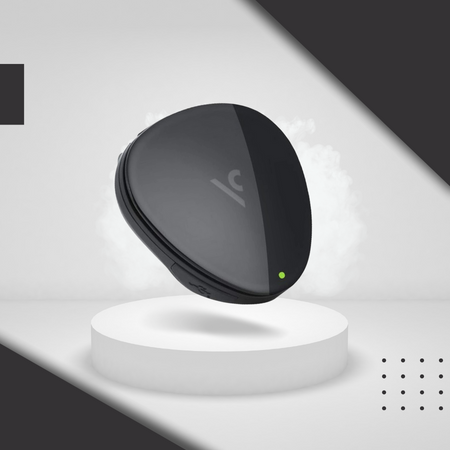 Check on Amazon Check on eBay Check on VoiceCaddie
Rounding out our list is the Voice Caddie VC300SE Golf GPS.
Available in two classic colors, black and white, this device is a study in simplicity. It's affordable, compact, and a breeze to use. This touch device guides you through voice messages, making it a handy companion on the course. You can hold it in your hand or simply leave it in your pocket.
While it might not necessarily outshine all others on the list, when it comes to value for money, it's definitely the clubhouse leader.
Pros
It is a simple and affordable device.
It is a very small device
Cons
Only two colors are available
Buying Guide
When it comes to purchasing a Golf GPS, it's not as simple as picking up the first device you see on the shelf. There are several key factors to consider to ensure you're making the right choice for your needs.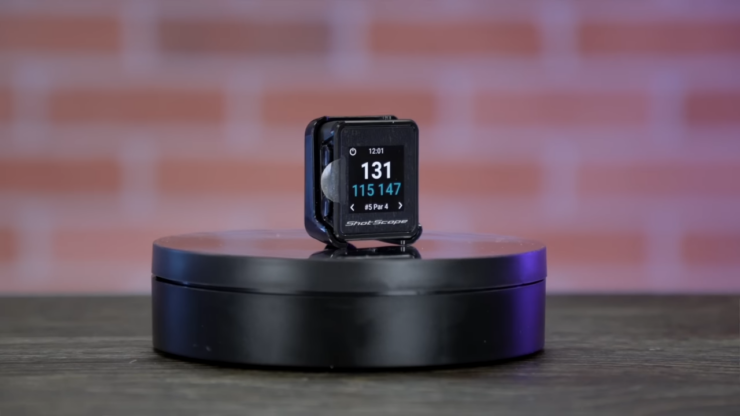 Battery Life
One of the most crucial factors to consider when buying a Golf GPS is battery life. As a golfer, you don't want to be tethered to a charging station. You want a device that can keep up with you on the course. Ideally, you should opt for a device that can last for at least 12 hours on a single charge.
This means you can comfortably play one or two rounds without worrying about your device dying on you. A Golf GPS with a long battery life offers you the freedom to focus on your game, not on finding the nearest power outlet.
Ease of use
Another key factor to consider is ease of use. When you're new to using a Golf GPS, you don't want to spend a lot of time just figuring out how to operate the device.
Golf is a game of movement and focus, and you don't want to be distracted by a complicated device. Look for a Golf GPS with intuitive settings and straightforward navigation options. The quicker you can get to grips with your device, the quicker you can get back to improving your swing.
Green mapping
Green mapping is a feature that might only be available on the latest and high-end devices, but it's a game-changer. When you're far from the greens or unfamiliar with the course, a device with green mapping can provide valuable information about the greens and the holes on the course.
This feature can give you a strategic edge, helping you plan your shots more effectively and potentially shave strokes off your game.
Preloaded Courses
Some Golf GPS devices come with preloaded golf courses, which can be a major advantage. These devices can provide detailed information about specific courses, helping you navigate them more effectively.
If you frequently play on popular courses, or if you like to explore new ones, a device with preloaded courses can be a valuable tool in your golfing arsenal.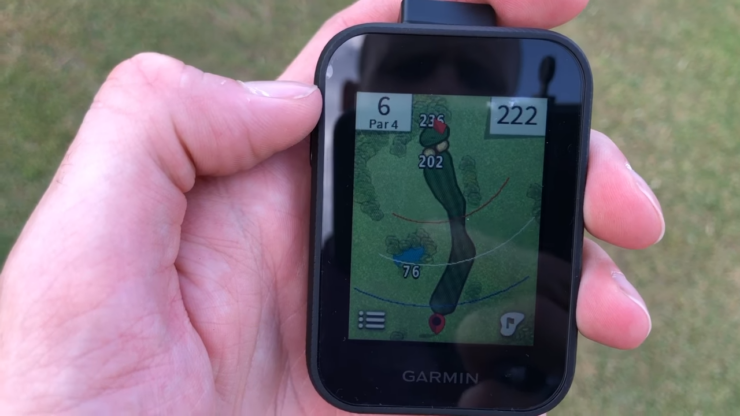 Touchscreen
For ease of operation, a touchscreen Golf GPS device can be a great choice. These devices allow you to navigate menus and select options simply by touching the screen, making them incredibly user-friendly.
However, it's worth noting that touchscreen devices can be a bit more expensive than their button-operated counterparts. If budget is a concern, you'll need to weigh up the convenience of a touchscreen against the potential extra cost.
Waterproof
Golf is an outdoor sport, and that means you're at the mercy of the elements. Whether it's a sudden downpour or just a particularly sweaty round, you don't want your Golf GPS to throw in the towel before you do. Opt for a waterproof device to ensure that a little rain or sweat won't stop you from playing your best game.
Scorecard viewer
Some Golf GPS devices come with a scorecard viewer feature, allowing you to view, save, and track your scorecards. This can be a great way to monitor your progress over time, identify areas for improvement, and celebrate when you beat your personal best. If you're serious about improving your game, a scorecard viewer can be an invaluable tool."
Types of Golf GPS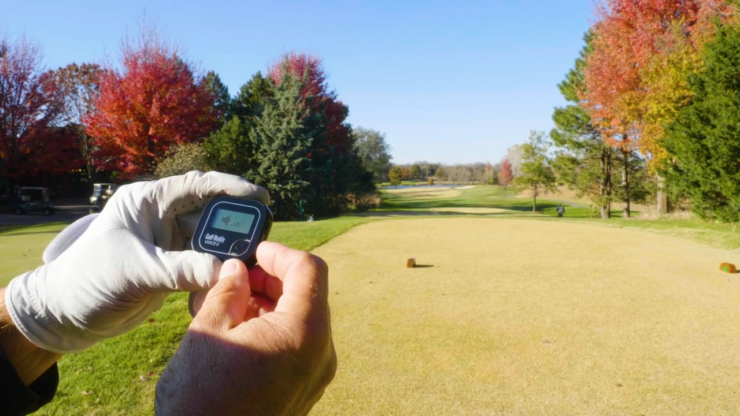 When it comes to golf GPS devices, there are two main types you'll encounter: the watch and the handheld. Each has its own set of advantages and disadvantages, and the right choice for you will depend on your specific needs and preferences:
GPS Watches
Offering the ultimate in convenience. Designed to be worn on your wrist just like a regular watch, they're always within easy reach. They're typically lighter and more comfortable to carry around than a handheld GPS, making them a great choice if you prefer to keep your hands free. Many GPS watches also come with additional features like fitness tracking, making them a versatile addition to your golfing gear.
However, GPS watches do have their drawbacks. Their screens are often smaller than those of handheld devices, which can make them more difficult to read, especially in bright sunlight. Additionally, because they're worn on your wrist, they can sometimes interfere with your swing, particularly if you're not used to wearing a watch while playing.
Handheld GPS
On the other hand (or in the hand), are the handheld units known for their larger, more readable screens. If you're someone who appreciates a clear, detailed display, a handheld device might be the best choice for you. They're also typically easier to use when it comes to inputting data, such as course information or new tee times, thanks to their larger size and more spacious interface.
However, handheld GPS units can be bulkier and more cumbersome to carry around than watches. If you're walking the course, you might find it inconvenient to have to carry a separate device. Some golfers also find that they prefer to keep their hands free during play, which can make a handheld device less appealing.
FAQ
Do Golf GPS Devices Require a Subscription?
While many golf GPS devices can be used without a subscription by downloading free course maps from the manufacturer's website or a third-party source, some premium features may require a subscription. These features can include access to a larger number of courses, more accurate yardages, and other advanced functionalities.
Subscription costs typically range from around $5-$10 per month. It's important to consider whether these additional features are worth the ongoing cost for your particular needs and budget.
What is the Easiest Golf GPS to use?
If ease of use is your top priority, the Bushnell Neo+ Golf GPS is a strong contender. This device is designed with simplicity in mind, providing all the essential information you need on the course without any unnecessary complications.
Its large, easy-to-read display and preloaded database of over 30,000 courses from around the world make it a user-friendly choice. Plus, with a price tag of under $150, it's an affordable option that doesn't skimp on functionality.
What is the difference between a golf GPS and a rangefinder?
A golf GPS and a rangefinder serve similar purposes but in slightly different ways. A golf GPS provides information about the distance to the hole and identifies any potential hazards on the course, helping you strategize your shots.
A rangefinder, on the other hand, focuses on providing an accurate measurement of the distance to the flag, which can be particularly useful when you're trying to perfect your putt. Both tools can be valuable additions to your golfing gear, depending on your specific needs.
How accurate is a golf GPS?
The accuracy of a golf GPS can vary, but generally, these devices are accurate to within a few yards. However, certain factors can affect this accuracy. For instance, if you're playing on a hilly course or one with a lot of trees, your GPS may not be as accurate as it would be on a flat, open course.
Similarly, adverse weather conditions like high winds or rain can also impact the device's accuracy. It's important to take these factors into account when relying on a golf GPS for distance measurements.
Bottom Line
Navigating the world of golf GPS devices can feel like trying to find a lost ball in the underbrush. But with the right knowledge and understanding, you can find the perfect device to elevate your game. Whether you're drawn to the convenience of a GPS watch, the detailed display of a handheld unit, or the specific features like green mapping or a scorecard viewer, there's a golf GPS out there that's a perfect match for your needs.
The best golf GPS for you is one that fits your budget, is easy to use, and provides the features that will most benefit your game. From the user-friendly interface of the Bushnell Phantom Golf GPS that I found so easy to navigate, to the premium touchscreen experience of the Garmin Approach G30, and the budget-friendly Voice Caddie VC300SE, there's a world of choice at your fingertips.
So, here's to lower scores, fewer lost balls, and more enjoyable rounds. With your new golf GPS in hand, you'll be better equipped than I was on my early golfing adventures. You'll be able to navigate the course with confidence, and who knows, you might even avoid those detours into the underbrush. Happy golfing!

A lifelong devotee of the sport, Kane Franco serves as a Senior Staff Writer for Florida Elite Golf Tour. His expertise, coupled with a genuine desire to assist golfers in selecting the optimal gear, has led him to oversee a team of writers dedicated to providing the most precise and insightful reviews and purchasing guidance.