When you're a dedicated golfer, you need to put it forth in many situations. One of those things that everyone who has ever taken a club had to do, is to make additional space for their golf equipment within the house premises. Everyone who is dedicated to the game of golf and has a passion for this sport has to do it sooner or later. The best part of the home for a genuine golfer to keep his things is of course the garage. Have you redecorated yours yet?
It's fine even if you haven't. Considering that you're reading this article you're about to do it. Every garage can be turned into a golf sanctuary. All you need to do is read this article and learn about the five must-haves every golfing garage needs to have.
So, if golf is your passion, you need to think about remodeling your garage and including these five items in your daily life. If you listen to our advice, as we believe you will, you will not only live a more convenient golfing life but your entire life and golf experience will be elevated to a whole new level. Let's start with the first essential item that a true golfing garage needs to have.
Golf Cart Garage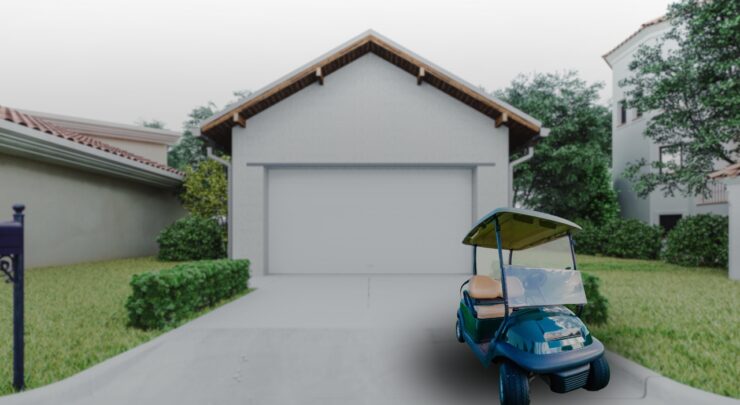 A garage within a garage? Yes, that is correct. If you want to have everything from top to bottom golfing essentials you need to own a cart and you need to have a garage for it. If you want to bless your golfing cart with longevity and save on its maintenance you need to secure proper space for it.
When not in use, the golf carts need to be protected from the elements. Also, when it's not golf season in your area, you'd be wise to keep it away, secluded, from your other vehicles or anyone who could harm your garage.
The best way to do this is by dividing your garage. Both you, your golf cart, and your other vehicles will have higher benefits of using the same garage if you add a separate golf cart garage door. If you do this, you will gain more space, with added security, and with ease of access to your golf cart whenever you need it.
Having a separate door will aid in your garage having more functionality, adding a new level of design to the space that was probably misused in the past.
You should take a good look at your garage, and check out the options and design that would suit you the best in terms of additional garage doors for your golf cart. If this is not a niche you're familiar with, Doorvana might be precisely what you're looking for.
Golf Clubs
If you're serious about your golfing passion, you need to equip yourself with the best clubs possible. Every golfer needs to aim at attaining high-quality golf clubs. If you do not take the best you can in this department you're lowering the quality of your game.
Your gameplay depends on the quality of your clubs and there is no space for a compromise in this department. With good clubs, you can even elevate your game without possessing serious skills or a refined game at the moment. With a bad set, you will look bad on the field both in-game and aesthetically.
The golf equipment market has a lot to offer in this department and it shouldn't be too hard to make the right choice. In addition to owning good golf clubs, you need to take good care of their storage. The same way as with the carts, they need a special place in your garage. Make sure they're always in the right position and well-protected.
Golf Ball Dispenser
If you want your garage to be your golf heaven it needs to have a ball dispenser. After clubs, the balls are the most important part of the age of golf. Whenever you're in for a session of this beautiful game you will require balls. You do not want them all over the place.
Golf balls are small and they can easily get misplaced. This is why a dispenser comes in handy. You need to keep your balls cozy, safe, secure, and well-protected from anything that could potentially harm them.
When it comes to golf equipment organization is half of your well-being. A neat golfer garage needs to have a ball dispenser. The best part is that both people and sports companies are thinking the same. This is why you shouldn't have any issues finding a product in this department that could fit both your garage and your needs perfectly.
Advanced Golf Simulator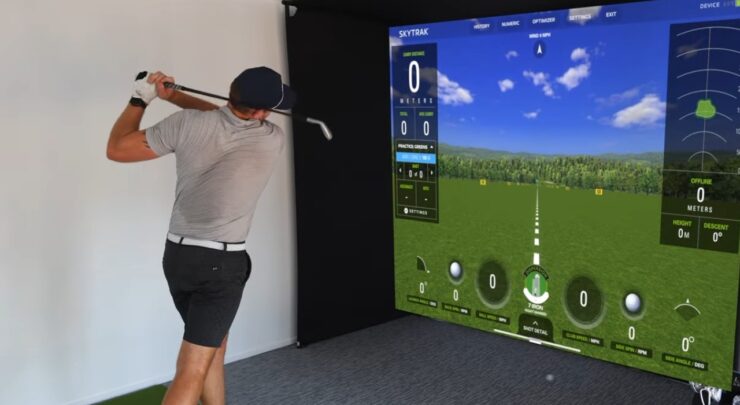 The best way to hone your golfing skills is to play it every day. We all know that this is not possible due to work and other obligations. So, what options do we have? Well, we have some really good ones. The best we can think of is of course the Advanced Golf Simulator.
With one installed in your garage, you can practice your hits all day long after work, before work, and whenever you can. This can help you be sharp for when the golf season starts.
Golf is a great game only when you know enough about it to make real results when on the field. Without enough practice, you'll be suffering some long days playing while your opponents excel and your age delves deeper into the well of unpracticed shots. This is why you need to equip your garage with an Advanced Golf Simulator and keep your hands, legs, and mind prepared for the upcoming season.
Organized Storage Solutions
Being a golf practitioner is not an easy task. This sport requires a lot of equipment, some of it is small and can be misplaced. This is why you need to have your eyes on organized storage solutions. Making your garage a sanctuary for golf is one thing. If you keep losing track of your belongings is another problem.
What you need to avoid any equipment issue is efficient storage solutions. When you take care of it your things will not be damaged, there will be no clutter, and the entire environment of your newfound golfing garage will be in order. Finding the shelves and cabinets that will suit your needs really shouldn't be a problem.
Bottom Line
As you can see, making your garage into a temple of golf shouldn't be too hard. Now you know the elements it requires, you can get down to work.