In-person golf lessons are often a tacky process. There's really no guarantee that you're going to enjoy the process of steadying your hand & mind to become something of a professional golfer. What is guaranteed, however, is that you will be burning away a good chunk of your savings in the process. In order to save your precious money, we are here to welcome you to the world of online golfing. With the advent of the digital age, golf lessons do not need to be traditional.
Now, without further ado, let's check out golfing lessons to help you reach the top of your game!
1. Swingman Golf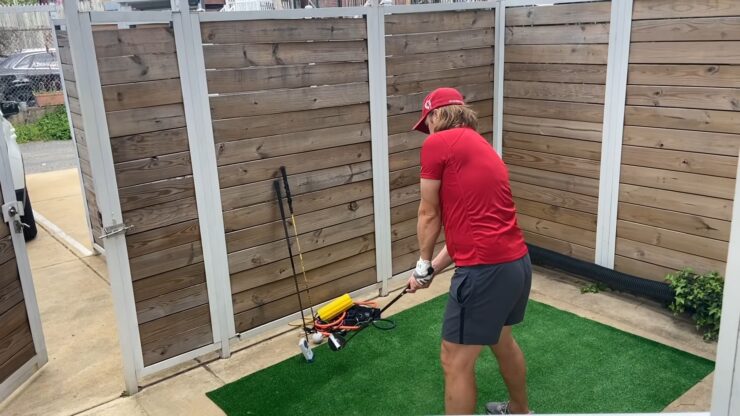 Getting the right swing at the right time is no piece of cake. There's a lot that goes into judging the shot before you actually take it. The angle, speed, and direction of the wind, are just some of the factors you have to take into account before shooting your shot. Swingman Golf is specially designed to get aspiring golfers to improve & perfect their distance of swing.
The course has been crafted by Jaacob Bowden who takes pride in his golfing prowess with the hopes of bringing some of the talents he has accumulated over the years, to you online, through videos, pictures, and e-books. The content in the app also changes and revitalizes itself after some time to keep up with updates to the game. If you really put in the time and effort to improve using this app, expect your swing speed to go up by 10-15 mph in around a month.
2. Rotary Swing
The founder of Rotary Swing, Chuck Quinton, also happens to be the best online golf instructor around. This program mainly is for people who'd like to perfect their swing and introduces a swing philosophy by the founder that revolves around the rotary swing concept. There are lots of drill-based exercises that'll have you put in hours of effort to become the very best at rotary swinging.
Apart from having a dedicated site for rotary swings and golf courses, Chuck is popularly known as a YouTube instructor who likes to offer free lessons on the website. Hundreds have benefitted from his friendly practices and there are more people pouring in every day to watch him do what he does best. Rotary Swing focuses on the person's movement and advises them on how they should move their body when taking a shot.
In particular, this golf course focuses on pushing vs pulling. There's a free plan for the course and a paid version. Obviously, you won't get all the bells and whistles in the free version but perhaps it'll be enough to entice you to buy the full version later on.
3. Rebellion Golf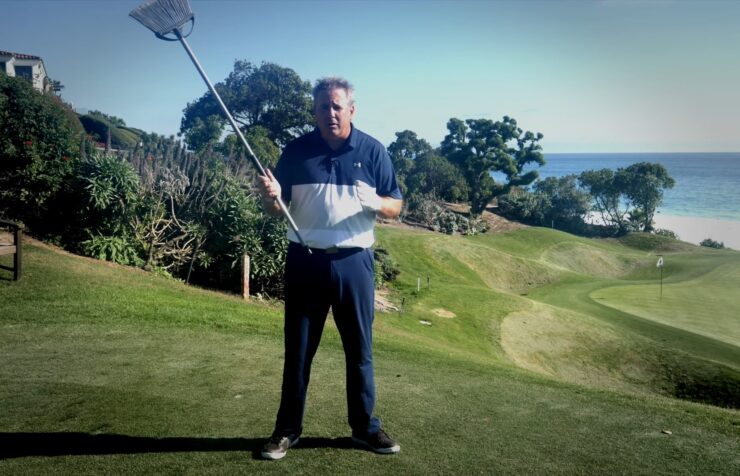 For players looking for a one-on-one personalized experience, Rebellion Golf is the way to go. Designed by Coach Monte, who himself is a decorated golf enthusiast; the app offers live instructional videos and lessons by the man. There are some excellent tips and tricks to be made use of along with attractive pricing on a couple of deals. Beginner golfers will be especially happy to know that there are entire courses that cater to a more mellowed-down way of learning golf.
A 360-degree comprehensive guide is also present for those who want to work from the ground up and eventually become champions at the game. All golfers want to improve a specific aspect of their swing and Rebellion Golf is a trusty, proven app course ready to take their game up a rung or two.
4. Shawn Clement
With over 35 years of experience in professional golf, Shawn Clement is a YouTuber who is quite generous with sharing his expertise online. The best part about his videos is the calm, brotherly approach he takes to teaching his students. While helping people perfect their swinging techniques, he also takes care to advise how golfers can avoid overreactions and perpetual fears when engaging in the game.
5. Me and My Golf
Me and My Golf has been specially crafted for players, no matter their experience, looking to perfect their game. Originally, an idea that sprang forth by two PGA giants; Piers Ward and Andy Proudman, the program has since become a huge hit in the online golf community. Swings, grip changes, golfing basics, and mechanics are all covered in spades.
The program has two memberships; the lite one, which allows access to a limited number of coaching plans and membership challenges, and the premium membership, which spoils users with copious amounts of deals & discounts on the entire library, courses, and videos. There is little you can complain about with this one.
6. Alex Elliot Golf
A course designed by an award-winning PGA golf professional is seldom seen or experienced. Alex Elliot offers personal one-on-one coaching along with online lessons to allow long-time fans and beginners alike to benefit from the pool of skills he is ready to bestow online. Elliot goes up to 2 hours of face-to-face lessons with a full day of one on one coaching. With so much personal training, you can bet the course will not be cheap but it will definitely be worth it.
Alternatively, if you're looking for a free preview of how he does what he does, Elliot has a YouTube page as well where he gives viewers a sneak peek into his technique and golfing prowess.
Online lessons, though super helpful, cannot function without a sturdy internet. Boost yourself with AT&T Internet plans and get the best connectivity to enjoy golf lessons without any lag or headaches. The best lessons by some of the best tutors online don't deserve to get hampered down by long load times nor does your patience deserve to be tested.
Conclusion
That's a wrap on all the online free golf courses we have for you today. Maybe some of them will inspire you to start your own business. Each course is backed up with the workings of a professional golfer and guarantees a good chunk of information transpiring between the golfer and the learner once they're done with it. Check them out online and allow digitization to evolve your golfing skills!