Equipment choices can make a significant difference in a player's game, and perhaps none more so than the humble golf ball. While professionals and enthusiasts need to spot details like spin rates, compression, and dimple patterns, the average golfer seeks a balance – a ball that complements their skill level and enhances their experience on the green.
As someone who has spent countless hours on the course and tested numerous variants, I've come to appreciate the subtle yet crucial differences that certain products can offer to the average player.
I aim to shed light on the balls tailored specifically for those who describe themselves as 'average' golfers. Whether you're looking to achieve straighter drives, more consistent distances, or simply a more enjoyable round, the right ball can be of significant help.
Join me as we explore the top options that can elevate your game to new heights.
1. Vice Golf PRO Soft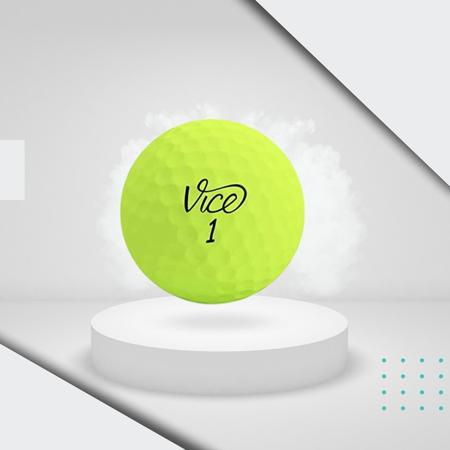 Check on Amazon
Check on Walmart
Check on ViceGolf
From the first swing, I knew the Vice Pro Soft Golf Balls were something special. Their unique construction and design immediately stood out. The feel was unlike any other I've experienced. It was soft, yet responsive, allowing for a controlled swing and precise landing.
The flight was consistent and true, making it easier to predict the ball's trajectory and adjust my shots accordingly.
The matte neon lime finish was an unexpected bonus. Not only did it add a touch of style to my game, but it also improved visibility during ball flight, especially during those cloudy days or late afternoon rounds. This feature alone has saved me from losing a few balls on the course.
| Feature | Description |
| --- | --- |
| Material | Urethane |
| Design | 3 piece cast urethane cover |
| Compression | Low compression for extra-soft and responsive feel |
| Dimple Design | Extremely durable 336 dimple design |
| Visibility | Improved visibility with matte neon lime finish |
| Durability | Customers usually keep this item longer than similar products |
Pros
Soft Yet Responsive Feel
Consistent Flight
Matte Neon Lime Finish
Durable Construction
Low Compression
Advanced Dimple Design
Cons
Price Point
Limited Color Options
2. Legato Golf Balls, LTX 3085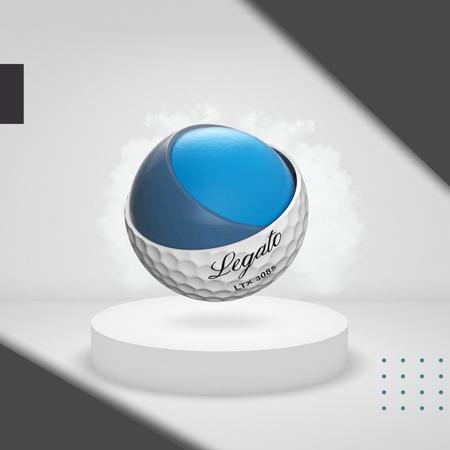 Check on Amazon
Check on DvaSata
Check on eBay
After analyzing numerous online feedbacks, the Legato LTX 3085 consistently shines as a top pick for enthusiasts. This premium 3-piece ball is meticulously designed to aid players in their quest to score below 90.
Beyond its promise of extended distance for diverse swing velocities, its Urethane cover delivers unmatched wedge control with a delicate touch. The innovative Bold Track Technology is a notable feature, streamlining the putting experience.
Notably, evaluations from GOLF LABORATORIES, INC suggest that its capabilities rival even the industry's leading balls.
| Feature | Description |
| --- | --- |
| Construction | Premium 3-piece |
| Objective | Engineered to help players break 90 |
| Distance | Maximized driver distance |
| Feel | Softer feel with Urethane cover |
| Putting Aid | Easier putting with Bold Track Technology |
Pros
Maximized driver distance
Softer feel with Urethane cover
Easier putting with track technology
Rivals top-rated balls
Suitable for various swing speeds
Cons
Might require adjustment for some
Price may vary
3. Happy Birthday Novelty Golf Ball 3 Pack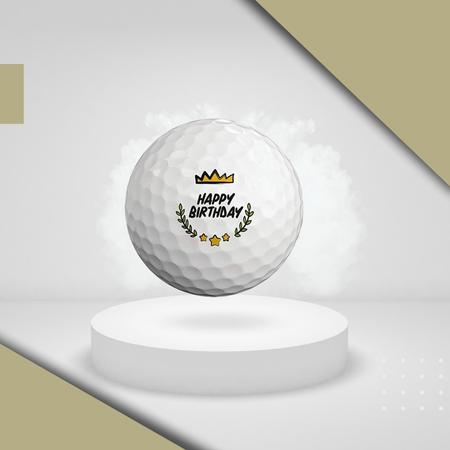 Check on Amazon
Check on Kiky
A friend of mine recently celebrated their birthday and decided to test out these novelty golf balls on the course. I must say, they not only looked fantastic but also performed quite well. It wasn't just about the aesthetics; these balls were genuinely functional.
They made for a delightful birthday surprise, and everyone at the course had their eyes on them. Perfect for both men and women of all ages, they're a unique way to add a touch of celebration to a game.
| Feature | Description |
| --- | --- |
| Brand | O'RINN |
| Material | Thermoplastic Resin |
| Color | White |
| Age Range (Description) | Adult |
| Item Weight | 4.8 Ounces |
| Special Designs & Packaging | Unique birthday-themed designs |
| Quality | High-quality dual-core |
| Universal Appeal | Suitable for both men and women of all ages |
| Satisfaction Guarantee | Full refund if not satisfied |
Pros
Unique birthday-themed designs
High-quality dual-core
Suitable for all ages
Brings a smile to everyone
Satisfaction guarantee
Cons
Might not suit professional play
4. Oji-Emoji Premium Emoji Golf Balls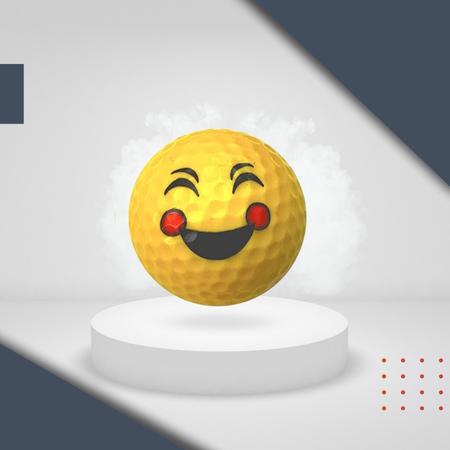 Check on Amazon
Check on eBay
Check on Etsy
Oji-Emoji Premium Emoji Golf Balls are the perfect way to show your personality on the golf course. These unique professional practice golf balls feature 12 different emoji designs, making them a fun and novelty golf gift for all golfers.
Made from high-quality materials, these Oji-Emoji golf balls are durable and provide exceptional performance. With their vibrant colors and fun designs, these emoji golf balls are sure to stand out on the green.
Whether you're looking for a fun gift for the golfer in your life or you're looking to add some personality to your own game, Oji-Emoji Premium Emoji Golf Balls are a great choice.
| Feature | Specification |
| --- | --- |
| Brand | Oji Emoji |
| Material | Polyvinyl Chloride |
| Color | Red, Yellow |
| Age Range (Description) | Kid |
| Item Weight | 1 Pound |
| Number of Items | 12 |
| Package Dimensions | 8.11 x 7.05 x 1.93 inches |
| Package Weight | 0.64 Kilograms |
Pros
Fun and unique design
Durable material
Suitable for all ages
Great as a gift
Affordable price
Cons
Might not be suitable for professional play
Limited to 12 emoji designs
5. Piper Golf Premium Golf Balls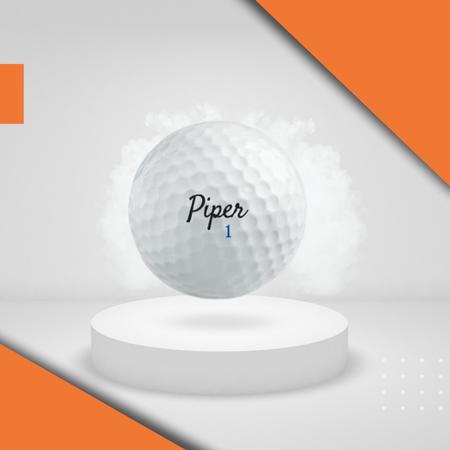 Check on PlanetsHoup
Check on Walmart
Check on PiperGolf
During my time on the greens, I've tried various equipment to enhance my game. The Piper Golf Premium was once my go-to choice. The first thing that struck me was its unique Piper Green hue, which made it stand out from the rest.
Designed specifically for those with a handicap range of 15+, it catered to players like me who were looking for that extra push off the tee. I remember hitting my 7-iron and watching the ball soar less than 150 yards, feeling the satisfaction of a straight shot.
The DuPont Surlyn cover was a game-changer, ensuring low spin and reducing the chances of those dreaded hooks and slices. The custom alignment guide was a nifty addition, aiding in quicker ball identification and helping with those crucial putts.
| Feature | Description |
| --- | --- |
| Brand | Piper Golf |
| Material | Surlyn |
| Color | Piper Green |
| Age Range (Description) | Adult |
| Item Weight | 16 Ounces |
| Designed For | Handicap Range 15+ |
| Maximum Distance | 2-Piece construction for longer shots |
Pros
Great for high-handicap players
Enhances straight shots
Custom alignment guide included
USGA approved
Cons
Might scuff on hard impacts
Not for low-handicap players
6. Bridgestone Golf e12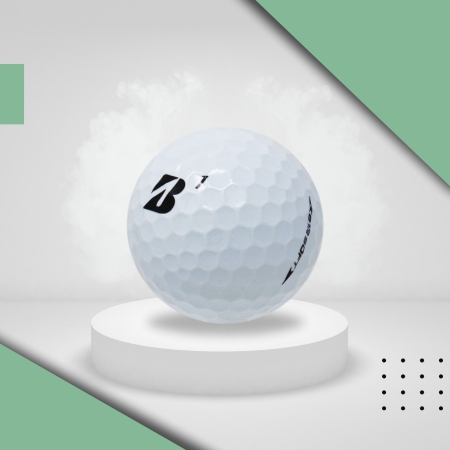 Check on Amazon
Check on 3balls
Check on GlobalGolf
According to many enthusiaists, it's clear that the 2023 Bridgestone Golf e12 Contact Golf Balls are quite a good option. The new fleaxativ cover and contact force dimple are designed to maximize surface contact, ensuring efficient energy transfer. This results in a longer and straighter flight, not just with the driver, but with every club in the bag.
The ball's soft core significantly enhances the feel on all shots, making it a favorite among many. Additionally, the increased friction offers improved spin around the green.
The optimized aerodynamics combined with the mantle and core are specifically designed to reduce sidespin, minimizing the chances of slices and hooks.
| Feature | Specification |
| --- | --- |
| Brand | Bridgestone Golf |
| Material | Rubber |
| Color | White |
| Age Range | Adult |
| Item Weight | 1.4 Pounds |
Pros
Enhanced feel on all shots
Straighter and longer distance
Reduced slice and hook spin
Improved control around the green
Trusted by professional golfers
Cons
Might be hard to source sometimes
Matte finish may accumulate dirt
Are You An Average Golfer?
The average golfer is someone who has been playing the game for a while and has a handicap between 10 and 20. They are able to hit most of their shots pretty consistently and don't have too many big misses. They know how to control their ball flight and have a pretty good short game.
If you're an average golfer, then you're probably not going to be winning any tournaments anytime soon. But that doesn't mean you can't still enjoy the game and shoot some decent scores.
There are plenty of amateur tournaments out there for average golfers to compete in. And with a little practice, you can definitely lower your handicap and become a better player.
Buyers Guide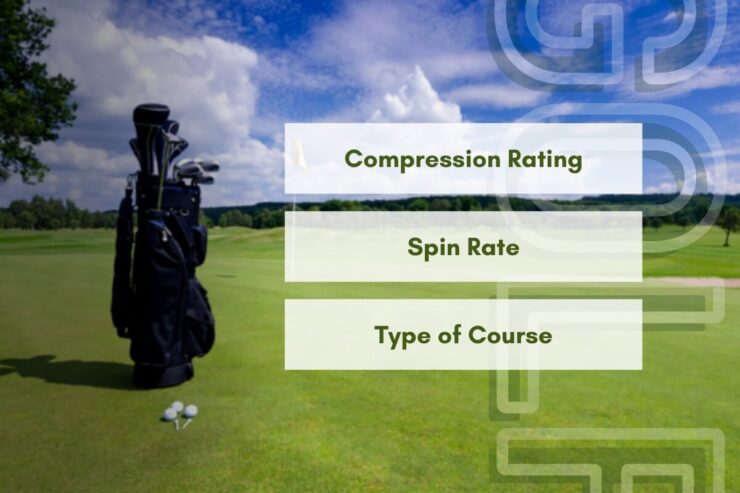 Compression Rating
Compression rating is one of the most important factors to consider when purchasing golf balls. The compression rating of a golf ball indicates how much the ball will compress when hit by a club. The higher the compression rating, the less the ball will compress.
Spin Rate
It is important to consider spin rate ratings when buying your next golf balls. The spin rate is the number of rotations per minute that the ball makes around its axis. A higher spin rate means the ball will rotate faster and a lower spin rate means the ball will rotate slower. The ratings are expressed in a range from 1 to 10, with 1 being the lowest and 10 being the highest.
A higher spin rate can be beneficial for players who hit the ball with a lot of backspin. This backspin gives the ball lift and keeps it in the air longer, which can lead to longer drives. However, too much backspin can cause the ball to slice or hook. A lower spin rate can be beneficial for players who hit the ball with a lot of sidespins. This sidespin gives the ball more control and keeps it on a straighter path.
The right spin rate for you depends on your individual playing style. If you are not sure what spin rate is right for you, ask a professional or try out different types of golf balls to see which ones perform best for you.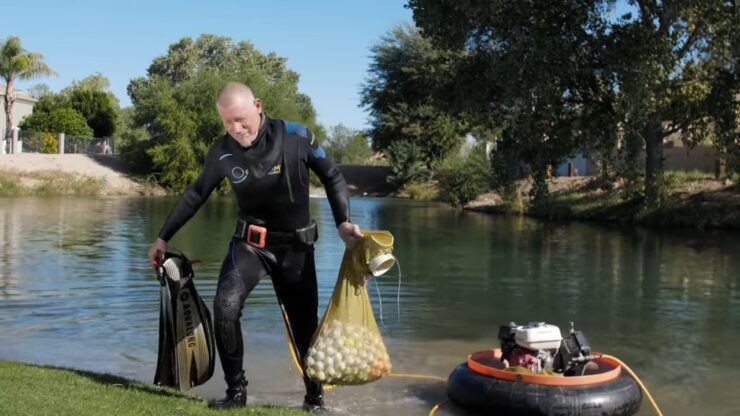 Type of Course
When it comes to choosing the right golf balls for your game, one of the things you need to consider is the type of course rating. There are three main types of courses: par 3, par 4, and par 5. Each one has its own unique challenges, so it's important to choose a ball that will help you overcome those challenges. Here's a look at each type of course and what kind of ball may be best for it:
Par 3 Courses: These are typically shorter courses with smaller greens. If you're looking for more control, choose a golf ball with a lower compression rating. This will help you keep your shots on target and avoid any unwanted hooks or slices.
Par 4 Courses: These are longer courses with larger greens. If you're looking for more distance, choose a golf ball with a higher compression rating. This will help you get more carry on your shots and make it easier to reach the green in regulation.
Par 5 Courses: These are the longest courses with the largest greens. If you're looking for maximum distance, choose a golf ball with the highest compression rating. This will help you launch your shots higher and further, giving you a better chance of reaching the green in two shots.
FAQs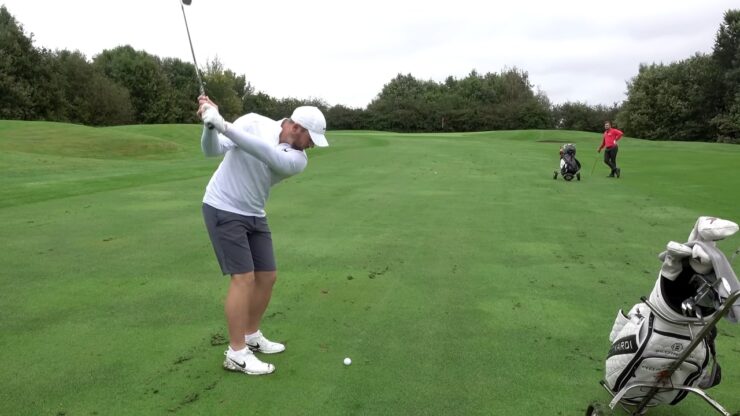 What is the average golf handicap?
The average golf handicap is the number of strokes a golfer is expected to hit above or below par for a given course. The calculation for an average golf handicap takes into account a golfer's recent scores and the difficulty of the courses played.
What are the average golfer's swing speeds?
The average golfer's swing speed is around 70 miles per hour. However, professional golfers can swing their clubs at speeds over 100 miles per hour. The record for the fastest swing speed belongs to Tiger Woods, who has been clocked at 129 miles per hour.
How far do average golfers hit it?
The average male golfer hits the ball between 250 and 270 yards. The average female golfer hits the ball between 210 and 225 yards.
What are the best golf balls for a mid-handicapper?
There are a few things to consider when choosing the best golf ball for a mid-handicapper. First, think about what you need the ball to do. Do you need more distance? More spin? More control? Once you know what you need, you can narrow down your choices.
Some of the best golf balls for a mid-handicapper are Titleist Pro V1, TaylorMade Burner 2.0, Callaway HX Hot Bite, Nike Mojo, and Srixon Q-Star Tour. These balls all offer something different, so it's important to choose the one that fits your game the best.
How many golf balls does the average golfer lose?
According to Golf Digest, the average golfer loses about eight golf balls per round. This number can vary depending on the skill level of the golfer and the course conditions. For example, beginner golfers may lose more balls because they are not yet familiar with the game and its hazards. Playing on a course with lots of water will also increase the number of balls that are lost.
The Bottom Line
For the average golfer, the journey to discover that ideal balance of performance and playability is paramount. Throughout this guide, we've delved into the characteristics that make certain balls stand out for those who tread the middle ground in the golfing spectrum.
Remember, while skill development is essential, the right equipment, especially the golf ball, can be the catalyst that propels your game forward. As we conclude our exploration, I encourage you to take these recommendations to heart, experiment with confidence, and may your next game be your best yet.

A lifelong devotee of the sport, Kane Franco serves as a Senior Staff Writer for Florida Elite Golf Tour. His expertise, coupled with a genuine desire to assist golfers in selecting the optimal gear, has led him to oversee a team of writers dedicated to providing the most precise and insightful reviews and purchasing guidance.